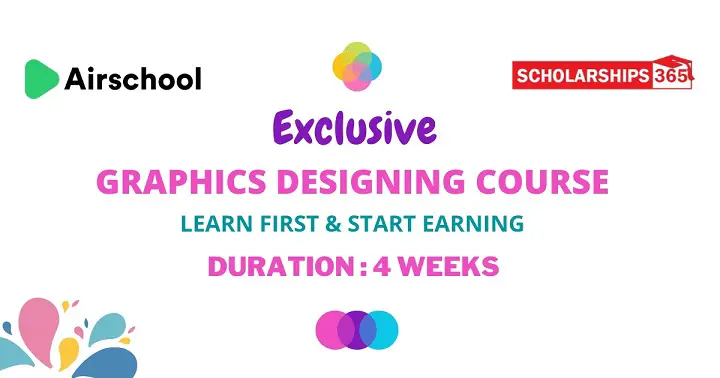 Want to become a Professional Graphics Designer and Earn Handsome Income? Airschool has announced 4 weeks long paid course on Graphic Designing for students and professionals who want to become a Graphic Design Expert.
The course is conducted by Amna Hassan. She is an expert Product Designer in Pakistan. A professional graphic design degree is not only skills, but it also increases your chances of getting a higher pay designing job and increases your level of income.  If you don't have any degree, don't worry you can become a graphics designer and brighten your future.
The graphics designer estimated average salary is about $48,800+ a year in the market, whereas if you have excellent skills of graphics designing you can join the Big companies like Apple, Google, etc, and earn up to $96,000+ yearly. Don't miss this opportunity, to get hands-on experience in professional graphics designing tools.
Must Enroll: Online Freelancing Course to Earn Money Online - Enroll Here
About Professional Online Graphic Designing Course:
Graphics convey information more easily than words. Graphic Designing gives you the opportunity to bring your ideas to life. Nowadays, it is used everywhere. The most common platform where it is shared nowadays is social media, such as Facebook, Snapchat, Instagram, Tumblr, Pinterest, etc.
It is also used in websites, billboards, logos, books, newspapers, magazines, posters, advertising, computer games, packaging, corporate communications, advertisements, covers, images, etc. Creatively designed graphic images leave a positive impact on the minds of the people thereby attracting more and more customers helping you in increasing the sales of your business.
Starting from the very basics of graphic design, the course helps you build your way up with Photoshop. Through this course, you will learn all the basic elements and use of various editing tools in Photoshop.
By the end of the course, you would have mastered image editing, typography, and design in Photoshop.
This is a four-week course with live-streamed classes on the weekends so that you can easily take it up part-time. Additional perks include practice exercises, useful resources for inspiration, guest lectures from people with hands-on market experience, and networking opportunities through a dedicated Slack community for the participants.
😇 So You Will Never Miss Any Opportunity for your excellency. Then hurry up to join, follow and like us on different Social Networks. 😇
---
About the instructor:
Amna Hassan is a product designer-turned-marketer. She has successfully demonstrated her design expertise in several projects such as "Youth for Education Conference" by U.S Consulate, "Heritage Now" by the British Council, and "Beyond the Buzz", Pakistan's most comprehensive research on the startup ecosystem of Pakistan.
She has taught and spoken about freelancing and entrepreneurship at Google WomenTechmakers, GDG Fest Kolachi, Google I/O Recap, Startup Weekend Women & Youth, AIESEC Global Exchange Conference, and CodeGirls.
There is no academic or nationality restrictions, Anyone from any country can join these courses.
---
Want to Learn More Professional Courses Market-Oriented:
Along with this course, Airschool has also announced the following other courses for students and professionals:
---
Deadline for Enrollment in Professional Online Graphic Designing Course:
The last date to Enroll in the Professional Online Graphic Designing Course by Airschool is 18th September 2020
---
How can you enroll? in Professional Online Graphic Designing Course?
The course is available for you to enroll in now with classes starting from 18th September 2020. The course has limited seats available that are being booked every minute. This is your chance to learn Graphic Designing from home at Airschool, so don't waste any more time and reserve your spot today!
Each course batch has diverse audience participation from Pakistan and across the world which becomes a breeding ground for students to learn, network, and engages not only with the instructor but other students as well. For Enroll in Professional Online Graphic Designing Course by Airschool, Visit to Enroll Now.
,Adobe Photoshop, free oxford Online courses 2019-2020-2021-2022-2023-2024-2025-2026, harvard free online courses, FREE EARN MONEY ONLINE, free freelancing Online courses 2019-2020-2021-2022-2023-2024-2025-2026, courses for scholarships for college, Bachelors Scholarships 2020 Italy Government Scholarship - Fully Funded 2020 2019-2020-2021-2022-2023-2024, airschool courses