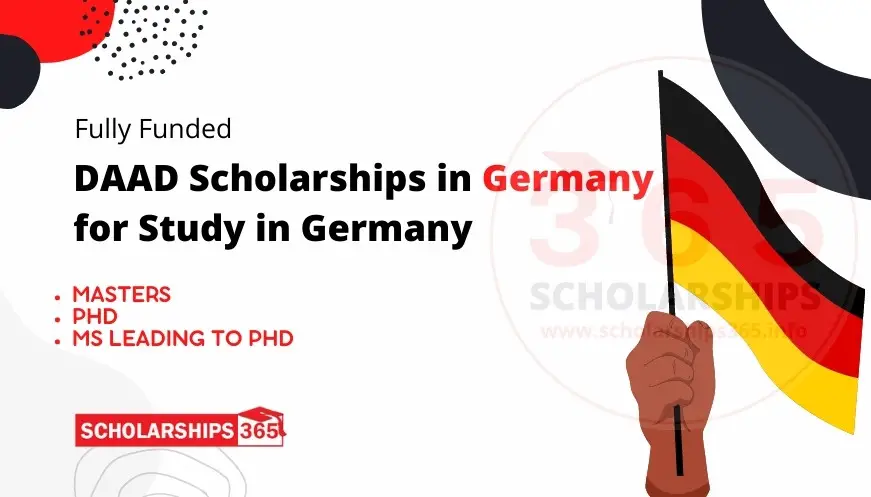 Are you an international student? interested in Study Abroad in Germany? But don't have enough funds to cover the educational expenses in Germany? Then don't be worried, As DAAD Scholarship in Germany 2024-2025 program has been announced for International Students to Study in Germany to complete their Postgraduate Degree Programs in German universities. DAAD Scholarship is a Fully Funded German Scholarship for International Students from different parts of the world for Masters and Ph.D. Degree Programs. DAAD International scholarship covers all the expenses of the international student during Studies in Germany. In this article, we will discuss about Daad Scholarship, Academic fields, benefits, participating universities, eligibility criteria & deadline!
---
Before moving further, If you want to know how to apply, Please Subscribe to our YouTube Channel for All Opportunities of Form Filling Process Videos - How to Fill the Opportunities Application Form Videos - Subscribe Here
---
DAAD Scholarships in Germany 2024-2025 | Study in Germany
The German Academic Exchange Service (DAAD) provides scholarships in Germany for international students for a range of postgraduate courses at German Universities which aim to provide academically educated young professionals from developing countries with further specialized studies available in multiple disciplines at German institutions of Higher education. Are You Want to Study in Germany?
---
You can also read about -  Hungary Government Scholarships Fully Funded
---
Want to know about DAAD Scholarships in Germany?
The DAAD launched its new scholarship program for international students in 2024-2025 with funding from the Federal Ministry for Economic Cooperation & Development. The program supports Master's, MBA, MPhil, LLM, and Ph.D. degrees for scholarship holders from all countries worldwide at German institutes. Every year, the DAAD Scholarship allows international students to pursue their degree programs. DAAD Scholarship is a Fully Financed Scholarship opportunity for masters and Ph.D. students for their specialization in the relevant field.
The DAAD Master Scholarship encourages candidates from multiple Countries to study at top-ranked German Universities. The DAAD Scholarships are given on the academic merit list and they are open to all international students in any relevant field. This fully financed scholarship in Germany provides the ideas to encourage students to complete their educational Degrees in time. DAAD Scholarship program is available to encourage international students who want to pursue a Master's and Ph.D. degree program in Germany.
International candidates with extraordinary academic skills and excellent experience in their relevant field can apply. The international students learn about research technologies. Students from all over the world are encouraged each year to apply for DAAD scholarships to enhance their innovative skills and abilities. Scholarship applications are received from all over the world for Masters and Ph.D. Degree Programs to study in Germany. Young and talented students from all over the world are welcome to take part in this scholarship program in Germany. This fully-funded grant provides the opportunity for international students to work with and collaborate. The DAAD scholarships offer international graduates from developed and newly industrialized countries from all disciplines and two years of professional experience to pursue postgraduate or Master's degrees in German universities. Candidates from all over the world have the opportunity to study under the guidance of highly skilled German professionals and Scholars.
---
Host Country: Study in Germany
---
Host University: Multiple German Universities Offered DAAD Scholarships.
---
Scholarships Offered By: Funded by the BMZ (Federal Ministry for Economic Cooperation and Development)
---
Scholarships Coverage:  Fully Funded
---
Duration of  Scholarships: Masters Scholarship in Germany is 1-2 Years whereas For Ph.D./Doctoral Degree Scholarship 3-4 Years.
---
Degree Level: Masters and Ph.D. Degree Programs in all Fields.
---
You can also read about - 1500 Scholarships in UK for International Students 2023 Fully Funded
---
😇 So You Will Never Miss Any Opportunity for your excellency. Then hurry up to join, follow and like us on different Social Networks. 😇
---
What does DAAD Scholarship cover?
This DAAD Scholarship Program helps the international candidates to enlarge their recognition and expertise completely which is advantageous for German Universities. The scholarships are offered to extraordinary and intelligent international students to fulfill their dreams of a bright future. For the DAAD Scholarship candidates, applying must have a very strong academic background.
Expenses Covered by DAAD Germany Scholarships
DAAD German Scholarship Program 2024-2025 will provide aid to international candidates.

Candidates from all around the globe will get an opportunity to pursue their degrees under the guidance of highly qualified teachers

Candidates will get a monthly stipend of 861 euros for Masters and 1200 Euros for a doctoral program.

Candidates will get a traveling allowance.

Candidates will get free Tuition fees

Candidates will get an Academic allowance

Candidates will get Accidental and Health Insurance

Candidates will get an Accommodation allowance for family members

A monthly rent allowance will be given
---
What Degree Programs are offered under DAAD Scholarships?
These German government scholarships provide multiple Masters programs and Ph.D. programs in German International schools. Foreign students have an opportunity to study at top German universities. Various numbers of academic fields are available to international students to complete their studies in Germany, after completion there are hundreds of opportunities for bright careers in Germany
List of Academic Fields DAAD Scholarship Program
Economic Sciences

Business Administration

Political Economics

Development Cooperation

Natural and Environmental Sciences

Engineering and Related Sciences

Mathematics

Medicine Health

Public Health

Regional and Urban Planning

Agricultural and Forest Sciences

Social Sciences

Education and Law

Media Studies
---
What are the Eligibility Requirements for DAAD Scholarship?
Does the question come to your mind who can apply for the DAAD scholarship? So, we explain about criteria for this prestigious daad scholarship, International DAAD scholarship applicants must fulfill the following criteria to avail of Masters scholarships in Germany as well as Ph.D. scholarships in Germany. To become a successful daad scholarship applicant, please check the requirements for the DAAD scholarship.
Eligible Countries for DAAD Scholarship
The daad scholarship acceptance rate is high for these developing countries like Tanzania, Argentina, Yemen, Philippines, Turkey, Ethiopia, Togo, Bolivia, Thailand, Ukraine, Gabun, Uganda, Brazil, South and Central Asia, Timor-Leste, Gambia, Zambia, Columbia, Afghanistan, Vietnam, Africa, Ghana, Zimbabwe, Ecuador, Armenia, North Africa, Guinea, Guyana, Azerbaijan, Oceania, Algeria, Guinea-Bissau, America, Paraguay, Bangladesh, Cook Islands, Egypt, Kenya, North and Central America, Peru, Bhutan, Fiji, Libya, Lesotho Antigua, Barbuda, and others.
DAAD Academic Requirements for Scholarship
Candidates from developing countries are encouraged to apply.

Applicant must have completed an undergraduate degree of four-year in a related field.

Applicant must have Graduate Degree for Ph.D. Degree Program.

The applicant's academic degree should not be more than six years old.

Applicant must have two years of experience.

Applicants must fulfill academic requirements to complete a degree in Germany.

An applicant living in Germany for more than 15 years can not apply.

Applicants can be expected to take on social responsibility and support processes of change in their professional environment.
DAAD Language Requirements for Study in Germany
Depending on the chosen study program, you need to check the DAAD scholarship brochure or the German university website for your chosen study program - Read about Scholarship Brochure
---
You can also read about Google Digital Garage Online Marketing Courses with Free Certificate
---
What are the Documents Requirement for DAAD Scholarship?
Required documents (in the following order):
Download the DAAD Application Form 2024-2025 - Download from Apply Procedure Section

A hand-signed CV (please use the Europass specimen form at

http://europass.cedefop.europa.eu/

)
A hand-signed letter of motivation (with reference to current occupation) maximum 2 pages.
Academic letter/s of

Recommendation

(the letters must have a letterhead, a signature, and an office stamp and must be of recent date
Professional letter/s of recommendation (Experience Letters) from your employer (the letters must have a letterhead, a signature, and an office stamp and must be of recent date)

Confirmation of employment from the employer in your home country and -if possible- a guarantee of re-employment upon your return home.

Proof of language abilities:

English - TOEFL or IELTS (Note: We only accept an academic TOEFL)

 German - necessary for the courses taught in German; for the courses taught in English, if available

(certified*) copies of awarded academic degrees (certified translation if necessary)

(certified*) copies of academic transcripts (certified translation if necessary)
---
You can also read about Scholarships in Cyprus for International Students
---
You also need to check with the requirements of the German University whether certified copies are required. Please note that the Universities in Germany may require additional documents to apply. Please check the website according to a postgraduate course.
You can also read about the - Additional Requirements Document
---
What is the Application Deadline for DAAD Scholarship 2024-2025?
Everyone wants to know when is the deadline to apply for scholarships, So, according to the information deadline for the DAAD Scholarship for international students in Germany varies from one university to another.
---
You can also read about Scholarships in Italy for International Students
---
How to Apply for DAAD Scholarship in Germany?
Is the DAAD scholarship hard to get? No, If you follow the complete application process according to the given information below, you can become a successful daad applicant. Students have to directly apply to the university from the given Links:
List of the universities in Germany and degree programs:

HERE

To Apply for DAAD Scholarships:

HERE

DAAD 2023 Advertisement:

Download
Students have to visit the list of universities and programs in Germany, Select the required course and check the official link of the main website mentioned in the list and apply online on the University website along with filling out the application form for DAAD Scholarship and submit it to the Germany university Portal. Some universities are required to send the documents in hard form and some just required online applications. So check the University and Program to Apply.
---
You can also read about - Scholarships in Norway for International Students
---
,DAAD Scholarships in Germany 2023-2024 | Study in Germany, daad scholarships germany europe, daad scholarships masters, daad scholarship masters, daad scholarship undergraduate, daad scholarships phd, daad scholarships requirements, europe, , daad scholarship requirements for masters, daad scholarships for Indian students, daad scholarship Bangladesh, daad scholarships 2021 Kenya daad scholarships for Pakistani students, apply for daad scholarship 2022, daad scholarships 2020, daad scholarship requirements for bachelor degree, daad scholarships for international students, daad scholarship without ielts, daad scholarship quora, is daad scholarship for bachelor degree, deadline for daad scholarship 2022