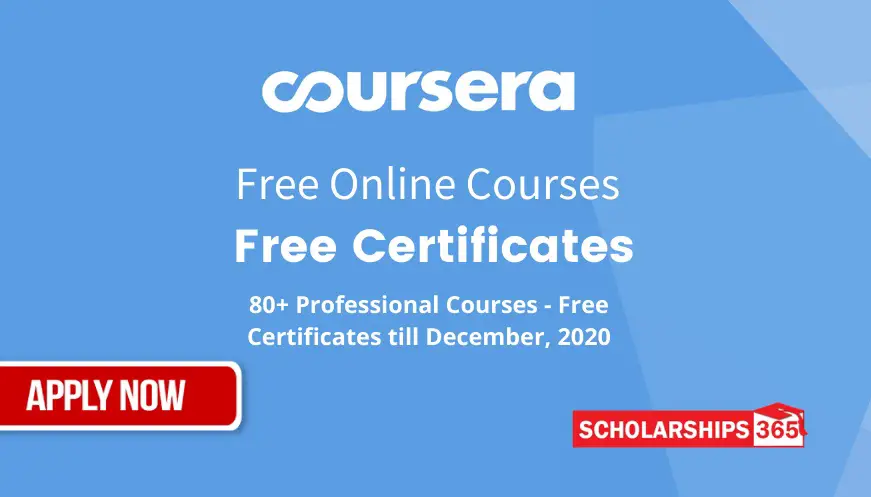 Coursera, the best online academy announced great news for all international students who want to learn the best series of best online courses without going any classroom. Coursera offering free online courses with free certificates till the end of 2020 for some courses. Students from All over the world can benefit from Coursera Free Online Course Opportunity by staying at home.
You can also apply for Huawei Free Online Courses - 250+ Courses.
There are about hundreds of universities that are offering different professional courses by using The Coursera platform. All these professional courses are available at Coursera in the form of lectures. These courses are delivered by university professionals. Different courses are also offered by Google Courses on different technologies and Amazon Courses.
Coursera is decided to provide free online professional courses to international students during this COVID-19 pandemic period. There are about 80+ Free Online Courses with also Free Certificates for some courses. Almost all academic field courses are available by more then 50+ worldwide universities. Students can get free certificates until December 2020.
These professional courses boost up students' careers in different organizations. Students can add their certificates as their professional skills to their CV. Student can enhance their professional skills through all these international courses during this pandemic period. Stay Home, Learn Safe.
You can also apply for UK Open University Free Online Courses | 1000+ Courses.
Coursera Free Online Courses with Free Certificates | 80+ Courses:
---
Host Institute: Coursera
---
No of Courses: 80+
---
Eligible Countries: World Wide Students Can Apply.
---
Course Charges: There are no charges for online learning along with free online certificates (for limited courses only) until December 2020.
---
Degree Level: Any Student from any nationality can apply for these free courses with no fees.
---
What are the benefits of Coursera Free Online Courses?
There are no registration fees to join these online courses.

Students don't need to go anywhere to learn these courses, All courses are Online.

All courses are delivered by a world professional skilled person of top universities.

A hands-on learning experience with practical exercises.

Students can get free verified certificates upon completion of course for limited no of courses.
---
😇 So You Will Never Miss Any Opportunity for your excellency. Then hurry up to join, follow and like us on different Social Networks. 😇
---
List of Coursera Free Online Courses:
1) Coursera Computer Science Courses:
2) Coursera Arts and Humanities Courses
3) Coursera Business Courses
4) Coursera Health Courses
5) Coursera Language Courses
7) Coursera Animals Health Courses
8) Coursera Physical Science and Engineering Courses
9) Coursera Personal Development Courses
10) Coursera Cloud and Technology Courses
11) Coursera Math and Logic Courses
---
How to enroll in Coursera Free Online Courses?
Students have to select the course from the Coursera Courses list given above and get register for these courses. Good Luck!
,Free Online Courses 2019-2020-2021-2022-2023-2024, Fully Funded masters Scholarships 2019-2020-2021-2022-2023-2024, Fully Funded masters Scholarships School 2019-2020-2021-2022-2023-2024, Fully Funded phd Scholarships School 2019-2020-2021-2022-2023-2024, Opportunities Corners, Scholarships Corners, scholarships for college - Austrian government scholarships 2020-2021, Bachelors Scholarships 2020 Italy Government Scholarship - Fully Funded 2020 2019-2020-2021-2022-2023-2024, scholarships for college students 2019-2020-2021-2022-2023-2024