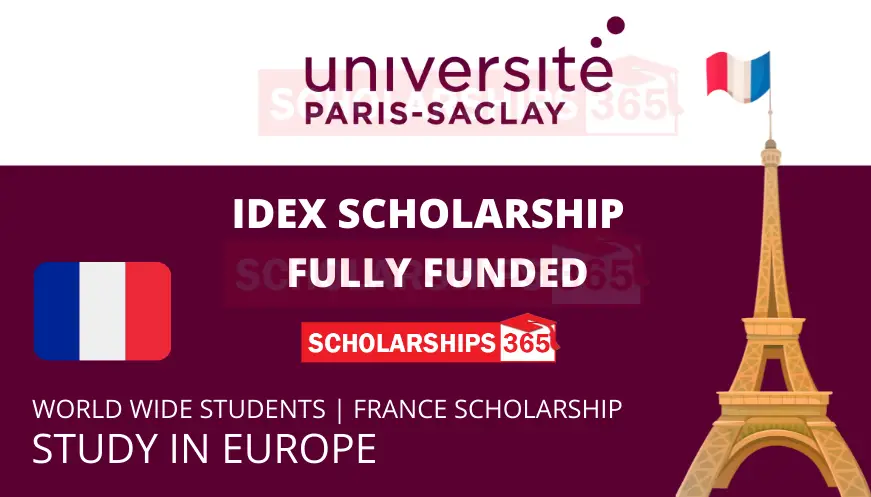 Are you looking for Study Abroad Scholarship in France? We have good news for you! Universite Paris-Saclay Idex Scholarships 2023 Program is announced by the University of Paris-Saclay, France. They are offering International Idex scholarship programs for worldwide students to Free Study in France. Idex Scholarship program offers a fully-funded scholarship (full financial support) to support international students to fulfill their dreams of Study in Europe.
Read about list of - Best Scholarships without IELTS
Universite Paris-Saclay Idex Scholarships 2023-2024 in France | Fully Funded
About Universite Paris Saclay
Paris-Saclay University which is known as Universite Paris-Saclay one of the research-oriented public. This university is located in Paris, France. Universite Paris-Saclay is a part of the Paris-Saclay project. The Universite Paris-Saclay is ranked in the Top 50 of the world's best research universities according to Shanghai Universities Ranking in 11 disciplines.
In the field of mathematics, Paris-Saclay has garnered particular acclaim. As of 2022-2023, the institution and its affiliated research centers were home to 12 Fields Medalists. In the Academic Ranking of World Universities (ARWU) for 2022-2023, Paris-Saclay University was rated 13th in the world. It was ranked first in the world for Mathematics and ninth in the world for Physics, as well as a top 25 spot for Medicine and Agriculture in topic rankings.
There are multiple degree programs are offered in the French and English languages. Hundreds of students from all around the world are studying at this top-world research university.
Furthermore, France is known around the globe for its high academic standards. The educational system in France assures that you will receive a world-class education. France was chosen because of its high educational standards. After all, education in France Is a long-term investment.
---
Have you applied for US Government Scholarships
---
About Universite Paris-Saclay Idex Scholarships
The University Paris-Saclay Scholarship applications are announced under the Idex Scholarship program. The aim behind this Idex Scholarship is to make an impact through higher education to address the needs of today's advanced society. The Idex Scholarship is one of the Fully Funded Scholarship programs, that provides enough funding support that will cover all the expenses of the student during the study in France.
This International Scholarship in France is available to pursue different masters degree programs. Universite Paris-Saclay offers almost all academic subjects, and Master's degree programs last between one and two years, depending on their entry level.
So it is a fantastic choice for a bright future. Students from all over the world are eligible to apply for this best scholarship in Europe. Every student's desire is to study in France, and this is a fantastic opportunity for international students to participate in this international scholarship program.
---
Have you read it? Fully Funded 10 Best Canada Scholarships Programs
---
Host Country: France
---
Host University:  Universite Paris-Saclay
---
Scholarship Offered: University Funded
---
Financial Package: Fully Funded Scholarship
---
Degree Program: Masters Scholarship Program
---
You can also apply for the following opportunities:

Read About -

Scholarship for International Students in UK

Read About -

Scholarship for International Students in Canada

Read About -

Scholarship for International Students in Australia
😇 So You Will Never Miss Any Opportunity for your excellency. Then hurry up to join, follow and like us on different Social Networks. 😇
---
What are the Benefits of Universite Paris-Saclay Idex Scholarship in France?
Who wants to Free Study in France? Universite Paris-Saclay is offering an excellent opportunity to those students who have a dream to study in Europe on Fully Funded Scholarships for Masters degree program.
Expenses that will cover by Idex Scholarship
The scholarship value is 10,000€ per year and will be provided to the selected students.

The amount of 10,000€ is enough to cover all the yearly expenses of the student, So we can say it is a fully-funded scholarship program.

This scholarship amount is given to students every year by the University.

For Travel & Visa, a maximum of 1,000€ will be awarded depending on the student's country of origin. The scholarship program will bear the

France Visa

Cost which will lessen the burden on students who are planning to study in France.

Students will also enjoy financial assistance regarding Traveling. All the expenses that students will pay to come to the university from their homeland will be paid by the scholarship program.
---
Have you applied for Top 40 Europe Scholarships 2023 Fully Funded
---
What is the Eligibility Criteria for Universite Paris-Saclay Idex Scholarship?
Candidates must fulfill the following criteria to avail of this International France Scholarship for their Masters Study in France, Universite Paris-Saclay.
Students must have applied for and been accepted into a Master's degree program at Universite Paris-Saclay, which is offered by one of the following institutions: AgroParisTech, CentraleSupelec, ENS Paris-Saclay, INSTN-CEA, IOGS, UEVE, UPSaclay, UVSQ.

Students from all around the world are eligible to apply, hence there are no demographic restrictions to apply for this French Scholarship.

The applicants who are interested to apply for this scholarship must be under the age of 30 years.

Those International students who are living in France for less than a year and enrolled in a training course, internship, or language instruction (type FFL) are also eligible to apply.

Students who have completed an Erasmus Mundus Joint Master's Degree or an exchange program in France are not eligible to apply. This scholarship program is not open to students who have not continued their education for more than three years in a row.
What is the Deadline for Universite Paris-Saclay Idex Scholarship 2023?
If you are considering getting your degree in France then fold your sleeves and get your application process done as soon as possible because the last date to apply is May 10, 2023. So, hurry up before the time runs out.
---
How to Apply for the Universite Paris-Saclay Idex Scholarship

?
The application process is very important as the information provided by the interested candidate will be evaluated by the university committee and the candidate will be selected on the basis of the provided information.
Candidates are required to fill out all the information that has been asked in the application form, including name, contact information, student number, and educational qualifications. Fill in the information truly and carefully because Incomplete applications will be immediately rejected.

For the International Masters Scholarship program, students must first apply to and are accepted into one of the university's master's programs.

Students must apply for an International Master's Scholarship after being accepted.

Students must apply for the scholarship program by completing an application form provided by the university.

Students must request an application form from the university.

Only students who have received an email from the university inviting them to apply for an Idex scholarship will be able to apply for Idex.
,Universite Paris-Saclay Idex Scholarships 2023-2024 | Fully Funded, Fully Funded masters Scholarships 2019-2020-2021-2022-2023-2024, Fully Funded masters Scholarships School 2019-2020-2021-2022-2023-2024, Fully Funded phd Scholarships School 2019-2020-2021-2022-2023-2024, Opportunities Corners, Scholarships Corners. application form, scholarships form, study visa china, scholarships for college - Austrian government scholarships 2020-2021, CGS CSC STUDY CHINA, FORIGN STUDENTS , TOP UNIVERSITY, HIT, HARIB, TSINGUHA, CHINA, best cv, excellent cv good cv, professional cv, effective curriculum vitae us canada america, europe, summer school