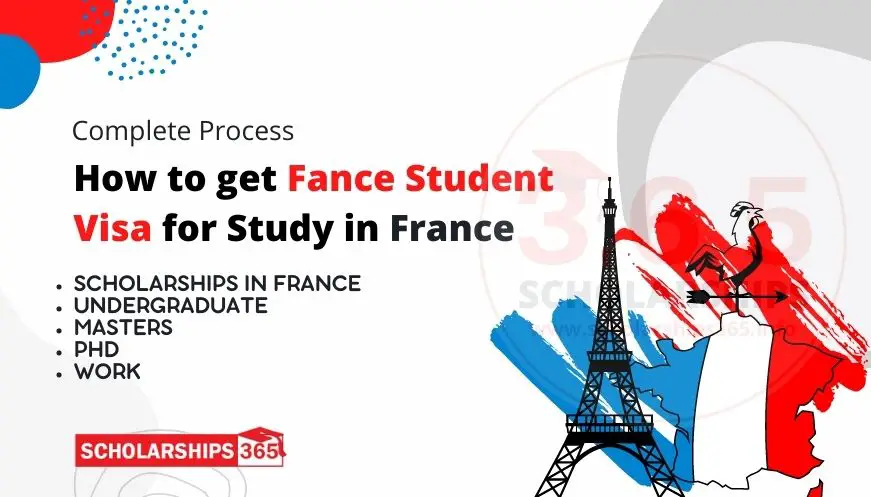 France is one of the most beautiful countries in Europe that not attract only tourism, but also attracts international students from all over the world for quality education in France. France has top-class universities in the global ranking along with highly qualified teachers and staff. Every year thousands of international students from all over the world come to France for Short Courses, Bachelors's, Masters's, Ph.D., and other degree programs.
France is another country where universities have very low tuition fees not only for French nationals but also for worldwide students. France has excellent opportunities for quality education, a standard European lifestyle, and fantastic work. The question is how to obtain France Student Visa to avail of all these opportunities. So Do you need a French student visa? or Not.
You can check - TOP 10 Scholarship in UK for International Students 2023
Do you need a France Student visa?
Whether or not you need a student visa for France will depend on whether or not you are an EU citizen. If you are a citizen of the European Union country, or a citizen of the EEA, Switzerland, Norway, Iceland, or Liechtenstein, you do not need a French student visa to study in France. Instead, all you will need only to study legally in France is a valid passport or another valid travel document.
Besides this, If you are also a citizen of another part of the world, you just need to obtain a France student visa to be able to study at different universities in France.
Read about - How to Apply for Canada Student Visa
What type of French study visa will you need?
There are several types of Student Visas available by the Government of France for International students of the world. Different types of French Student visas will be offered depending upon the duration of education / how long he/she wants to study in France. The types of French visas are given below:
Schengen student visa (short-stay):
Suppose you are planning to study in France for short courses like the French Language, a short-term internship, or any other short-term program, that lasts less than three months, and you are very confident that you will no longer spend more in the country. In that case, you can apply for the Vis type called "court séjour pour étude", otherwise known as the "short-stay" or "Schengen Student visa" for France. The Good news is that the Schengen student visa is issued free of charge but cannot be renewed again.
Read about - How to Apply for Italy Student Visa
😇 So You Will Never Miss Any Opportunity for your excellency. Then hurry up to join, follow and like us on different Social Networks. 😇
---
Visa to sit entrance exams:
Another type of visa is the Entrance Exam France visa, which is available for the entrance exams of multiple french universities. Suppose you need to go to France for the admission test at one or more universities. In that case, you can apply for a " Sit Entrance Exam Visa" or "visa de court séjour étudiant Concours" application in your home country. If you pass your university entrance exam, you are eligible to apply for a renewable of your France Visa, along with a one-year residence permit. For more information, you need to contact the admissions department of the French University, where you want to study your course.
Temporary long-stay France Student Visa:
France is also offering a short-term temporary long-stay visa that allows the international applicant to study in France for up to 6 months for any short-term courses. The Temporary long-stay France visa is also know as" de long séjour temporaire pour études". The good news is that you don't need to apply for a French Residence permit separately if you applied for this kind of student visa.
Long stay France Student Visa:
The students, who plan to study for a long-term degree program / course in France for their bright career, must need a Long Stay France Student Visa and Residence Permit. The long-stay student visa / long-term student visa is available for those students if their study / education duration is more than 6 months. That Extended Stay Student visa type is VLT-TS or "visa de long séjour pour études".
We want to share that if you successfully obtain a long-stay France student visa, you don't need to apply separately for a residence permit. This visa acts as a residence permit for the whole duration of your study. The duration of Bachelors / Undergraduate Degree program is about 3 years, Masters Degree Program is 2 years, as well a Ph.D. degree program is about 4 years in France.
As for the duration of the study, there is no requirement for the French Residence Permit Separately, so you can freely stay and study. If you need further information about long-term stays in France visa, you need to contact your french university / institution or embassy in your home country.
Read about - How to Apply for Germany Student Visa
How do apply for a France Student Visa for Study in France?
Now come to the point, How to Apply for Student Visa for France. We have written a complete article for the international students so they don't need to search anymore to other websites for the France Student Visa application.
.France has developed one of the best Online Admission Portal for French higher education institutions in the charge of promoting French education abroad and welcoming foreign students and researchers from all over the world. This Online Admission Portal is named " Campus France ".
There are hundreds of scholarships in France is managed by the Campus France System. International students from different parts of the world can apply for university admission, scholarship programs as well a France Student visa through the system of Campus France, as it is the official national agency of the higher education system of France for International Students.
Students from several countries will need to apply through Campus France for admission to French University by choosing CEF Method, You can check here a list of the countries if you need to apply for both your France Student Visa and entry.
If you do not belong to the above-mentioned list of countries, you have applied for both a university admission application as well a French Student Visa application. Once you have been admitted to any French Institution's degree / short-term program, you are eligible to apply for a France student visa. For Apply your France student visa application, you need to contact the embassy of France or the French Consulate in your home country, and when they requested the required documents, you need to provide them as following given below:
The French Institution provides the Admission Letter /

Acceptance Letter

. It should be on University headed paper along with full details of official acceptance at a French institution, details of the study program, duration, and start and end dates.

You need to provide proof of sufficient funds to live in France. The required amount by France is about €615 (Nearly US $820) per month, you have to have to show at least one year, through your Bank Statements, Letter of Guarantee, and any financial loan, aid, scholarship, or grant that supports your studies in France.

You also need to provide Proof of return repatriation, which means after the completion of your study in France, you must go back to your home country, in the form of a handwritten letter.

You need to provide a letter that you have purchased Medical Insurance with the minimum coverage of  €30,000 (US$40,150)

You need to provide proof of a

Letter of accommodation

, which means you already have arranged a place for your living in France that can be displayed in the form of a student residency permit confirmation or a board and residence certificate.

Language of Proficiency Certificate, for the French Degree Program, provide proof of proficiency in French if you are studying a French language course.
Read about - Top 15 Government Scholarships for International Students
On arrival in France, What things you need to complete Study in France?
After arrival in France, you need to complete several tasks before the start of your study. As you arrived in France on Stay VLS-TS extended Visa, you need to send its official form along with a visa to the French Office of Immigration and Integration (OFII). You can send it by registered mail or in person in Paris, France. You must also send a valid passport copy, including your identity page and entry into France.
Once your required documents (form and passport copy) are received, you will receive a confirmation receipt with further details of the next step if required. The next step may be the instructions, that you need to obtain the medical examination certificate if you did not receive it in your home country.
The Good News is that your French institution, where you get admitted, helps you in this part of the process. In some cases, different French institutions have an agreement with OFII, to help the international students to submit documents to French universities instead of the French authorities. The cost of the Administration is about €58 (US$78) to manage these tasks.
About Working in France with a France student visa
France has great opportunities for Internationals students, a student can work in France along with their studies to bear the educational expenses. France allows the international student to work for 964 hours annually With a valid residence permit. Besides this, France has thousands of opportunities to provide to International students every year to brighten their careers.
France Scholarships 2023-2024 for Study in France
There are thousands of international scholarships which are open for foreign students every year under different French Universities Scholarships, Government Scholarships, and non-government Scholarships programs. Students can check the list of International Scholarships in France.
Wish you all the best - Good Luck
,France Student Visa | How to get a student Visa for France, Fully Funded masters Scholarships 2019-2020-2021-2022-2023-2024, Fully Funded masters Scholarships School 2019-2020-2021-2022-2023-2024, Fully Funded phd Scholarships School 2019-2020-2021-2022-2023-2024, Opportunities Corners, Scholarships Corners, scholarships for college - Austrian government scholarships 2020-2021, CGS CSC STUDY CHINA, FORIGN STUDENTS , TOP UNIVERSITY, HIT, HARIB, TSINGUHA, CHINA, scholarships for college students 2019-2020-2021-2022-2023-2024