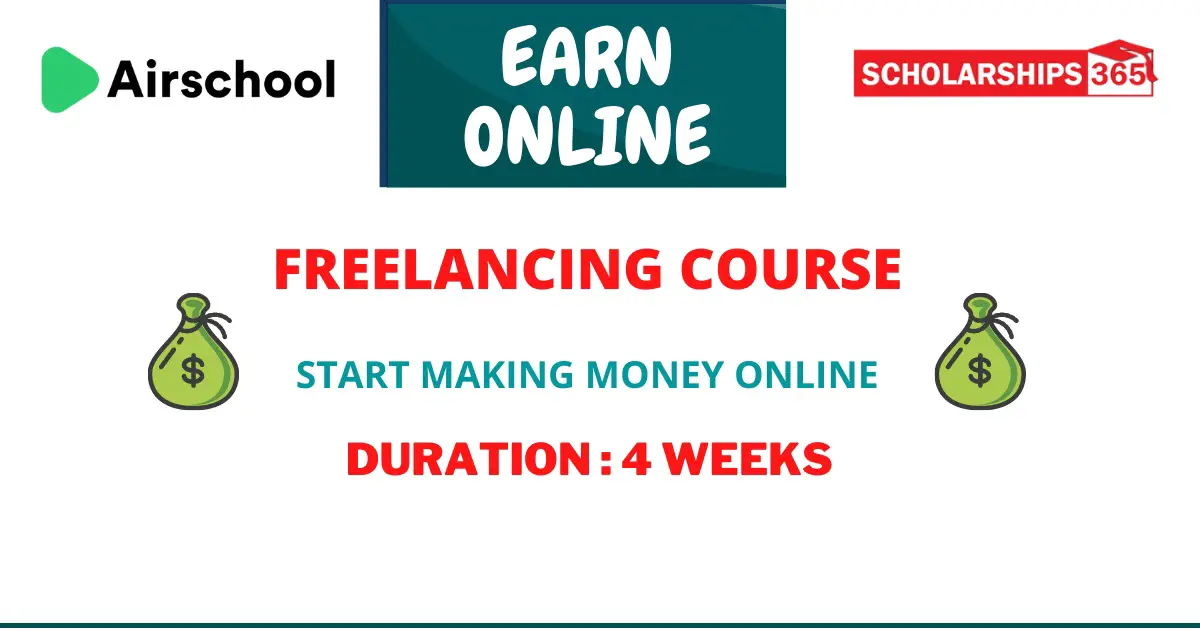 Airschool has announced the 3rd batch of 4 weeks long course on freelancing to train students to support themselves, by Earn Online and become financially independent. The course will be conducted by Asra Rizwan khan, an accomplished freelancer who also happens to be the Founder and CEO of OpenMic Pakistan. After this Freelancing course, anyone can able to work and earn handsome income online from any part of the world. Everyone is Earning Online at this time.
The course will be conducted in English.
As a part of its online education initiative, the course is launched with the name "Become a Freelancer & Start Earning from Home." The course takes a practical approach to set up your freelancing career by giving meaningful assignments. It guarantees that you have started your career in one of the freelancing career paths after its completion. The courses are conducted in a mixed language of Urdu and English. Don't waste your time on just Net Surfing, Learn the Skills First, and Start Online Earning.
About Online Earning Freelancing Course - 3rd Batch - Start Earning Online:
Being low on cash is something every student can relate to, but today it is easier to make a few extra bucks today with the help of the internet and technology. Moreover, there is also the opportunity and capacity to learn new skills with their developing minds. 
This course is launched especially for students to use their abilities and skills to easily support their hobbies and manage their expenses themselves.
Even if you don't have a set path or career in mind, this course is a good fit as it takes you from identifying your passions to getting paid for them in a matter of four weeks. It also teaches you the basics of showcasing your work online, applying for jobs, different types of projects, and the protocols of payment followed in the freelancing community.
In short, if you don't have any knowledge or expertise, the course is designed in a way to lift you up and give a strong starting boost to your freelancing career.
It is a four-week course with live-streamed classes on the weekends so that you can easily take it up part-time. Additional perks include practice exercises, useful resources for inspiration, guest lectures from people with hands-on market experience, and networking opportunities through a dedicated Slack community for the participants.
😇 So You Will Never Miss Any Opportunity for your excellency. Then hurry up to join, follow and like us on different Social Networks. 😇
---
About the instructor:
The instructor for the course is Asra Rizwan Khan. She has worked as a freelancer for over five years, starting in her sophomore year which makes her perfect for the course since she has done exactly what she is teaching. Her freelance portfolio ranges from design and web to content creation.
She has taught and spoken about freelancing and entrepreneurship at Google WomenTechmakers, GDG Fest Kolachi, Google I/O Recap, Startup Weekend Women & Youth, AIESEC Global Exchange Conference, and CodeGirls.
There is no academic or nationality restrictions, Anyone from any country can join these courses.
---
Want to Learn More Professional Courses Market-Oriented:
Along with this course, Airschool has also announced the following other courses for students and professionals:
---
Deadline for Enrollment in Online Freelancing Course for Online Earning:
The last date to Enroll in the Online Earning Freelancing Course by Air school is 7th November 2020.
---
How can you enroll? in Online Freelancing Course?
The second batch of this course begins on 7th November 2020. With limited seats available that are being booked every minute, you don't have any time left to waste! So, if you want to start earning online and develop a sense of independence, reserve your spot today for this life-time opportunity! For Enroll in Online Earning Freelancing Course by Airschool, Visit to Enroll Now.
,EARN MONEY ONLINE, AIRSCHOOL COURSES, COURSERA COURSES, FREE EARN MONEY ONLINE, free freelancing Online courses 2019-2020-2021-2022-2023-2024-2025-2026, scholarships for college - Austrian government scholarships 2020-2021, Bachelors Scholarships 2020 Italy Government Scholarship - Fully Funded 2020 2019-2020-2021-2022-2023-2024, scholarships for college students 2019-2020-2021-2022-2023-2024