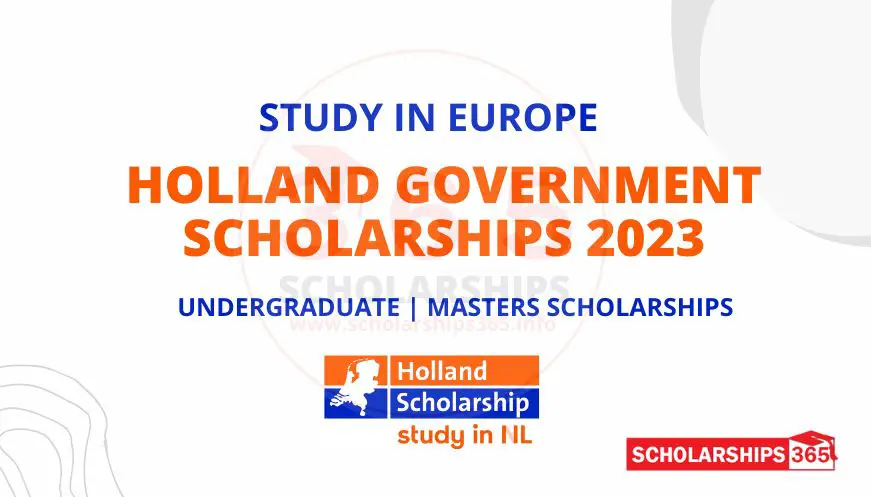 Are you planning to Study Abroad in Holland / Netherlands Europe? Looking for Undergraduate / Bachelors or Masters Scholarships in Holland? Are you ready to get a lifetime opportunity to Study in Holland? After all these questions came to mind, we have good news about Holland Scholarships Program for you!  The Dutch Ministry of Education, Culture, and Science announced Holland Government Scholarships 2023-2024 program for International students to complete their Bachelors/Undergraduate or Masters studies in Dutch universities! In this article, we will discuss details about Netherland Government Scholarship Benefits, Eligibility Criteria, Academic Programs, Required Documents & application deadline!
Have you read it? Fully Funded International Scholarship in Canada 2023
Want to Know about Holland Education System?
Holland boasts a progressive education system that values critical thinking and individual responsibility, reflecting the country's emphasis on openness, tolerance, and individualism. Early childhood education in Holland is heavily invested in by the government, resulting in high literacy rates in Europe. Dutch universities are world-renowned universities, with diverse offerings that attract students globally. The country's rich cultural heritage is evident in its love for art, music, and literature. Dutch culture is also known for its liberal approach to social issues, such as drug policy and same-sex marriage. Education and culture are intertwined in the Netherlands, offering a strong foundation for personal development and a diverse experience for those seeking it.
Why Study in Holland?
The Netherlands has 2,100+ English-taught programs for international students.

Government investments in education provide high-quality education and value for money.

International students can join a diverse community and broaden their horizons.

Dutch education emphasizes valuable skills like critical thinking and problem-solving.

The Netherlands is a safe and happy country with a high standard of living.

Located in the heart of Europe, students can easily explore different cultures and languages.
---
Have you apply for a Fully Funded DAAD Scholarship in Germany 2023
---
Holland Government Scholarship 2023
Are you an international student from outside the European Economic Area (EEA) looking to pursue your Undergraduate / Bachelors or Masters degree in the Netherlands? If so, you may be eligible for the Holland Scholarship, which offers a chance of a lifetime. The scholarship is funded by the Dutch Ministry of Education, Culture, and Science, as well as Dutch research universities and universities of applied sciences. Almost all academic fields and majors are available, as more than 30 Dutch universities are participating in this International Scholarship program.
While this scholarship is not fully funded scholarship but provides a significant amount of financial support that will overcome your educational expenses in Europe.  Don't miss out on this incredible opportunity to pursue your dreams of studying in the Netherlands with the help of the Holland Scholarship.
Host Country: Study in Holland
---
Host University: More than 30 Dutch Universities are participating in this program.
---
Scholarships Offered: Holland Government Scholarship 2021
---
---
No of Scholarships: Information not available
---
Degree Level: Bachelors / Undergraduate & Masters Degree Programs in multiple Fields.
---
😇 So You Will Never Miss Any Opportunity for your excellency. Then hurry up to join, follow and like us on different Social Networks. 😇
---
This Holland Scholarship is only funded scholarship program by the Dutch Ministry of Education, Culture, and Science and provides the following benefits as given below:
The scholarship is available in Dutch research universities as well as universities of applied sciences.

The scholarship amounts to € 5,000.

Some public universities have very low fees ranging from € 100 to € 500 Yearly, You can get this scholarship in your chosen institution!

The scholarship grant is awarded for 1 year only!

May be you are allowed to work part-time in Holland!
---
What Degree Programs Offered By Holland Government Scholarship?
Government of Holland Scholarships are available to pursue 1000+ Bachelors / Undergraduate and Masters MS/ M.Phil) Degree Programs in the English Language. You need to check the official websites of Dutch research universities and universities of applied sciences about available degree programs, requirements, application deadlines, etc. The list of Holland universities is given in the next section!
List of Participating Universities in Holland Government Scholarships
The list of participating universities in Dutch government scholarships changes every year. You can find Below the list of Dutch universities participating in the academic year 2023-2024 Government of Netherlands Scholarships program!
Which Dutch Research Universities are Participating?
Which Dutch Universities of Applied Sciences are Participating?
---
You can also apply for the following opportunities:
Top 40+ Scholarships in Europe 2023 for International Students
---
What is Eligibility Criteria for Orange Knowledge Programme?
You need to fulfill the eligibility criteria in order to be eligible for admission to a Dutch higher education institution on Holland Scholarship. If you meet all these requirements, you can start exploring the many opportunities available to you in the Netherlands.
You must be a international students outside European Economic Area ( EEA ).

You are seeking to enroll in a full-time bachelor's or master's program at a participating Dutch higher education institution.

You meet the specific requirements of the institution you wish to attend, which can be found on their website.

You have not previously earned a degree from an education institution in the Netherlands.
---
Have you applied for Top 10 Scholarships in Switzerland- Fully Funded
---
What are the required Documents for Holland Scholarship?
As there are many universities are participating in this Europe Scholarship program, all universities are offering multiple degree programs, the documents requirements for admission in Dutch universities is varies.Please check the admission documents check list on the official college or University given in participating universities section above.
---
How to Apply for Holland Government Scholarship?
You need to Visit the Official Website of Study in Holland, Select the participating university where you want to apply, select the academic program, and follow the applying procedure given on website of university and study in Holland website.
---
What is Application Deadline for Holland Government Scholarship 2023-2024?
The deadline for Holland scholarship application is either 1 May 2023 & 1 June 2023.
Read - You may looking Visa guidlines - Netherlands Study Visa Process
---
,Holland Government Scholarship 2023-2024 | Study in Holland, Dutch Scholarship, Study in Holland, Government-funded scholarship, International Scholarship, Higher Education in Netherlands, Academic Scholarship, Fully-funded scholarship