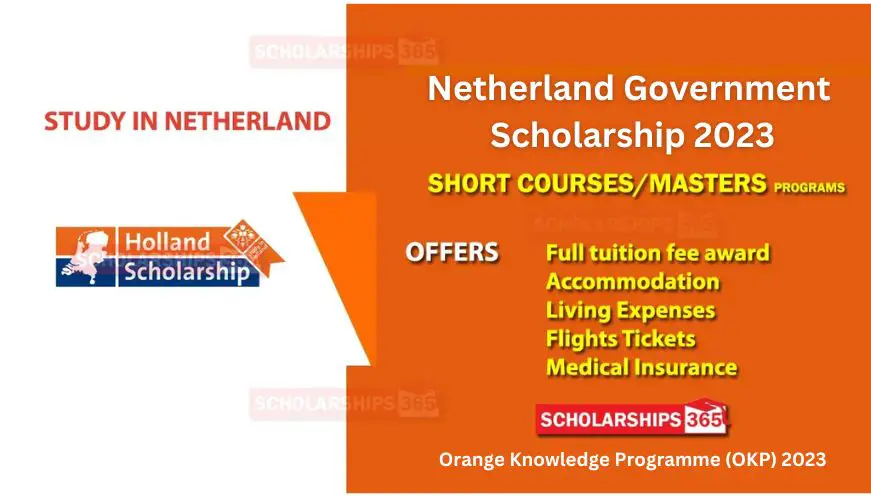 The Holland/Netherlands Government Scholarships is offering Scholarship for International Students 2023 Program under Orange Knowledge Programme (OKP) for International students by The Dutch Ministry. Netherland Government Scholarship Program is a  Fully Funded Scholarship Program for International Scholarships. Holland Government Scholarships 2023 ( Netherlands Government Scholarships 2023 Round 1) is open at the Top Universities of the Netherlands.
Have you read it? Fully Funded International Scholarship in Canada 20232
An application is open and, an international student from different parts of the world can apply for Orange Knowledge Program(OKP). After the Netherlands Government Scholarships 2022, Finally, Orange Knowledge Program 2023 Round 1st opens now. The Orange Knowledge Program (OKP) Scholarship Program's aim is to support both domestic and international students undertaking Bachelors Level Short Courses and Masters Degree programs in many fields of study. Netherlands Government Scholarships will cover all the expenses of the students. 
---
Have you read it? Fully Funded TOP 10 Scholarship for International Students in UK 2023
---
Orange Knowledge Program (OKP):
The Dutch Ministry decided to offer Netherlands Government Scholarships under 1st Round for International students to support their financial issues during their studies. The Aim of the Orange Knowledge Programme (OKP) is to contribute to a society's sustainable, inclusive development and for the betterment of the global village. OKP scholarships are open for International students to mid-career professionals in specific countries.
---
Have you apply for a Fully Funded DAAD Scholarship in Germany 2023
---
Netherland Government Scholarship 2023 | Fully Funded
The scholarship for international students program of holland is offered at different Netherlands universities in different academic fields. OKP support at Top universities of Netherlands is emerged as a center of global excellence in science and education and is uniquely positioned to explore the overlap of different educational fields.
The Netherlands offers scholarships for full-time Masters Degree Programs as well as For Short Term courses for a bachelor's level. There is a large no of Masters Degrees and Short course fields at different participating Netherland universities. The duration of the Master's Degree Program is about 12 to 24 months, as well as The duration of the short courses, is about 2 weeks to 12 months.
---
Have you apply for Brunei Government Scholarship 2023 Fully Funded
---
Host Country: Study in Netherland
---
Host University: Different Universities of the Netherlands
---
Scholarships Offered: Netherland Government Scholarship 2021
---
Scholarships Coverage: Fully Funded
---
No of Scholarships: Large No of Scholarships
---
Degree Level: Short Courses as Bachelors Level & Masters Degree Programs in multiple Fields.
---
😇 So You Will Never Miss Any Opportunity for your excellency. Then hurry up to join, follow and like us on different Social Networks. 😇
---
Who wants to Free Study in Europe It is an excellent opportunity for those students who have a dream to study in Holland (Netherlands) on Fully Funded Scholarships for Short Courses as well as MS/MPhil Studies. If you miss last year, the Netherlands Government 2022 Scholarships, It's a great chance for worldwide students to apply for the 1st Round for Netherlands Government Scholarships 2023.
Fully Funded Holland Government Scholarships in 2023 will cover all expenses during a study in Holland by the Dutch Ministry of Foreign Affairs. 
What Expenses that will cover by Netherland Government Scholarship 2023?
Costs of living

Costs such as tuition fees

Visa Fee

Travel Grants,

Medical Insurance etc
Details of Dutch Ministry Scholarship: HERE
---
What Degree Programs Offered By Netherland Government Scholarship?
Scholarships are available to pursue Short Courses and Masters MS/ M.Phil) Degree Programs in multiple fields. There are 1000+ Courses or Fields available at different Dutch Universities. Please check the given list of available fields.
    Agriculture And Environment

    Economics, Commerce, Management, And Accounting

    Engineering

    General Programmes

    Health Care, Social Services, And Care Services

    Hotel, Catering, Tourism, Leisure, Transport, And Logistics

    Humanities, Social Sciences, Communication, And Arts

    Law, Public Administration, Public Order, And Safety

    Mathematics, Natural Sciences, And Computer Science

    Teacher Training
A list of Degree Program can be seen: HERE
---
You can also apply for the following opportunities:
Top 40+ Scholarships in Europe 2023 for International Students
---
What is Eligibility Criteria for Orange Knowledge Programme?
Eligible Countries: Afghanistan, Bangladesh, Benin, Burkina Faso, Burundi, Colombia, Congo (DRC), Egypt, Ethiopia, Ghana, Guinea, Iraq, Jordan, Kenya, Lebanon, Liberia, Mali, Mozambique, Myanmar, Niger, Nigeria, Palestinian Territories, Rwanda, Senegal, Sierra Leone, Somalia, South Africa, South Sudan, Sudan, Suriname, Tanzania, Tunisia, Uganda, Vietnam, Yemen, and Zambia.
Other Requirements: Each institution may have different specific criteria. Candidates must check the eligibility criteria for the choice of their program on the official website.
Must Check Eligibility Criteria: HERE
---
Have you applied for Top 10 Scholarships in Switzerland- Fully Funded
---
Documents Required for Apply:
Please check the documents list on the official college or University in the official link.
---
There are 3 Rounds of a deadline for the Netherland Government Scholarship:
    Round 1:  8 February 2023 - 30 March 2023

   

Round 2:  28 June 2023 - 5 September 2023
---
Students need to first Select a short course or master's degree course from the given portal below and then contact the educational institution of your course. You need to ask how to apply for the scholarship for international students. Every University has a different method to apply for Netherland Government Scholarships in 2023.
Select a course to apply for Netherland Government Scholarships 2023: APPLY ONLINE HERE - Must Use the filter 'OKP qualified - Yes
Read - You may looking Visa guidlines - Netherlands Study Visa Process
---
,Netherland Government Scholarship 2023 | Fully Funded Orange Knowledge Programme, Chinese President Scholarship 2019-2020-2021-2022-2023-2024-2025-2026, Fully Funded masters Scholarships School 2019-2020-2021-2022-2023-2024, Fully Funded phd Scholarships School 2019-2020-2021-2022-2023-2024, Opportunities Corners, Scholarships Corners, scholarships for college - Austrian government scholarships 2020-2021, Bachelors Scholarships 2020 Italy Government Scholarship - Fully Funded 2020 2019-2020-2021-2022-2023-2024, scholarships for college students 2019-2020-2021-2022-2023-2024