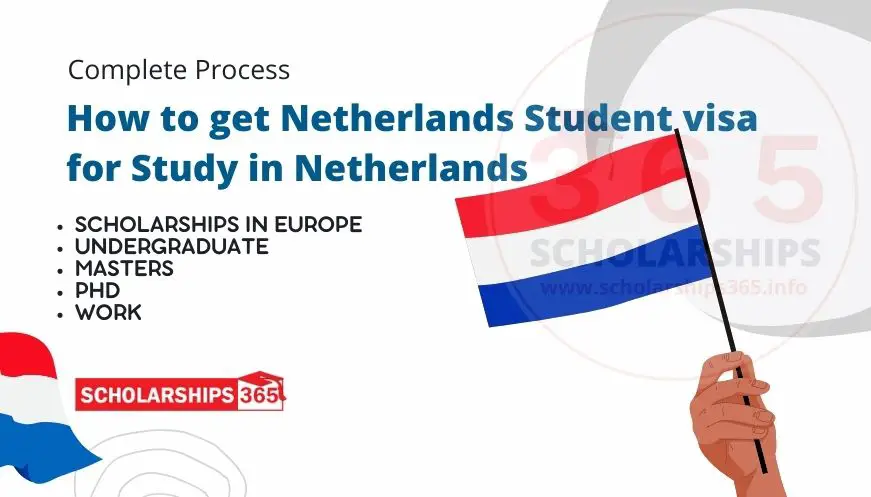 Are you looking for guidelines about Netherlands Student Visa Process? Before, moving further guidelines about how to get Netherlands Student Visa, We want to discuss the Netherlands Education system with you. It is an excellent place for studies which is rated by international studies. The Netherlands offers great academic opportunities and a wide multicultural environment, as the Netherlands has several top universities which include prestigious world rankings. The Netherlands is a popular study destination for international candidates all around the globe. The Netherlands offers affordable tuition fees. It offers many different jobs to students who want to continue living and working in the Netherlands after completing their education.
You can also read about - How to get France Student Visa
If you want to study in the Netherlands, you need to apply for a student visa which depends on the length of your course and the country you belong to. In this article, we will explain if you need a student visa for the Netherlands then how you can get it.
If you have been accepted into a Dutch educational institution then you are eligible to apply for a Netherlands Student Visa. It depends on your nationality you do not need a Dutch visa to study in the Netherlands.
Who Needs a Netherlands Student Visa?
A Netherlands student visa and permit of residence to study in the Netherlands is compulsory for every student excluding those Citizens from the EEA, EU, or Switzerland.
A family member of a citizen from the EEA, EU, or Switzerland. This category does not require a residence permit for the Netherlands but must apply for Verification against EU Law which is a certificate of lawful residence.
If you fall under the above-listed categories and still want to study in the Netherlands for longer than three months duration, you only need to register with local Dutch authorities.
Types of Netherlands Student Visas
Following are the types of student visas for the Netherlands:
Netherlands short-stay student visa
This short-stay student visa will be issued if your course or training program will take less than three months period.
Netherlands student visa for vocational and secondary courses.
Student visas for vocational and secondary courses are usually granted to candidates from Suriname, South Africa, or Indonesia but other candidates may be eligible also. But they must have family in the Netherlands and be able to write and speak in Dutch.
Netherlands long-stay student visa
A long-stay student visa is also known as a student residence permit and it allows candidates to complete their degrees in the Netherlands for almost five years.
You can also read about - How to get Italy Student Visa
How To Apply for a Netherlands Student Visa?
Candidates cannot apply for a Netherlands Student Visa themself. The educational university or institution where you will be studying will apply on your behalf.
To study in the Netherlands, a candidate must be issued a temporary Dutch Residence Permit but in some cases, the candidate also has to apply for an MVV which is known as a long-stay visa. This allows the visa holder to stay in the Netherlands while they must wait for their Dutch permit of residence.
If a candidate needs an MVV also known as a long-stay visa, the candidate's sponsor can apply for both permits at the same time through the Entry and Residence Procedure which is TEV directly to the Immigration and Naturalisation Service IND.
Candidate's sponsor has to be recognized by the Immigration Service IND. And to be recognized, they need to have signed the Code of Conduct for international candidates in higher degree education. This code of conduct ensures that the universities or institutions are offering accessible and effective education to international students.
You can also read about - How to Apply for Australia Student Visa
---
😇 So You Will Never Miss Any Opportunity for your excellency. Then hurry up to join, follow and like us on different Social Networks. 😇
---
Requirements for a Netherlands Student Visa
As the candidate's sponsor will be applying on their behalf, so they will also give you the full list of documents required. Multiple universities have different conditions and requirements. So, some of the standard requirements and conditions for a Netherlands Students visa include:
Candidate must have academic transcripts or certificates.

Candidate must have an official letter from the educational university you will be studying.

Candidates must write a complete study plan which explains the reason why they want to study that particular area of the field and how it is relevant to their previous studies.

Candidates must show proof that they can financially support themselves during their education. Candidate must need to have around €870 every month.

Candidate must have travel and health insurance for the duration of stay.

Candidate must pay the Netherlands Student visa application fee.

Candidate must take a Tuberculosis test within three months of arrival in the Netherlands otherwise visa or residence permit will be taken away.

Candidates must be registered at the university or college want to study in.

Candidate must be registered for a full-time daytime degree course.

Candidate must show Proof of income.

Keep in mind that the candidate must have the original copies of all mentioned documents as well as photocopies for each of them which includes valid passports and previous visas.

All your official documents need to be authenticated or legalized by the authority of the government in your home country. While in some cases, an apostille stamp serves as enough authentication. Candidate's documents also need to be legalized by the Dutch embassy or consulate in your home country.

Candidate documents must be either in Dutch, French, English, or German. If not, then they have to be translated by a certified Dutch translator and must be submitted along with the originals.
You can also read about - How to Apply for Sweden Student Visa
How Long Does Netherlands Student Visa Last?
A Netherlands Student Visa lasts only as long as the duration of the study program. It allows the visa holder to stay in the Netherlands for almost five years in order to finish their degree course.

Candidates can also apply for a one-year residency permit before the course has started. After graduation, candidates can apply for a permit of orientation that allows them to stay in the Netherlands for almost a year in order to search for work.

Candidates need to maintain the progress of at least 50% of the required credits every academic year. If a candidate can't sustain, the student visa will be taken away
You can also read about - How to Apply for Japan Student Visa
Can I Work Having a Dutch Student Visa?
Yes, a candidate can work if you are in the Netherlands having a student visa. But there are some restrictions which are as follows:
Candidates are only allowed to work a maximum of 16 hours per week.

The candidate can work full-time only during the months of June, July, and August which is seasonal labor.

Candidate must have a work permit. Because your employer needs to acquire this on your behalf.

Candidates don't need a work permit if they doing an internship as part of their degree course. But your employer has to sign an agreement of internship with you and your university or institution.

There are many other things that you must keep in mind and want to work on during your education in the Netherlands:

To be paid, the candidate must have a citizen service number which is also known as a Burger Service Number. The candidate will receive this number after registration at the local municipality.

Candidates still need to file and pay income tax. If living in the Netherlands and receiving income, the candidate is considered a resident and must pay taxes. Even your candidate fellowship or scholarship can be considered as part of income.
Read - You may looking for Netherlands Scholarships 2023-2024
,How to get Netherlands Student Visa for Study in Netherlands, student visa to netherlands, student visa netherlands, netherlands visa san francisco, can netherlands travel to usa, netherlands in 5 days, student visa netherlands requirements, is netherlands safe