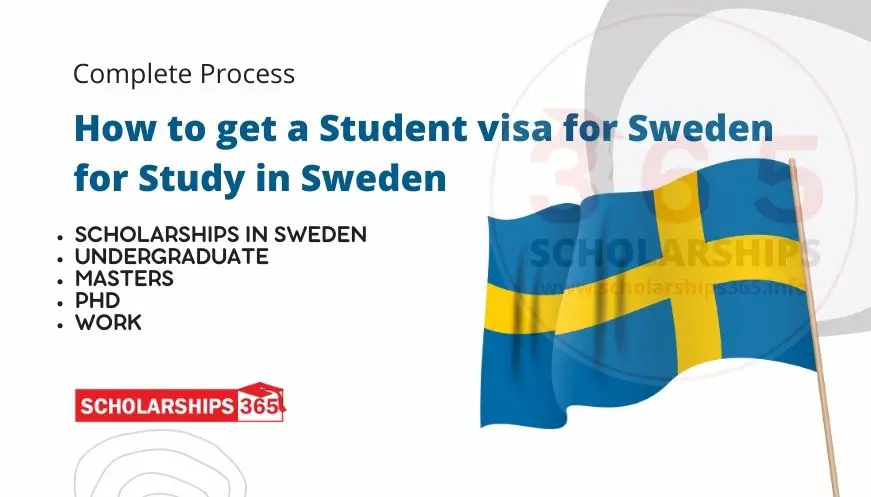 Sweden having international student population is increasing now a days. Sweden is one of the most expensive study abroad destinations and the country has recently seen an increase in international candidates. Sweden has seen increase in the number of student visa applications made. International students who want to study in Sweden are required to obtain a Sweden student visa and residential permit which is based on the period of their stay.
You can also read about - How to get Student Visa for France
International students who want to study in Swedish universities for their world-class academic standards they can avail exciting career opportunities after their graduation. Universities in Sweden are most prestigious and the country is ranking one of the world's most innovative nations. International student can develop soft skills like creative and critical thinking.
Chinese students has majority of the international student population here. According to University World News, 826 Chinese students are enrolled in different program across Stockholm, Sweden which is an increase of 18% compared with the last year.
Sweden Student Visas issued to Indian students has seen a rise even in the pandemic. Around 1648 student visas were granted to Indian students. International students who want to get a student visa in Sweden are required to send an application to their choice of Swedish Institute. When the university gives them admission, then the student needs to pay their first part of the tuition fees. The universities in Sweden require international students to begin with the application process only after this fee is paid.
Sweden Student Visa vs Residence Permit
Student visa and the residence permit are for those who are non EEA/EU citizens and planning to study and stay in Sweden. So, you need to obtain a student visa or a residence permit will depend on the duration of your stay.
#1 Before Applying for Sweden Student Visa
Students need the following factors for Sweden study visa:
Country of origin

If student has a residence permit previously of other Schengen country.

Permanent resident of the EU
#2 Requirements to apply for a student visa to Sweden
Must have a valid passport.

Must have taken admission to a full-time course to show their presence in higher education.

Must be able to support their expenses till the duration of applying for the residence permit.

Must have paid tuition fee before applying.

Must have applied for health-insurance in Sweden.
---
You can also read about - How to get Student Visa for Italy
#3 Application Process for Residence Permit
Below is the process of applying for the Sweden student visa permit:
Where to Apply for Sweden Student Visa
Student can apply for a student visa for Sweden online through Swedish Migration Agency website or local Swedish embassy in your home country.

You have to fill-up the Sweden student visa online application form in the Swedish Migration Agency Portal.

Enter all the required information.

You have to provide the necessary documents required which includes copies of their passport, proof of their health insurance in Sweden, proof of admission from the Swedish university, account statement to verify that you have enough funds for living expenses or proof of any stipend/scholarship.

Processing time for online application is lower than the time invested. The Swedish Migration Agency takes almost 3 to 4 months to process the online application and they take almost 3 to 5 months to process the offline application.
---
You can also read about - How to Apply for Student Visa for Australia, Complete Process
😇 So You Will Never Miss Any Opportunity for your excellency. Then hurry up to join, follow and like us on different Social Networks. 😇
---
#4 Permit Processing Fee
You have to pay the fee for the application through a Credit Card.

If student is applying from the Swedish embassy, the fee needs to be provided in cash.

if application is rejected there will be no fee returned.
The fee structure for the residence permit of the candidate and their family member is the same. The fee structure for the Residence Permit of Sweden:
#5 Visit to Embasyy
Student must have to submit their application to their respective general consulate or Swedish embassy.
Student must have to pay the fee for the application in cash.
#6 Interview for Student Visa Sweden
Student will receive invitation for the interview through Email.
Student will have to appear in the interview within the mentioned time.
#7 Sweden Student Visa Online Application Results
Student will receive the result through mail.

After booking an appointment student must visit the Embassy.

Student must carry all the documents when they visit to the embassy.
---
You can also read about - Top 10 Scholarships in Switzerland for International Students 2023
#8 Required Documents for Sweden Student Visa
Student must have the following documents to receive Residence Permit for studying in Sweden:
Valid passport which has at least two blank pages and issued in the last 10 years.

Must describe the purpose of their visit.

Must have proof of acceptance from a Swedish university.

Must have money to support themself

Must have medical travel insurance that covers the cost of at least EUR 30,000.

Must show that they have an intention to leave the country within the last day before the visa expires.

A photograph of passport size but not older than 6 months.
---
Good News: There are thousands of International scholarships in China for International Students, But Students don't know how to apply to China for Scholarships. We have written a complete article about the application process in China with sample documents.
You can also read about - Chinese Government Scholarship 2023 - Process / Procedure
---
#9 Language Requirements for Sweden Student Visa
Students from non-native English speaking countries must have skill and proficiency in English language. Swedish universities need a English language proficiency score for admission.
For admission in Swedish universities, the tests of English language proficiency are IELTS and TOEFL. The minimum score of IELTS is 6.0 and TOFEL iBT is 72 with 17 in writing is required.
#10 Sweden Student Visa Finances Evidence
Student needs to provide proof of spending at least SEK 450 for each day of stay in Sweden to get the Residence Permit.
Student need to submit the statement of their own bank account when asked.
Personal bank statement account will be accepted.
Student must have to provide the information of all the accounts if they keep money in multiple bank accounts.
#11 Work-Study on Sweden Student Visa
To find a part-time job in Sweden is not impossible. Government of Sweden has no restriction on part-time jobs and there is no limitation for working hours for international students.
For part-time jobs, the average salaries of students visiting Sweden for studies vary between EUR 700-1000 every month.
#12 How Long Visa Extension Takes for Sweden Student Visa
If student academic course is lesser than a year, then the residence permit will valid for 1 year. If the course continues, the student must apply for the extension before the end of the course.
And if student already have residence permit and wants to extend the permit then they have to apply for the extension at least 6 months of expiry date of the existing residence permit.
#13 Required Documents to apply for Residence Permit Extension
Students need the following documents for residence permit:

Student must have a valid passport.

Student must be admitted to a higher education institution in Sweden.

Student must made acceptable development in their education.

Student must be able to support themselves financially for the duration to stay back in Sweden.
#14 Student Visa Rejection Reasons
The Swedish migration agency is strict about the rules to apply for a residence permit extension. The rejection rate of Swedish residence permits is 40 to 50% for the year 2019-2020. Following is the reasons for the rejection of the student visa or residence permit:
Inadequacy of funds

Documents missing

Poor communication skills

Documents counterfeit

Unsatisfactory answers during interview questions
You can read about the -  Best Sweden Scholarships 2023 List
,How to get a Student visa for Sweden for Study in Sweden, indian tourist visa, Fully Funded undergraduate, bachelors, masters Scholarships School 2019-2020-2021-2022-2023-2024, how to apply for scholarships abroad sweden , where to apply for scholarships in sweden, english proficiency test questions and answers, Latest Internships Programs in sweden 2022-2023-2024, Italy Student Visa, Italy Study Visa, fully funded scholarship without ielts in sweden