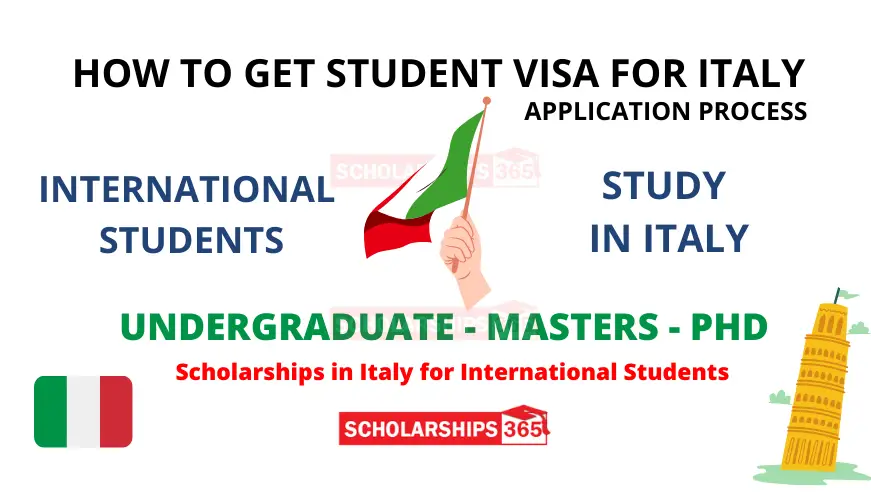 Do you want to get experience studying abroad and want to apply to a university in Italy? Without a doubt, Italian universities are among the most reputable in the world and you will not only enjoy and experience the excellent teaching, but you will also have the chance to enjoy the famous eatables, magnificent architecture which represents the great history of Italians and other numerous breath-taking attractions. A lot of International Students avail Scholarships in Italy for their bright career as well as some student studies on self-funds.
CHK HERE - How to Apply for Student Visa for Canada - Study in Canada
If you have decided your plan to study in Italy and come from any EU/EEA country, then it's good news for you, as you do not need an Italian student visa. But, if the student is coming from all other non-EU/EEA county, he/she may have to follow the next steps and prepare to apply for your Italy student visa application.
CHK HERE - TOP 10 Scholarship in UK for International Students 2023
1. Get the acceptance letter after applying to an Italian University:
Before applying for your Italy student visa application process, you ought to decide where you want to study in Italy according to your educational requirements. After being accepted by an Italian university, you will get a letter of acceptance for the student visa application.
These are some of the most popular disciplines in Italy:
And these are some of the best universities in Italy:
Other excellent higher education institutions you must check out are:
2. Find out the type of visa you need in order to study in Italy

:
As mentioned earlier, the students from any EU/EEA country he/she can study in Italy without a visa but other international students are not so fortunate, they need an Italian student visa in order to study in Italy. But, the visa application process becomes less complicated when you have all that information required.
Depending on the time and field you want to study in Italy, you will need to apply for one of these visa types:
Short-stay visa (type C): It's an Italian Student visa type that will be issued for a language or a short course that lasts less than 90 days.
Long-stay visa (type D): It is the most common type of Italy visa type required for any degree level programs/courses that have at least 20 hours of course work per week (or About it can be 80 hours per month) and lasts about more than 90 days.
---
CHK HERE - Scholarship in Korea for International Students 2023
---
If you need a visa for Italy, this is from here to get all information.
Citizens from some non-EU/EEA countries do not need to apply for a visa if they plan to stay for less than 90 days. For example:
The United States of America
Australia

New Zealand

Hing Kong

Ukraine
This is from where you can check which countries students need a visa and which do not.
Conditions you need to meet to apply for a visa in Italy
        At least two blank visa pages passport.

        You must provide a copy of your flight road.

        A person with a criminal record will not be accepted.

        Previously, you must not have been denied entry in Italy.
When and where to apply for a student visa in Italy
        Students need to apply for an Italian student visa at the

Italian embassy

in their home country.

        International students ought to Schedule a visa interview around 4 to 6 weeks in advance.

        You need to apply for a student visa at least 3 months before your arrival in Italy.
The progressing time of your application may take between 1-3 weeks and sometimes longer.
---
CHK HERE - Top 10 Scholarships for International Students 2023
---
😇 So You Will Never Miss Any Opportunity for your excellency. Then hurry up to join, follow and like us on different Social Networks. 😇
---
Try to schedule the appointment date earlier, if you missed scheduling an appointment at least 4 weeks earlier in advance. If you are not able to reach the office of overseas representatives for the visa interview, you may schedule an appointment at an Honorary Consulate, if it is closer to your home. However, first, check with the consulate in your area if this option is available.
---
CHK HERE - Scholarship in Australia for International Students 2023
---
4. Language Requirements for studying in Italy:
There are no specific language requirements, in order to get a study visa in Italy. Since Language Requirements is one of the obligatory requirements not for Study in Europe but also for Italian university admission for all degree courses, the Italian embassy does not consider international applicants should present any proof of language proficiency as well. You can impress a visa officer if you speak Italian at least on a conversational level. Say "Hi" and introduce yourself to Italian.
For all the degree programs available at Italian Universities that are taught in English, you need to must pass one of the following English language Requirement tests:
You must need to check before scheduling an examination date which test or tests are accepted by a university, you opted for.
---
CHK HERE - Scholarship in Switzerland for International Students 2023
---
5. Documents for a student visa in Italy
    Entry Italian visa application form.

    Recent passport-size photographs.

    Valid travel documentation whose expiry date should be three months longer than that of the visa requested.

    Proof that you have arranged to house in Italy (for the whole period of your studies).

    Prove that you are financially stable enough to support your studies (at least 900 EUR/month).

    Paid health insurance of 150 EUR.

    A copy of All the educational documents.

    Acceptance letter from an Italian university.

    Italian Visa Application fee of (500 EUR) Receipt.
You do not need a work permit to work in Italy if you are from the European Union. Still, your work schedule must not exceed more than 20 hours a week basis during a semester. You can do full-time work but only during semester holidays if you would like so.           
International students that are outside the European country will need to apply for an Italy work permit at a local immigration office in Italy. However, you also need a signed employment contract and present a copy of that at the immigration office.
A part-time job could not make you earn enough money to pay for your tuition fee. However, getting a job as a student is not so difficult, if you speak a little Italian as well. You can even find job opportunities within your university like you can work as a librarian assistant or office attendant throughout the academic year.
Regional job portals, newspapers, and the international office help desk are the best places to check for job listings if you are interested in doing a job.
CHK HERE - Scholarship in Saudi Arabia for International Students 2023
---
7 Conditions to apply for an Italy housing permit:
Non-EU citizens
You should apply for your residence permit at any post office within 8 days of your arrival if you come from a country outside the EU. The main required documents to submit are:
A copy of your passport.

A copy of your health insurance plan.

National student visa for Italy.

A copy of the statement verifying the studies you will be taking in Italy.

Four recent passport-size photos.
EU citizens
You will just need to apply for a declaration of presence at the police headquarters within 8 days of arriving in Italy.
Go ahead and apply for your dream Bachelor's and Master's degrees in Italy. You can already start to pack your bags and make the travel arrangements, after being accepted by the Italian university and completing the visa application process.
---
Good News: There are thousands of International Scholarships in China for International Students, But Students don't know how to apply in China for Scholarships. We have written a complete article about the application process in China with sample documents.
CHK HERE - Chinese Government Scholarship 2023 - Process / Procedure
---
,Fully Funded italy bachelors Scholarships 2019-2020-2021-2022-2023-2024, Fully Funded italy masters Scholarships 2019-2020-2021-2022-2023-2024, cgs universities agency numbers, China top universitiss, Fully Funded phd Scholarships School 2019-2020-2021-2022-2023-2024, Opportunities Corners, Scholarships Corners, scholarships for college - Austrian government scholarships 2020-2021, CGS CSC STUDY CHINA, FORIGN STUDENTS , TOP UNIVERSITY, HIT, HARIB, TSINGUHA, CHINA, scholarships for college students 2019-2020-2021-2022-2023-2024