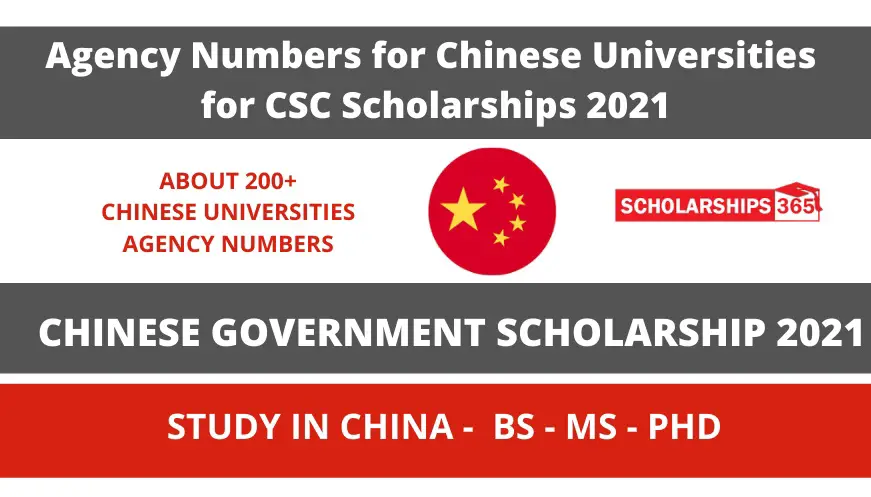 Chinese Government has set up a series of Chinese Government Scholarship programs in 2024 to sponsor about 25,000+ international students in order to better help them study in China. But many students do not know which university can admit Chinese Government Scholarship students when applying. Chinese Government Scholarship, 250+  Chinese Universities admit international students under this scheme.
Most of the students don't know the Chinese Government CSC Scholarship Process/Procedure. We have written a complete article for Apply to Any Chinese University Under the Chinese Scholarships Council (CSC), A project of Chinese Government Scholarships.
What is the Agency Number of the Chinese University? for the Chinese Government Scholarship 2024?
In simple words, each Chinese University has a special unique identification number which is called an agency number. This Chinese University Agency Number is used to differentiate it from other Chinese universities.
During the apply in China Scholarship Council - Admission/Application Portal, a Chinese University Agency Number is required to apply. It is difficult to find all Chinese University Agency Numbers in once place, We have collected almost all the Chinese University Agency Numbers and shared in this article.
List of all Chinese Universities Agency Numbers under Chinese Government Scholarship:
😇 So You Will Never Miss Any Opportunity for your excellency. Then hurry up to join, follow and like us on different Social Networks. 😇
---
The Agency Number of Peking University is

10001

The Agency Number of Renmin University of China is 10002

The Agency Number of Tsinghua University is10003

The Agency Number of Beijing Jiaotong University is10004

The Agency Number of  Beijing University of Technology is 10005

The Agency Number of  Beihang Univ (BUAA) is 10006

The Agency Number of Beijing Institute of Technology is 10007

The Agency Number of Univ. of Science and Technology Beijing is 10008

The Agency Number of Beijing Univ. of Chemical Tech is 10010

The Agency Number of Beijing Univ. of Posts and Telecommunications is 10013

The Agency Number of China Agricultural Univ (CAU) is 10019

The Agency Number of Beijing Forestry Univ is 10022

The Agency Number of Beijing University of Chinese Medicine is 10026

The Agency Number of Beijing Normal Univ. is 10027

The Agency Number of Capital Normal Univ. is 10028

The Agency Number of Capital Institute of Physical Educations is 10029

The Agency Number of Beijing Foreign Studies University is 10030

The Agency Number of Beijing International Studies Univ. is 10031

The Agency Number of Beijing Language and Culture Univ. is 10032

The Agency Number of Central Univ. of Finance and Economics is 10034

The Agency Number of Univ. of International Business and Economics is 10036

The Agency Number of Capital Univ. of Business and Economics is 10038

The Agency Number of China Foreign Affairs Univ. is 10040

The Agency Number of Beijing Sport University is 10043

The Agency Number of Central Conservatory of Music is 10045

The Agency Number of Central Academy of Fine Arts is 10047

The Agency Number of The Central Academy of Drama is 10048

The Agency Number of Beijing Film Academy is 10050

The Agency Number of Central University For Nationalities is 10052

The Agency Number of China University of Political Science and Law is 10053

The Agency Number of North China Electric Power University is 10054

The Agency Number of Nankai University is 10055

The Agency Number of Tianjin Univ is 10056

The Agency Number of Tianjin Univ. of Science and Technology is 10057

The Agency Number of Tianjin Medical University is 10062

The Agency Number of Tianjin Univ. of Traditional Chinese Medicine is 10063

The Agency Number of Tianjin Normal Univ is 10065

The Agency Number of Tianjin Univ. of Technology and Education is 10066

The Agency Number of Tianjin Foreign Studies Univ. (TFSU) is 10068

The Agency Number of Liaoning University is 10140

The Agency Number of Dalian Univ. of Technology  is 10141

The Agency Number of Northeastern University is 10145

The Agency Number of Dalian Maritime Univ. is 10151

The Agency Number of Dalian Medical University is 10161

The Agency Number of Liaoning Normal University is 10165

The Agency Number of Shenyang Normal University is 10166

The Agency Number of Dalian Univ. of Foreign Languages is 10172

The Agency Number of Dongbei Univ of Finance and Economics is 10173

The Agency Number of Jilin University is 10183

The Agency Number of Yanbian University is 10184

The Agency Number of Changchun Univ. of Science and Technology is 10186

The Agency Number of Northeast Normal Univ. is 10200

The Agency Number of Beihua Univ. is 10201

The Agency Number of Jilin Normal Univ. is 10203

The Agency Number of Heilongjiang Univ. is 10210

The Agency Number of Heilongjiang University is 10212

The Agency Number of Harbin Institute of Technology is 10213

The Agency Number of Harbin Engineering Univ. is 10217

The Agency Number of Jiamusi University is 10222

The Agency Number of Northeast Agriculture Univ. is 10224

The Agency Number of Harbin Normal University is 10231

The Agency Number of Fudan Univ. is 10246

The Agency Number of Tongji Univ. is 10247

The Agency Number of Shanghai Jiao Tong Univ. is 10248

The Agency Number of East China Univ. of Science and Technology is 10251

The Agency Number of Univ. of Shanghai for Science and Tech. is 10252

The Agency Number of Donghua Univ. is 10255

The Agency Number of Shanghai Univ. of Traditional Chinese Medicine. is 10268

The Agency Number of East China Normal University is 10269

The Agency Number of Shanghai Normal Univ. is 10270

The Agency Number of Shanghai International Studies Univ. is 10271

The Agency Number of Shanghai Univ. of Finance and Economics (SUFE) is 10272

The Agency Number of Shanghai Univ. of Sport is 10277

The Agency Number of Shanghai Conservatory of Music is 10278

The Agency Number of Shanghai University is 10280

The Agency Number of Nanjing Univ. is 10284

The Agency Number of Soochow Univ. is 10285

The Agency Number of Southeast University is 10286

The Agency Number of Nanjing Univ. of Aeronautics and Astronautics is 10287

The Agency Number of Nanjing Univ. of Science and Technology is 10288

The Agency Number of China Univ. of Mining and Technology is 10290

The Agency Number of Hohai University is 10294

The Agency Number of Jiangnan University is 10295

The Agency Number of Nanjing Univ. of Information Science and Tech. is 10300

The Agency Number of Nanjing Agricultural University is 10307

The Agency Number of Zhejiang University is 10335

The Agency Number of Zhejiang Univ of Technology is 10337

The Agency Number of Zhejiang Sci-Tech Univ. is 10338

The Agency Number of Zhejiang Normal Univ. is 10345

The Agency Number of China Academy of Art is 10355

The Agency Number of Anhui University is 10357

The Agency Number of Univ. of Science and Technology of China (USTC) is 10358

The Agency Number of Hefei Univ. of Technology is 10359

The Agency Number of Anhui Normal Univ. is 10370

The Agency Number of Xiamen Univ. is 10384

The Agency Number of Nanchang Univ. is 10403

The Agency Number of Jingdezhen Ceramic Institute is 10408

The Agency Number of Shandong University is 10422

The Agency Number of Ocean University of China is 10423

The Agency Number of Shandong Normal University is 10445

The Agency Number of Zhengzhou University is 10459

The Agency Number of Wuhan University is 10486

The Agency Number of Huazhong Univ of Science and Tech is 10487

The Agency Number of China Univ. of Geosciences (Wuhan) is 10491

The Agency Number of Wuhan Univ. of Technology is 10497

The Agency Number of Huazhong Agricultural Univ. is 10504

The Agency Number of Huazhong Normal University is 10511

The Agency Number of Zhongnan Univ. of Economics and Law is 10520

The Agency Number of Xiangtan university is 10530

The Agency Number of Hunan University, Changsha is 10532

The Agency Number of Central South University, Changsha is 10533

The Agency Number of Hunan Normal University, Changsha is 10542

The Agency Number of Sunyat-Sen University is 10558

The Agency Number of Shantou University is 10560

The Agency Number of South China University of Technology is 10561

The Agency Number of South China Agricultural University is 10564

The Agency Number of Guangzhou University of Chinese Medicine is 10572

The Agency Number of South China Normal University is 10574

The Agency Number of Guangxi University is 10593

The Agency Number of Guangxi Medical University is 10598

The Agency Number of Guangxi Normal University is 10602

The Agency Number of Guangxi University for Nationalities is 10608

The Agency Number of Sichuan University is 10610

The Agency Number of Chongqing University is 10611

The Agency Number of China Medical University is 10159

The Agency Number of Nanjing Univ of Chinese Medicine is 10315

The Agency Number of Southwest Jiaotong University is 10613

The Agency Number of University of Electronic Science and Technology of China is 10614

The Agency Number of Chongqing University of Posts and telecommunications is 10617

The Agency Number of Southwest University is 10635

The Agency Number of Ningbo University is 11646

The Agency Number of Southwestern University of Finance and Economics is 10651

The Agency Number of Guizhou University is 10657

The Agency Number of Yunnan University is 10673

The Agency Number of Kunming University of Science and Technology 10674

The Agency Number of  Yunnan Normal University is 10681

The Agency Number of Yunnan University of Finance & Economics is 10689

The Agency Number of Xian Jiatong University is 10698

The Agency Number of Northwestern Poly-Technical University is 10699

The Agency Number of Xidian University is 10701
---
141. The Agency Number of Changan University is 10710

142. The Agency Number of Northwest A&F University is 10712

143. The Agency Number of Shaanxi Normal University is 10718

144. The Agency Number of Xian International Studies University is 10724

145. The Agency Number of Lanzhou University is 10730

146. The Agency Number of Lanzhou University of Technology is 10731

147. The Agency Number of Lanzhou Jiaotong University is 10732

148. The Agency Number of Northwest Normal University is 10736

149. The Agency Number of Ningxia University is 10749

150. The Agency Number of Xinjiang University is 10755

151. The Agency Number of Shihezi University is 10759

152. The Agency Number of Xinjian Medical University is 10760

153. The Agency Number of Xinjiang Normal University is 10762

154. The Agency Number of Xiamen University is 10384
Important Links for CSC 2024
---
Good News -  You don't need to search anywhere in google, you can find all the Chinese Universities Scholarships 2024 under China Scholarships Council (CSC), a project of Chinese Government Scholarships (CGS) as given below:
List of All Chinese Government Scholarships 2024 - China Scholarships Council - Chinese Universities
---
,Agency Numbers for Chinese Universities for CSC Scholarships, csc universities agency numbers , cgs universities agency numbers, China top universitiss, agency numbers for china universities, study in china, china universities agency numners 2019, china universities agency numners 2020, all ageny numbers list for csc scholarships 2020, agency numbers csc china 2020 full list, 2022, 2023,2024,2025,2026