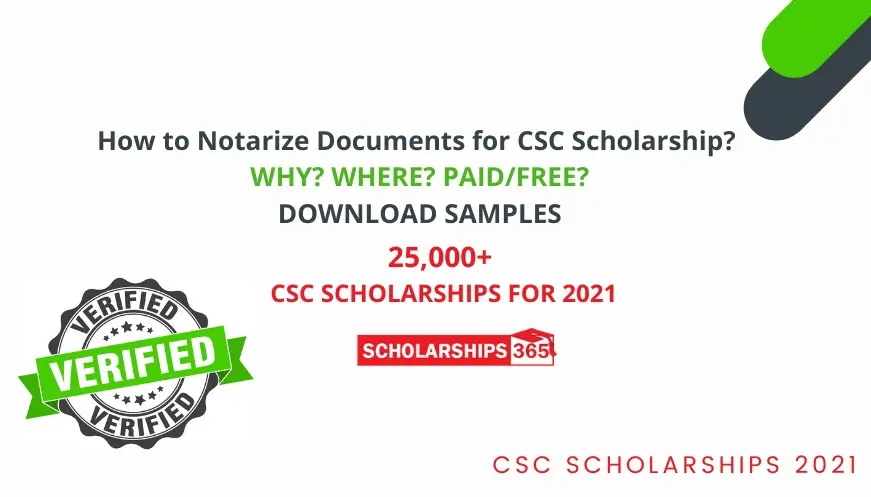 As we know, the Chinese Government Scholarship 2021 is open now in 273+ Chinese universities. There is about 25,000+ Scholarship in China for International students available for 2021. This Chinese Government Scholarship (CGS) is open for Bachelors, Masters, and Ph.D. Studies. If you want to apply to Chinese Universities under China Government Scholarship, you must need to notarize your all academic documents to apply from the notary public.
Wait, Wait, before move further, please don't forget to follow us on Instagram
, For the latest updates -

Follow Instagram

.
What is document notarization?
A notarized document is a way for any University to make sure that you are applying for admission with original and verified documents. Notarize means, that you have to verify all the academic documents from notary public office, to make sure that you have original documents.
When you apply for admission to any university in the world, most of the Universities normally not return your application documents, So, the students cannot send the original documents to the university. Every university required the notarized documents should be sent to University, as it considers them, that are genuine.
Do you need to notarize your application documents for CSC scholarship?
The difficult thing for students is the Chinese Government Scholarship Process to apply in China. We have shared the Most of the students face the problem of document notarization in their area. International students, are struggling every year with document notarization, how to notarize documents? where to notarize?  and why to notarize?. If students have questions in mind? is it necessary to notarize documents for study in china?.
Yes, if you want to apply for any 2021 Chinese Government Scholarship, you need to notarize all your academic documents include your educational degrees and transcripts. Not only for Scholarships, even if you have to plan your study on self-finance, you also need to notarize your educational documents as well. As admission in China is open for worldwide students on different Chinese Government Scholarship, so every student has to notarize the academic documents.
😇 So You Will Never Miss Any Opportunity for your excellency. Then hurry up to join, follow and like us on different Social Networks. 😇
---
If you are applying for the CGS (Chinese Government Scholarship) 2021 you must need to notarize your documents for all Chinese Universities. If the Chinese University, where you are applying required to submit your application documents in hard form, you have to first notarize the documents, and then send them to the university. But, if you need only to submit online, then original documents are accepted. We suggest you, please make 5-10 black copies of each educational document, and make them notarized, before starting the application process for study in China.
Note: If your academic documents are not in the English Language, you just need to provide translated documents in English or Chinese language.
Which documents do you have to notarize?
You don't need to notarize the original degrees and transcripts, you have to get black copies of your documents and get notarized. The list of documents you need to notarise are:
 Academic Transcript.

 Graduation Certificate.

 Translated documents.
Is it free to notarize documents?
No the notarization of the academic documents is not free. Each notary public office charges a low fee for their notarization services. Please visit your nearer Notary Public office for Charges Confirmation. Likewise, If the students are from Pakistan, The charges are about 20-30 Rupees Per Notarizate Documents by Notary Public Office (lawyer)
Where can you notarize documents?
Usually, international students will need to get notarized his/her documents in the same country that he/she graduated from. For example, if a student is graduated from an Indian/Pakistani University, it's better to get the notarization done from the Indian Notary Public office or in another case Pakistani Notary Public Office. It is very difficult to get notarize your academic documents in other countries, where you did not graduate.
For the Notarization of documents, students have to find the Notary Public Office in their city Area that is mostly located in the Courts or Law Firm area., The other way to notarize, you can ask any lawyer about Notary Public Office for documents Attestation and Notarization. Besides this, you can also search online for a Nearest "Notary Public Office" with your city name on government websites.
Example: If you are from Indian, you have to visit the court area and find the Notary Public Office there and ask them to Notarized Your Documents, they will charge about 20-30 R.S Per Document, Other countries have their own charges. Please visit the official office for more information.
Furthermore, the student is graduated from any country in Europe, can directly contact the University that he/she graduated from this university, and ask them to help you to notarize it. Most universities can provide notarization for you, especially in the UK.
Download Here:

Click Here - Notarized Transcript Sample

Download Here:

Click Here - Notarized Degree Sample
---
Important Links for CSC 2021:
---
Good News -  You don't need to search anywhere in google, you can find all the Chinese Universities Scholarships 2021 under China Scholarships Council (CSC), a project of Chinese Government Scholarships (CGS) as given below:
List of All Chinese Government Scholarships 2021 - China Scholarships Council - Chinese Universities- Here
,Fully Funded bachelors Scholarships 2019-2020-2021-2022-2023-2024, Fully Funded masters Scholarships 2019-2020-2021-2022-2023-2024, Fully Funded masters Scholarships School 2019-2020-2021-2022-2023-2024, Fully Funded phd Scholarships School 2019-2020-2021-2022-2023-2024, Opportunities Corners, Scholarships Corners, scholarships for college - Austrian government scholarships 2020-2021, Bachelors Scholarships 2020 Italy Government Scholarship - Fully Funded 2020 2019-2020-2021-2022-2023-2024, scholarships for college students 2019-2020-2021-2022-2023-2024