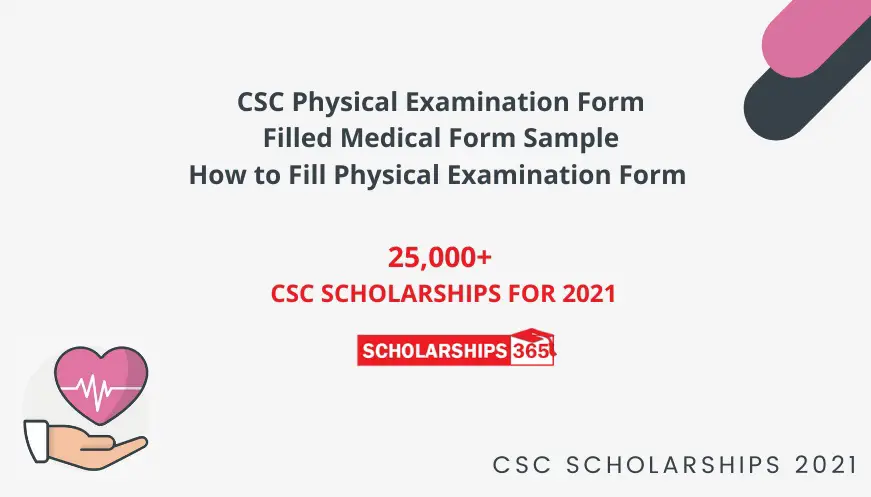 CSC Physical Examination Form for CSC Scholarship 2021 - Study in China
As the Scholarship for international students in China is open now under the Chinese Government Scholarship 2021 program. The Chinese Government Scholarship is a fully-funded scholarship in China for International Students. Every year China Scholarship Council (CSC) offers more than 25,000+ Scholarships in China for worldwide students.
Wait, Wait, before move further, please don't forget to follow us on Instagram
, For the latest updates -

Follow Instagram

.
After the COVID-19 pandemic period, now China Government opens CSC 2021 Scholarship again for Bachelors, Masters, and Ph.D. in more than 273+ Chinese Universities. Those students who wish to apply for the 2021 CSC Scholarship program must prepare all the required documents before the application, as it takes some time to complete your all material.
One of the most important documents for apply is the Physical Examination Form, which must be complete and verified by Hospital, that you are medically fit for Study in China.
Those students who wish to apply for study in China must provide a valid medical certificate from any Government Hospital that he/she is medically fit and don't have a serious or chronic disease. The medical fitness certificate is known as CSC Foreigner Physical Examination Form. Without this medical certificate, you can't apply for any scholarship in China. It is mandatory to document in the CSC documents list.
😇 So You Will Never Miss Any Opportunity for your excellency. Then hurry up to join, follow and like us on different Social Networks. 😇
---
First, you need to Download the CSC Foreigner Physical Examination Form. Fill in the main personal information on the form according to your national identity card and place your photo (white background) on it. The next step is to take the CSC Physical Examination Form to a nearby City Government Hospital in your area and carry out all the required tests which are mentioned in the CSC physical examination form.
When all tests are completed, the next step is that the doctor will sign, verify, and stamp your photo. The medical form can only be accepted if all the tests are from Government Hospital. The Physical Examination Form for CSC is valid for 6 months from the date of the test.
Please note, you don't need to send the original physical examination form to any university, you can send a black copy of it to all Chinese Universities. You can also check the filled sample of the Physical Examination form here, which may help you to understand how to fill it.
---
We have shared the Physical Examination Form document in PDF format. You can download from the given link below, take a print and complete your medical form as soon as possible.
Physical Examination Form PDF Document: Download Physical Examination Form
---
Important Links for CSC 2021:
---
Good News -  You don't need to search anywhere in google, you can find all the Chinese Universities Scholarships 2021 under China Scholarships Council (CSC), a project of Chinese Government Scholarships (CGS) as given below:
List of All Chinese Government Scholarships 2021 - China Scholarships Council - Chinese Universities- Here
,Fully Funded bachelors Scholarships 2019-2020-2021-2022-2023-2024, Fully Funded masters Scholarships 2019-2020-2021-2022-2023-2024, Fully Funded masters Scholarships School 2019-2020-2021-2022-2023-2024, Fully Funded phd Scholarships School 2019-2020-2021-2022-2023-2024, Opportunities Corners, Scholarships Corners, scholarships for college - Austrian government scholarships 2020-2021, CGS CSC STUDY CHINA, FORIGN STUDENTS , TOP UNIVERSITY, HIT, HARIB, TSINGUHA, CHINA, scholarships for college students 2019-2020-2021-2022-2023-2024