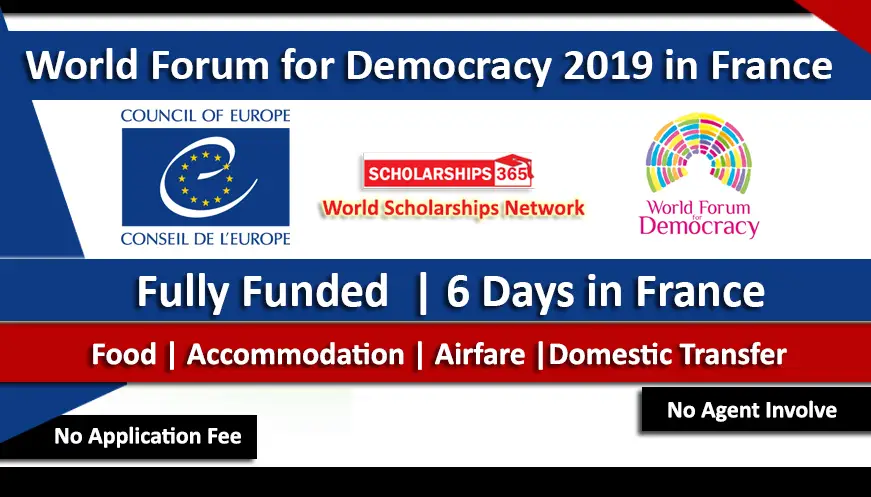 Applicants are invited to Apply for Fully Funded World Forum for Democracy 2019 in France Youth Delegation from the Council of Europe. The youth world forum for democracy is a Unique platform for Youth around the world to contribute in discussion about challenges of democracies worldwide and their key solutions. This Youth Forum is Fully Funded & All expenses of International Conference in France is covered by World Forum Organization.
World Forum for Democracy 2019 - Youth Delegation: 
The Council of Europe welcomes applications from all candidates who fulfil the specific profile of the activities, irrespective of gender, disability, marital or parental status, racial, ethnic or social origin, colour, religion, belief or sexual orientation.
The World Forum for Democracy is a unique platform for political decision-makers and activists to debate solutions to key challenges for democracies worldwide. By identifying and analysing experimental initiatives and practices, the Forum highlights and encourages democracy innovations at the grassroots and their transfer on a systemic  level in order to strengthen the foundations of democratic societies. The Forum thus contributes to the evolution of democracy towards more participatory and inclusive structures and institutions.
---
Host Country :  Strasbourg, France
---
Host Center: European Youth Centre, France
---
Funds Offered By: Funded by Council of Europe
---
Youth Conference Financial Coverage: Fully Funded
---
No of Participant:  60
---
Students Should Like & Follow US on Facebook, Twitter and WhatsApp. So You Will Never Miss Any Opportunity for your excellency.
You can also Apply for following opportunities.
You can also apply for Doha Oasis For Innovation 2019 Conference in Qatar.
😇 So You Will Never Miss Any Opportunity for your excellency. Then hurry up to join, follow and like us on different Social Networks. 😇
---
Financial Package for World Forum for Democracy 2019:
It is excellent Opportunity for those students who want to Participate in youth discussion forum for for diverse challenges and their key solutions in France on Fully Funded Scholarships. Fully Funded World Youth Forum Democracy 2019 is provide innovative solutions for the civil society & democracy challenges from Youth Forum 2019.
World forum for democracy 2019-2020 in France is a Fully Funded international Conference & will all the expenses of the participants will cover all the expenses during stay in France Applicants are invited for International Youth Conference 2019 for Councils of the Europe.
Here is List of Exepnses which will cover by this program:
Travel expenses and visa costs will be reimbursed.
Board and lodging are paid by the Council of Europe.
Participants will be accommodated at the European Youth Centre in Strasbourg (EYCS). You might be requested to share a room
---
Themes of the Conference:
The current economic and social context in Europe today is creating very diverse challenges for young people. They are often the first to be affected by unemployment and discrimination. The Youth for Democracy programme seeks to achieve the active participation and autonomy of young people in peaceful and inclusive societies of Europe.
"Democracy and information" is the theme of the World Forum for Democracy in 2019 with two main threads:
    Democracy dies in darkness: are we getting the information we need?

    Information and the Future: lost in space or masters of our own fate?
Objective of the Event:
The questions we must address in 2019 are to what extent the information is reliable, whether this helps or hinders citizens in taking part in democratic processes, and what lessons we should learn for ensuring the free flow of information in the future.
The core content of the Forum will consist of discussions about successful initiatives and actions, which have real-life initiatives as a starting point. General guiding principles will then be drawn to encourage and support future policy responses and field action.
---
Eligibility Criteria:
Candidates must fulfill the following criteria to avail the this International Opportunity.
Eligible Countries:  Students from 47 Member States of Council of Europe are elibile to Apply.
List of countries check here: Counciles of Europe
Other Requirements:
Participants must be from 18 to 30 years old for both genders.

Be Fluent to communicate and work in English.

Be actively involved in civil society democracy initiatives.

Must be motivated to contribute to developing new ideas on youth and democracy.

Be Ready to share his/her own challenges faced in relation to media, fake news, information as well as its effects on democracy.

Should be Ready to adopt a solution-oriented approach by bringing in new ideas and visions on the question of media, fake news, information, as well as democracy.

Also, available to participate fully and the preparation process beforehand.
---
Forum Duration: Six days (excluding arrival and departure days)
Event Period: The forum will be held from 3 to 9 November 2019 (participants' arrival is scheduled one day before the start and departure one day after).
---
Procedure to Apply:
Students have to directly apply for this youth Conference 2019-2020:
The procedure to Apply for the world forum for democracy is Online. An online application form should be completed. A short 1-minute video should be posted on YouTube, with the link attached to the online application.
Video Subject: Why should I be chosen to attend the World Forum of Democracy on the theme of democracy and
information? For More Information on Video : Click Here
Students have to Click on Apply Online ( in Green Color Below) and Fill the Online Registeration Form Which will take 10-15 minutes Only.
For Official Source / Advertisement Click on Official Source Button Below in Red Color.
---
Deadline: 12th July, 2019
,Scholarships365, World Forum for Democracy 2019 Fully Funded in France Youth Delegation, World Forum for Democracy 2020 Fully Funded in France Youth Delegation, International Conference, Youth Conference, Fully Funded Conference, fully funded world forum, council of europe, World Forum, France Youth Delegation, Youth Conference, , , ,