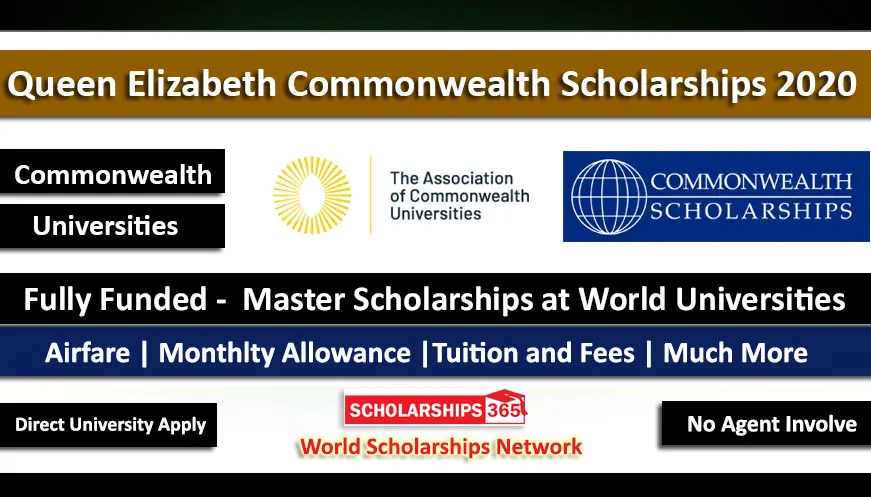 Queen Elizabeth Commonwealth Scholarships 2020 is one of the Fully Funded Scholarship Program for International Students from Commonwealth Countries. Applications are open for Master's Programs in all fields. Scholarships are for candidates from low and middle-income Commonwealth countries to avail Full Time Master Degree at different world universities.
International Students from different part of the world Can Apply for this highly paid Scholarship under Queen Elizabeth Scholarship at different Commonwealth Universities of the world. Queen Elizabeth Scholarship is one of the excellent opportunity for low and middle-income Commonwealth countries students.
Elizabeth Scholarships enable talented and motivated students to gain the knowledge and skills required for sustainable development, and are aimed at those who could not afford higher studies. Are you ready to apply for higher Studies in Any Commonwealth University on Fully Funded Scholarship?
The All degree programs are taught in English Language. Almost All Academic Fields are available for Master Degree & all the courses are in English.
There is no Application Fee.

Some commonwealth universities don't required IELTS/TOEFL certificate for apply. Student can apply with English Proficiency Certificate.
---
Host Country : Study in Commonwealth Countries
---
Host University: All Commonwealth Universities in different part of world.
---
Scholarships Offered By: Queen Elizabeth Program.
---
Scholarships Coverage: Full Funded
---
Degree Level: Full Time Masters Degree Programs in all Fields.
---
You can also Apply for following opportunity in UK:
---
😇 So You Will Never Miss Any Opportunity for your excellency. Then hurry up to join, follow and like us on different Social Networks. 😇
---
Queen Elizabeth Scholarships 2020 Offers:
One of the life changing opportunity is offered to International Students for their Full Time Master Degree Studies at Commonwealth Universities with full Time Financial Support.
Are you want to Free Study in Any Commonwealth University of the World? It is time to apply for Masters studies. You can fulfill your dream to study and explore the beauty of different part of the commonwealth countries in the world UK on Fully Funded Queen Elizabeth International Scholarships for Masters Studies.
Applications are invited for Queen Elizabeth Scholarships 2020 from all Commonwealth countries over the world for Masters Studies on Scholarships. 
Scholarships offers: ( All the selected student get these benefits)
    Return economy flights to their host country
    Approved Full tuition fees.
    Stipend (living allowance) during the study.
    An arrival allowance.
    Thesis / Research support grant – on request only; subject to approval
---
You can also Apply for following opportunities in China:
---
Programs Offered By Queen Elizabeth Scholarship:
Scholarships are available to pursue Masters Degree in any commonwealth university of the commonwealth country.
These scholarships are offered under the following areas:
    Medicine, health and life sciences

    Physical sciences, engineering, and mathematics

    Social sciences

    Arts and humanities
---
You can also Apply for following opportunities in Saudi Arabia:
---
Eligibility Criteria:
Candidates must fulfill the following criteria to avail this Scholarship for their study.
Eligible Countries:
---
Africa Region:
Botswana

Cameroon

Gambia, The

Ghana

Kenya

Kingdom of eSwatini

Lesotho

Malawi

Mauritius

Mozambique

Namibia

Nigeria

Rwanda

Seychelles

Sierra Leone

South Africa

Uganda

United Republic of Tanzania

Zambia
Asia Region:
Bangladesh

Brunei Darussalam

India

Malaysia

Pakistan

Singapore

Sirilanka
Caribbean and Americas Region:
Antigua and Barbuda

Bahamas, The

Barbados

Belize

Canada

Dominica

Grenada

Guyana

Jamaica

Saint Lucia

St Kitts and Nevis

St Vincent and The Grenadines

Trinidad and Tobago
Europe Region:
Cyprus

Malta

United Kingdom
Pacific Region:
Australia

Fiji

Kiribati

Nauru

New Zealand

Papua New Guinea

Samoa

Solomon Islands

Tonga

Tuvalu

Vanuatu
Other Criteria:
Be a citizen of or have been granted refugee status by an 

eligible Commonwealth country

Student must hold Bachelors Degree.

There is no age Limit.

The Some University Classes will Start in July to Sep 2020 & in Some Universities from February 2020.
---
Deadline: Application Deadline for Queen Elizabeth Commonwealth Master Scholarships 2020 is 15th January 2020.
---
How to Apply for Queen Elizabeth Scholarships 2020:
Students have to Apply in any university given below:
Universities List for Apply:
---
You can also visit Official Advertisement from Official Source Button.
---
,Fully Funded Master Scholarships 2019-2020-2021-2022-2023-2024-2025, Fully Funded Queen Elizabeth Master Scholarships 2020-2021-2022-2023-2024-2025, Commonwealth scholarships 2019-2020-2021-2022-2023-2024-2025, Fully Funded Internship Programs 2019-2020-2021-2022-2023-2024-2025, Scholarships for Africa 2019-2020-2021-2022-2023-2024-2025, Commonwealth Shared Scholarships UK 2019-2020-2021-2022-2023-2024-2025, Opportunities in COMMONwealth countries 2019-2020-2021-2022-2023-2024-2025, Fully Funded master programs for cultural exchange programs 2019-2020-2021-2022-2023-2024-2025