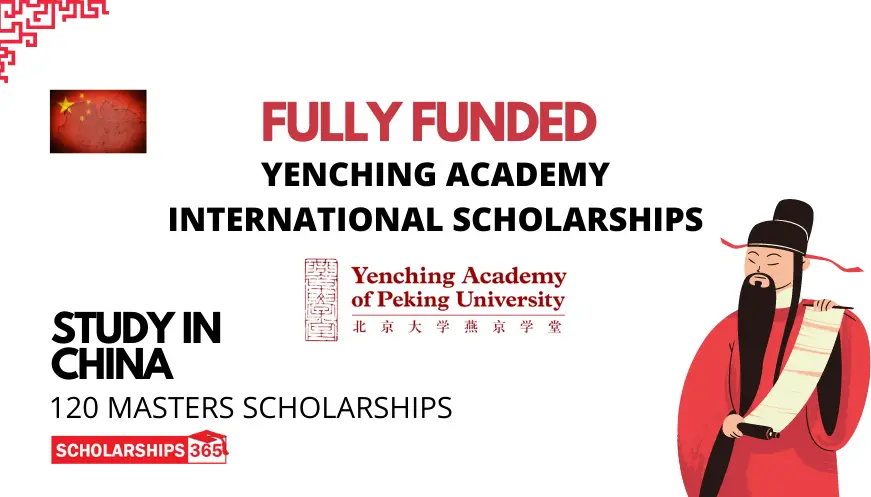 Yenching Academy of Peking University International Scholarships in China are open to international students from all over the world. Yenching Academy Scholarships 2023 program invites graduate students to study in China under the Fully Funded Scholarship program. A student with excellent academic records and great achievements in extracurricular activities is welcome to study at a top Chinese University. The Yenching Academy of Peking University offers a prestigious, interdisciplinary Master's program scholarship in China.
You can also read about - Switzerland Government Scholarship 2023 Fully Funded
The Yenching Academy of Peking University announces International scholarships every year for global students to study and research in China. Yenching Academy Scholarship offers fully-funded scholarships in china, that cover almost all the expenses of the selected students. The good news is that there are no restrictions for Chinese and international students for prior courses of study. They allow every local & international student who has a strong interest in an interdisciplinary study of China studies - to try his/her luck for a scholarship.  urgent care near me
You can also check about - Knight Hennessy Scholarship 2023 in US
---
There are about 120 Yenching Academy Scholarships in 2023 for local and international students. The student will be selected for this Top scholarship in Asia from the Chinese Mainland as well as abroad to study, live, enjoy and learn together in a world-class educational environment.
Students from all over the world have a great chance for free study in china. There are about 80% of Yenching Academy students are from different parts of the world. 30-35% of students are from Europe, 25-30% from the U.S. and Canada, and 30-35% of students, came from the rest of the world. So the Yenching fellowship program provides excellent international opportunities for every student to meet up with other national students to exchange ideas and work together. However, Yenching Academy offers six different types of research areas of research for scholars to select from them. This International Scholarship is only available for Masters Studies in China.
---
Have you read it? Fully Funded 5000+ Scholarships in Turkey for International Students
---
Host Country: China
---
University:  Yenching Academy of Peking University
---
Scholarship Offered: Fully Funded by Peking University
---
Financial Coverage: Fully Funded
---
Degree Level: Master's Studies
---
You can also apply for the following opportunities:
Have you read it?

Fully Funded

Scholarship for International Students in UK 2023

Have you read it?

Fully Funded

Scholarship for International Students in Australia 2023
😇 So You Will Never Miss Any Opportunity for your excellency. Then hurry up to join, follow and like us on different Social Networks. 😇
---
What are the benefits of the Yenching Academy Scholarship
These Chinese scholarships are available for international students for Study in China and have the following financial benefits as given below. http://posts.google.ba/url?q=https://urgentcareplymouthmi.com/
Expenses that will cover by the Yenching Academy Scholarship:
    The Yenching Academy fellowship will cover the full tuition fee for Masters studies.

    Accommodation will be provided at the Yenching Academy. They will offer a shared room for two-person with a common bathroom.

    Medical insurance as per laws will be provided.

    A monthly stipend will provide to the fellow.

    Airfare (One round-trip) allowance will also be provided.
    Important Note: The applicant of Yenching Academy has to maintain a good academic record in order to continue these benefits for the 2nd year of studies. These benefits are for the first-year selection.
---
Degree Programs / Research Areas
There are about 6 different research areas are available for this China scholarship as given below.
    Economics and Management

    History and Archaeology

    Politics and International Relations

    Law and Society

    Literature and Culture

    Philosophy and Religion
Eligibility Criteria for Yenching Academy Scholarship
In order to qualify as a Yenching Academy scholar you will need to meet the following requirements:
    The student completed undergraduate / bachelor's degree or is currently enrolled in a bachelor's degree program.

    The student (age) must be 23 to 28 years old.

    The student's graduation (undergraduate degree) must be completed before 31st August 2023.

    The applicant with an excellent academic record has more chances to win this scholarship.

    The student must provide certified proof of English Proficiency.

    The student will live in Beijing during his/her master's course.

    Mainland China students must be able to stay in Beijing for their whole two years of studies. Besides this, the international students can go back home if he/she wants during vacations with the permission of their advisors or ( can also continue their studies from home as well upon the consequences).

    The TOEFL and IELTS certificates are required. ( The certificate issued before September 1, 2021, will not be accepted).

    TOEFL MyBest Scores / TOEFL IBT Special Home Edition will not be accepted by Yenching Academy.

    Chinese language Knowledge is not compulsory, as international students receive Chinese Language Courses on a mandatory basis during the study period.

    Both males and female applicants are eligible to apply.
---
CHK: Top Europe Scholarship 2023
Documents Required for Yenching Academy Masters Scholarship
    Yenching Academy Online Application Form

    Research proposal

    Personal statement

    CV (Curriculum Vitae) -

How to Write a Professional CV

    Official transcript

    Diploma or Certificate of Enrollment;

    Letter of recommendation (two)

    English Proficiency Test Certificate.
---
Special Guidelines to Apply for Opportunities
---
Application Deadline for Yenching Academy Scholarship 2023
The application deadline for Yenching Academy Scholarship 2023 is 27 November 2022
---
How to Apply for the Yenching Academy Scholarship?
    The student has to apply through the Online Admission Portal.

    The student has to create an account on the admission portal.

    Please Make sure to upload all the required documents according to the requirements appropriately.
,Fully Funded bachelors Scholarships 2019-2020-2021-2022-2023-2024, Fully Funded masters Scholarships 2019-2020-2021-2022-2023-2024, Fully Funded masters Scholarships School 2019-2020-2021-2022-2023-2024, Fully Funded phd Scholarships School 2019-2020-2021-2022-2023-2024, Opportunities Corners, Scholarships Corners. application form, scholarships form, study visa china, scholarships for college - Austrian government scholarships 2020-2021, CGS CSC STUDY CHINA, FORIGN STUDENTS , TOP UNIVERSITY, HIT, HARIB, TSINGUHA, CHINA, scholarships for college students 2019-2020-2021-2022-2023-2024