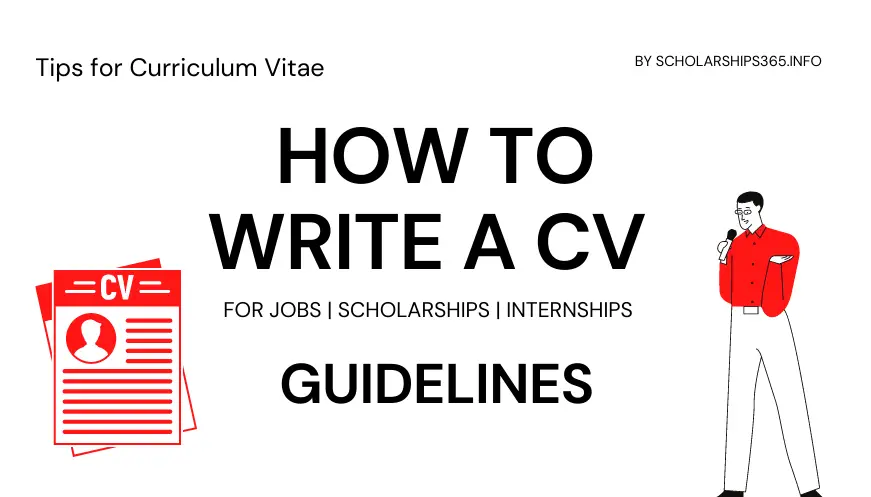 How to Write a CV (Curriculum Vitae)? How to write an effective CV? What are the Best Tips for CV Writing? All questions come to your mind, and you are always in search of the best solution for CV writing on the internet. As the CV is one of the most important parts of education & jobs.
An effective CV is very important in each field of life for selection among the others, such as in education (for an apply international scholarships, educational conferences, summer schools, fellowships, or any other event) or in jobs (teaching, engineering, medical, science or any other field of jobs).
It is extremely crucial to write an effective Curriculum vitae. You will know how to compose an effective cv in this detailed article. Read this article carefully and follow all of the procedures described in it.
What is a curriculum vitae (CV)? Curriculum Vitae, often known as a CV, is a thorough description of a person that contains general information about his/her qualifications, honors, abilities, and professional experience. It is quite important in the selection of an applicant for a position in a company. It represents a person's personal as well as professional qualities.
Why is it so important to build a professional Curriculum vitae?
Your CV (Curriculum vitae) is an important paper that connects directly with a recruiter before meeting with him. Your CV makes an impression on a recruiter, deciding whether or not to meet you in person. A customized CV is the most effective strategy to enhance your possibilities of being approached by an employer.
The recommendations are provided by www.scholarships365.info below will help in creating a customizable effective CV for your preferred job or internship location. Please share this with your friends and best of luck!
Guidelines for Writing an Effective CV
😇 So You Will Never Miss Any Opportunity for your excellency. Then hurry up to join, follow and like us on different Social Networks. 😇
---
 1.  An applicant his / her complete official name, email address, and mailing address should all be included.
 2.  Personal pronouns, such as 'I,' should never be used by an applicant.
 3.  An applicant should never include unnecessary information such as gender unless the application actually asks for it.
 4. Unless the application specifically requests it, an applicant should never provide a photograph that may be construed as biased.
5. An applicant's practical accomplishments and expertise should be mentioned. If he or she does not have an experience letter or proof of experience, then it should not mention it.
6. An applicant should avoid using complicated terminology or fancy phrases. As the recruiter judges all of these professional qualities, he/she should use straightforward language.
7. From the most recent to the earliest, a candidate's job experience and qualifications should always be included.
8. An applicant should check their CV for any grammatical or punctuation errors.
9. An applicant should never provide a reference unless it is specifically requested.
10. An applicant should include his or her contact information, including contact details with the international country code 123-1234567.
11. In an excellent CV, an applicant should never include hobbies or interests. Don't try writing about your interests and hobbies because they aren't inviting you to hang out with them.
12. An applicant's CV should always be customized to the requirements of the job, education, or internship.
13. A CV should be one page long, but it may be two pages long if necessary. It should not be more than that since it takes too long for recruiters to examine the application.
14. The proper CV should be designed in accordance with the employer's expectations.
15. When emailing CVs and Cover Letters, candidates should always utilize PDF format to ensure that page settings are maintained during printing.
16. Before applying for a certain position or post, an applicant should study the CVs and check for keywords that match the job description. A clinical Dietician, for example, could have used phrases like "counselor," "evaluation," or "anthropometric measures" in their work skills or traineeship.
It doesn't matter how high your scores or accomplishment are; if you don't include an expert write-up in your CV, your chances of being selected are minimal.
A CV should be a balanced document that demonstrates your enthusiasm for employment, interest in the company, dedication, and efficiency in your field of interest. The recruiter will examine you just on the basis of a single sheet of your CV.
GOOD LUCK...!
,cv for jobs engineers, doctors, teachers professionals, internships it , civil engineers, mechanical engineers, Fully Funded masters Scholarships 2019-2020-2021-2022-2023-2024, Fully Funded masters Scholarships School 2019-2020-2021-2022-2023-2024, Fully Funded phd Scholarships School 2019-2020-2021-2022-2023-2024, Opportunities Corners, Scholarships Corners, Resume, scholarships for college - Austrian government scholarships 2020-2021, CGS CSC STUDY CHINA, FORIGN STUDENTS , TOP UNIVERSITY, HIT, HARIB, TSINGUHA, CHINA, best cv, excellent cv good cv, professional cv, effective curriculum vitae us canada america, europe, summer school