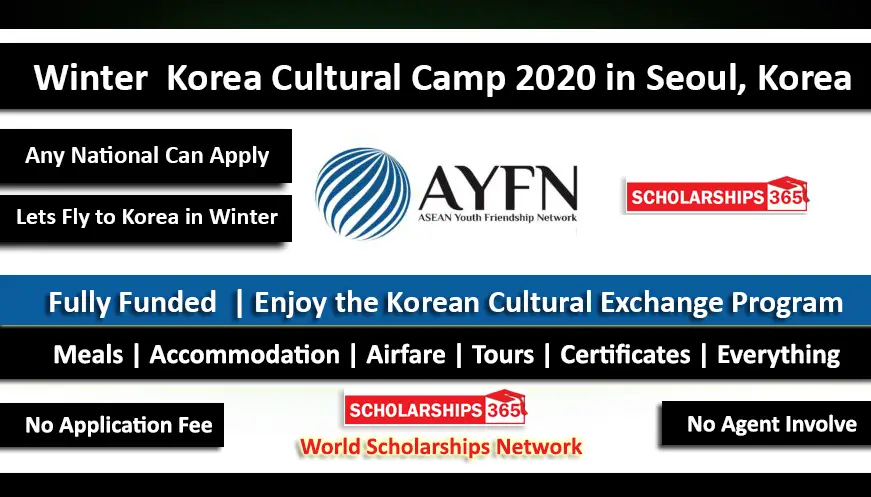 Applications are invited to apply for the Fully Funded Winter Korea Cultural Exchange Program 2020. The Japan Cultural Exchange Program is a Fully Funded Cultural Camp & Student Exchange Program for participants all around the world.
Winter Korea Cultural Camp 2020, Seoul - Fully Funded:
Participants from all over the world with any nationality are eligible to apply for the Korean Cultural Camp by AYFN. This camp is a cultural learning program designed to give an understanding of culture and social awareness for participants.
All academic fields are eligible. Prior knowledge of English is not required for students to participate in this program.This program is open to youth and learners desiring a short-term immersion program in Korean culture.
The aim of the Winter Korea cultural camp is to learn about Korean culture in line with making a friend directly. This program is also an avenue to enhance knowledge and skill to face globalization. This is not a student exchange, but youth and cultural exchange program.
All the Participants will explore the famous Seoul attractions, Social Cultural activities, experience Korean food and traditions, exchange innovate ideas with other international students.
---
Host Country : South Korea
---
Host Location: Seoul City
---
Scholarships Offered By: AYFN (Asian Youth Friends Network) Organization
---
Financial Coverage: Full Funded
---
😇 So You Will Never Miss Any Opportunity for your excellency. Then hurry up to join, follow and like us on different Social Networks. 😇
---
What is benefits of Winter Korea Cultural Exchange Program:
Applications are invited for Winter Korea Cultural Exchange Program 2020 from all over the world for Cultural tour activities in Seoul, South Korea.
The Korea Winter Camp offers two Schemes
Fully Funded

Self Funded
Fully Funded Financial Benefits:
    Flight ticket from home country (capital city) to Seoul (South Korea) return (economy class).

    Accommodation (6D5N) in Seoul, South Korea

    Meal (Breakfast and Lunch)

    All activities indicated on the schedule (Korean language and culture, cultural tour, Adventure tour to Nami island)

    Entrance ticket to tourism spot

    Local transportation (Train and Bus)

    E-Certificate of participation from AYFN

    Program supervision

    In-country 24/7 volunteer support

    In-country administration costs

    Airport pick up 6 January, 2020

    Airport transfer 11 January, 2020
Self Funded Camp Charges:
    USD 550 (Member of AYFN and Alumni of AYFN programs)

    USD 650 (Non-member of AYFN)
---
Benefits & Activities During Camp:
    Live for 6 days in Seoul, South Korea

   

Korean Language Classes

   

    Cultural tour activities

    Visit many interesting places

    Taste authentic Korean cuisine

    Walk around the heritage area of Seoul.

    Learn and understand Korean culture directly

    Winter Experience

    Local Transport experience

    Heritage walking tour around Kyoto and Osaka

    Experience to be like local people

    Experimental learning

    E-Certificate of participation from AYFN

    Participants will be met up in Japan

    The camp will combine a sense of friendship, adventure, and cultural awareness
---
Eligibility Criteria:
Candidates must fulfill the following criteria to avail this Cultural Exchange Program in South Korea.
    Must be 15 – 35 Years old

    All nationalities are welcomed to apply

    Commit to joining the full program

    Able to adapt new environment easily

    Able to pay the registration fee

    Health physically and mentally
---
Registration Fee:
    Non-member of AYFN: USD 15

    Member of AYFN: USD 7
---
Deadline:    
The last date to apply for the Winter Korea Cultural Exchange Program 2019 is 31st October, 2019
---
How to Apply for Winter Cultural Camp 2020:
You have to Apply Online for the Korea Cultural Camp. The link of the Online Application Form & Official Advertisement is given below.
For Apply:
Student have to click Apply Online Button Below in Green Color for Apply and fill the Online Form

You can also visit Official Advertisement from Official Source Button.
,Winter korea cultural exchange program 2020-2021, Winter Japan cultural exchange program 2020-2021, Winter korea cultural Camp program 2020-2021, Summer Schools in Japan 2019-2020-2021, Summer Schools in Korea 2019-2020-2021, Fully funded summer camps 2020-2021-2022, winter camp, Fully Funded Summer School Turkey 2019-2020-2021