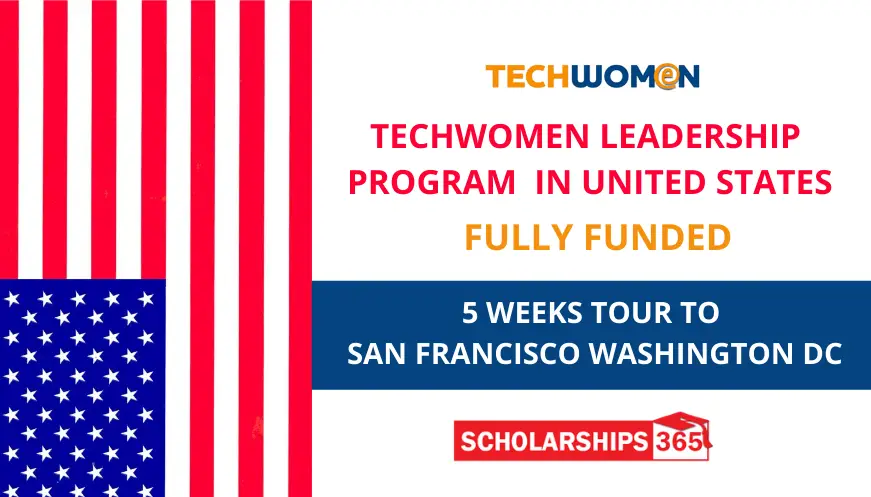 TechWomen Leadership Program 2022 is an International Leadership Program for International students. It is one of the Fully Funded Leadership Programs in the United States. The duration of the program is about 5 weeks in San Francisco and Washington DC.
CHK: Fellowships in Switzerland 2022 Fully Funded - HERE
TechWomen Leadership Program 2022 in US - Fully Funded
The TechWomen Emerging Leaders Program was established in 2011 to promote the United Nations' gender equality agenda worldwide. The amazing decision was made by the Bureau of Education and Cultural Affairs of the United States Department of State, and it is administered by the Institute of International Education (IIE). The TechWomen program's major objective is to give participants access to various programs, expertise, research, and resources that will help them become well-versed in their relevant disciplines and projects.
The TechWomen Leadership Program 2022 encourages to empower and strengthen women all around the globe by providing opportunities for them to enter in IT profession with increased morale, confidence, and training. The fully-funded leadership program in the United States intends to train future generations of female leaders and to attract the greatest female leaders from around the globe. The true objective of this 5-week program headquartered in Washington and San Francisco is to empower women to improve their professional abilities.
---
CHK: Internships in Switzerland 2022 Paid - HERE
---
Over the previous 9 years, the program has maintained its reputation for empowering and elevating women in STEM professions to reach international gender equality objectives. More than 800 females have been assisted and strengthened, and they are using their new talents to make a significant difference in their societies. The TechWomen training program emphasizes technical knowledge and professional progression for women who have shown leadership characteristics and passion through their past volunteer work in society.
Furthermore, it intends to illustrate that women are treated equally in the technological world and to motivate women to pursue careers in science, technology, engineering, and mathematics. The greatest part is that after the completing program, TechWomen attendees can engage through delegation trips and other activities. In a word, this women's initiative assures that women's careers in technology are stable and rewarding.
CHK: Internships in Saudi Arabia 2022 Fully Funded - HERE
---
Host Country: United States of America 
---
Program Offered By: The U.S. Department of State's Bureau of Educational and Cultural Affairs.
---
Financial Coverage: Fully Funded
---
Degree Level: Undergraduate Students in all Fields.
---
Duration of Leadership Program: 5 Weeks
---
CHK: Scholarships in Hungary without IELTS 2022 Fully Funded - HERE
😇 So You Will Never Miss Any Opportunity for your excellency. Then hurry up to join, follow and like us on different Social Networks. 😇
---
What are the Benefits of TechWomen Leadership Program in US?
TechWomen program will cover the following expenses of qualified students:
Expenses that will cover by TechWomen Leadership Program
 Roundtrip Air Ticket

 One Domestic Air Ticket from San Francisco to Washington and one airfare from Washington to San Francisco will be provided to qualified students.

 Accommodation expenses are also cover by TechWomen Leadership Program during staying in San Francisco, or Sunnyvale, California

 Hotel expenses in Washington, D.C also covered by TechWomen Leadership Program.

 Meals and Incidentals

 Public Transporation

 Local Transporation is also available for research purposes
CHK: 10000+ Free Online Courses with Free Certificates - HERE
CHK: Complete Guidelines for Apply International Opportunities - HERE
---
Eligibility Criteria for TechWomen Leadership Program in US
Candidates must fulfill the following criteria to avail of this Global TechWomen Leadership Program Scholarship for their study in US.
---
An applicant must have a minimum of two years of relevant STEM experience.

A Bachelor's degree or its comparable is required of all candidates.

A J-1 visa must be obtained by the applicant.

An applicant cannot be a citizen of the United States.

An applicant must be able to communicate well in English.

An applicant must not own a valid US immigrant visa.

An applicant should be interested in disciplines such as science, technology, engineering, and mathematics.
Eligible Countries for Global TechWomen Leadership Program
Algeria

Cameroon

Egypt

Jordan

Kazakhstan

Kenya

Kyrgyzstan

Lebanon

Libya

Morocco

Nigeria

Pakistan

the Palestinian Territories

Rwanda

Sierra Leone

South Africa

Tajikistan

Tunisia

Turkmenistan

Uzbekistan

Zimbabwe
---
How to Apply for the TechWomen Leadership Program in US?
Firstly, students sign up on the official website and create his/her account.

When students successfully sign up, they will get a verification email from the STEM official website.

Students will get access to the Fall 2022 TechWomen application form by taping on the confirmation email link.
---
Application Deadline for TechWomen Leadership Program in US 2022?
Wednesday, January 5, 2022, is the last date to apply for the TechWomen Leader Program in the USA.
---
,fully funded student exchange programs 2022-2023-2024-2025-2026, undergraduate exchange programs in usa, application form for techwomen leadership program 2022, fully funded conference summer school, scholarships for college students in USA US, Undergraduate Scholarships Masters Scholarships PHD Scholarships, summer schools paid internships guidelines cv professional cv, united nations