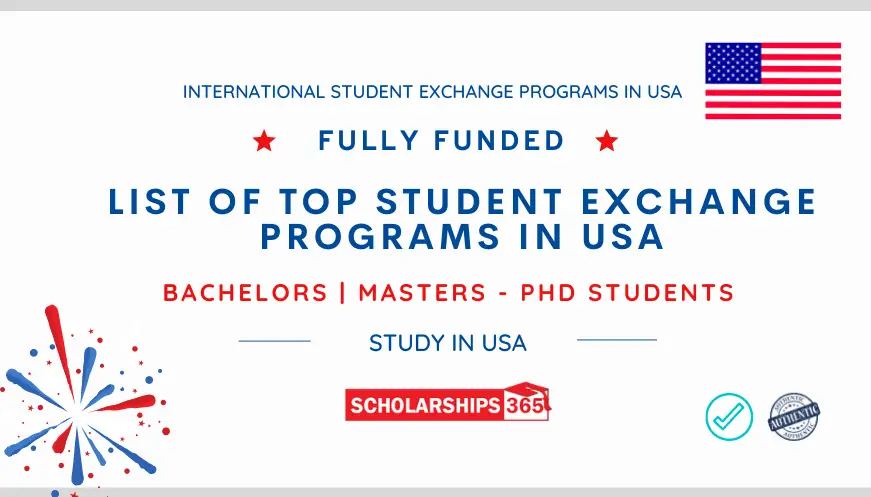 If you are searching for, List of Fully Funded Student Exchange Programs in the United States, you are in right place. We have composed a complete list of Top Students Exchange Programs in the US for worldwide students that will cover all the expenses of the students. Thousands of Scholarships are available for these student exchange programs.
CHK: Scholarships in Norway without IELTS 2022 - HERE
Fully Funded Student Exchange Programs in USA 2022
In the competition for fully-funded students exchange programs for global students and professionals, the United States offers thousands of opportunities for everyone. These International Student Exchange programs are available at each degree level, such as undergraduates, graduates, masters, Ph.D. students, and post-doctoral associates. Furthermore, there are numerous fully-funded scholarships and grants available for students at major colleges in the United States, as well as highly skilled professionals and research scientists.
The exchange programs are crafted to provide fellows with not only the highest quality experience and understanding, professional training, and learning opportunity, but also to introduce them to the practical knowledge and diversified culture of the United States. Great opportunities are provided to study in the United States for free and without any monetary responsibilities on their shoulders.
There is a detailed collection of fully-funded US scholarships, US exchange programs, and summer internships in the United States that make it easier to make the journey to the United States and continue education without having to pay tuition and fees or other housing expenses. In the next paragraphs, we'll go through a few of them briefly.
#1 Global Undergraduate Exchange Program 2022 in the USA:
The Global UGRAD program is a world-class one-semester exchange program that allows the best individual thinkers from across the globe to come to the United States for free and enroll in any US college or university for a semester. The US State Department, on the other hand, chooses the college or university because the program is entirely sponsored by the US government.
Only undergraduates are eligible to enroll in this exchange program. Under the guidance of world-class experts, individuals can learn technical expertise and acquire the most up-to-date information through this student exchange program. Global UGRAD seeks to enhance fellows with cultural norms in addition to providing the greatest educational experience feasible. The exchange students are associated with American fostering residences for this objective. In the United States, the Global UGRAD 2022 is the finest of its category. for candidates from all across the world, and Pakistani. Apply for Global Undergraduate Exchange Program in USA - HERE
😇 So You Will Never Miss Any Opportunity for your excellency. Then hurry up to join, follow and like us on different Social Networks. 😇
---
#2 SUSI Summer Exchange Program in the USA:
Summer exchange program 2022 with SUSI is a fully sponsored US government scholarship. The curriculum is designed for exceptional and ambidextrous undergraduates with leadership abilities and a great desire to engage in policy development and corresponding challenges. International students learn several methodologies for policy-making and operationalization as an aspect of this exchange program. Lectures, talks, conferences, participant observations, educational excursions, volunteering, and group presentations are just a few examples.
The best thing is that the entire US Student Exchange program takes occur within 5-6 weeks. SUSI fellows develop an understanding of the US Federal Government System as well as a comprehensive understanding of the role of NGOs, civic groups, the press, and the corporate industry in the creation of US public policy and the development of its direct democracy during these 5-6 weeks. The fully-funded SUSI exchange program at the University of Massachusetts is not only a paradigm of academic growth but also a forum for scholars from all over the globe to understand the vibrant culture of the United States. Apply for SUSI Summer Exchange Program in USA - HERE
#3 Sister2sister Exchange program in the USA
The Sister2Sister Exchange Program is a US government initiative aimed at promoting and empowering women. The fully-funded exchange program for women is an illustration of constructive transformation since it allows exceptional women to flourish and acquire technical expertise. The Sister2Sister scholarship was created with the hard circumstances that women face in their pursuit for advancement consideration. Women study under the mentorship of top-notch experts in this free summer exchange program and take steps forwards to become active members of their communities. Sister2sister is a fully financed summer program for undergraduate and master's candidates. Apply for Sister2Sister Exchange Program in USA - HERE
#4 TechGirl Exchange Program 2022 in the USA
The TechGirl Exchange program, as the acronym indicates, is a US exchange program oriented toward empowering women in the fields of technology and science. This fully financed 27-day leadership program aims to improve employment chances for young and enthusiastic women from all across the globe who have shown outstanding leadership characteristics in their localities.
With the help of Virginia Tech University, this fully-funded exchange program for females is being conducted. The women participate in a diverse array of educational and professional exercises as a component of this program. There are also several community services projects through which the women understand more about American culture and how to interact in a diverse environment. Another benefit of the Tech Girl Cultural Exchange program is the ability to acquire technical expertise and establish oneself as a true contender in the global marketplace. Apply for TechGirl Leadership Program in USA - HERE
#5 TechWomen Leadership Program 2022 in the USA
The mission of TechWomen's leadership program is to empower women throughout the globe in the technology domain. With increasing confidence, women are continually trying to join the domain of communications technology, but there are still numerous stumblers in their endeavor to make a name for themselves in this industry. This fully financed TechWomen exchange program is thus a once-in-a-lifetime opportunity for females from all over the world to establish themselves as valuable resources and build a name for themselves in their professions. Women who have shown excitement in their employment for the improvement of their families and communities and who are constantly enthusiastic to embrace new techniques and advancement are encouraged to apply to the leadership program for women in the United States.
The worldwide leadership chance provides a forum for women to have access to a variety of programs, as well as unique expertise, research, and other precious assets. The TechWomen program has demonstrated its dedication to reducing gender barriers by promoting women in STEM professions throughout the years. The 5-week US Women Exchange program takes place in Washington and San Francisco and includes a diverse range of courses and initiatives guided by some of the world's greatest supervisors. Apply for TechWomen Leadership Program in USA - HERE
#6 Community Engagement Exchange Program 2022 in USA
The Community Engagement Exchange program, which tends to promote collaboration and harmony among more than 100 communities in the United States, is one of the foremost highly awaited programs in the country. It's a place where the most important aspects of evolution and progress are addressed and analyzed. Gender equality, participatory governance, ecological government, and youth engagement are among the criteria that are more important in this fully financed US exchange program. This program is also known as the young leader's exchange program because it focuses on youngsters with leadership characteristics and encourages them to continue in the United States for free while learning the optimal approaches for resolving public challenges.
Furthermore, this cultural exchange young leaders program concentrates on developing the potential of upcoming generations by presenting them assignments in which they serve as global significant leaders and deal with conflicts. The participants also establish a broad worldwide network through this US-sponsored Exchange program, which they will have for the rest of their lives. Apply for Community Engagement Exchange Program in USA - HERE
---
Also, Check -  Top Fully Funded Scholarships 2022 for International Students
,Fully Funded bachelors Scholarships 2019-2020-2021-2022-2023-2024, Fully Funded masters Scholarships 2019-2020-2021-2022-2023-2024, Fully Funded masters Scholarships School 2019-2020-2021-2022-2023-2024, Fully Funded phd Scholarships School 2019-2020-2021-2022-2023-2024, Opportunities Corners, Scholarships Corners, scholarships for college - Austrian government scholarships 2020-2021, CGS CSC STUDY CHINA, FORIGN STUDENTS , TOP UNIVERSITY, HIT, HARIB, TSINGUHA, CHINA, best cv, excellent cv good cv, professional cv, effective curriculum vitae us canada america, europe, summer school