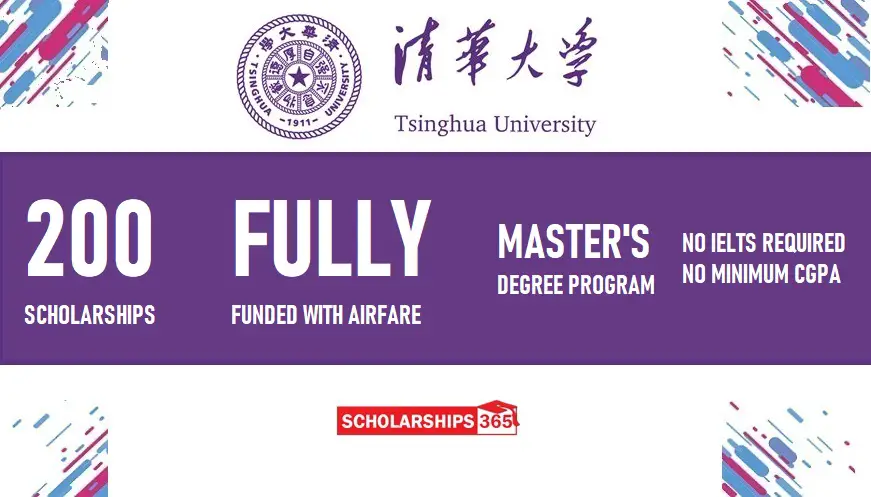 Schwarzman Scholarship 2020 Applications are now invited from all over the world to one of the top universities in the world - Tsinghua University. Schwarzman Scholarships 2020 is offering Fully Funded Scholarship 2020-2021 Under Schwarzman Scholars Financial Support Program.
All expenses will be covered by this program. It is not just a degree but an honor to get a degree from Tsinghua University, Beijing. Every year 200 Schwarzman Scholarship Offers to Study Full Master Degree at Tsinghua University.
Have you check for Top 10 Scholarships 2020-2021 - Fully Funded
Tsinghua University: The campus of Tsinghua University is situated in northwest Beijing on the site of the former imperial gardens of the Qing Dynasty and surrounded by a number of historical sites. Here is World Top University Ranking Where We do not just earn a degree but its Honor.
World University Rankings 2019:14th

World Reputation Rankings 2018: 1st

Asia University Rankings 2019: 22nd
Have you apply for Japanese Government Program 2021 - Apply Here
Schwarzman Scholarship 2020:
Schwarzman Scholars Program 2020-21 is a fully-funded scholarship program for worldwide students at Tsinghua University, China. Fully Funded Scholarship will cover all the expenses during the study. Applications are invited for the Schwarzman Scholars program for students of all nationalities to study in China.
Every year, up to 200 Schwarzman Scholars will represent the world's next generation of leaders. High-caliber individuals with open minds and limitless potential.A network of leaders who will serve as bridges between China and the rest of the world. Schwarzman Scholars will be selected on the basis of not only their academic aptitude and intellectual ability, but also their leadership potential, entrepreneurial spirit, ability to anticipate and act on emerging trends and opportunities, exemplary character, and desire to understand other cultures, perspectives, and positions.
Have you apply for Thai Government Scholarship 2021 - Chulalongkorn University - BS-MS-PHD.
There is No Minimum GPA or Class Rank Required to apply. Schwarzman Scholarship is a fully-funded free scholarship for Masters Degree Studies in China for all the Students from all Nationalities with Any type of Academic Background.  All qualified candidates will have successfully completed their undergraduate degrees prior to enrollment and must be proficient in English.
No IELTS/TOFEL is required to apply for this program. An English Proficiency Letter from the applicant's home university would be enough.
---
Host Country: Study in China
---
Host University: Tsinghua University
---
Scholarships Offered: Schwarzman Scholarship 2020 Program
---
Scholarships Coverage: Fully Funded
---
No of Scholarships: 200
---
Degree Level:  Master Degree Programs in different Fields.
---
You can also apply for the following opportunities:
---
😇 So You Will Never Miss Any Opportunity for your excellency. Then hurry up to join, follow and like us on different Social Networks. 😇
---
One of the Highest-Paid Scholarship in the world. There are 200 Scholarships under this program and all are fully funded. So, Are you ready to apply to the Chinese University under Schwarzman? Yes, Guys? Fully Funded University Scholarships are open for application.
Have you apply for UK Government Scholarship 2020 by Commonwealth - Apply Now
It is an excellent opportunity for those students who have a dream to study and explore Chinese Culture and Environment on Fully Funded Scholarship 2020 for, Master (MS/ M.Phil) Studies. Fully Funded Scholarships in 2020 will cover all expenses during the study in China.
Scholarships in 2020 will cover all expenses during the study in China. 
Tuition Fees

Room and board
Travel to and from Beijing at the beginning and end of the academic year

An in-country study tour

Required course books and supplies

Health insurance

A stipend of $4,000 for personal expenses
Schwarzman Scholars will be the single largest philanthropic effort ever undertaken in China by largely international donors.
---
Programs Offered By Schwarzman Scholarship:
Scholarships are available to pursue Masters Degree Program. BUT the Students from All the fields/majors can apply for it. For example Electrical, Chemistry, Arts,  English, Medical, etc., everyone can apply.
For the Program list please check the university for more information about the degree programs offered.
---
Have you applied for - NJUST CSC Scholarship 2020-2021 - Fully Funded
---
Eligibility Criteria:
Candidates must fulfill the following criteria to avail of this Schwarzman Scholarships 2020.
Eligible Countries:   Students from any nationality are eligible to apply.
Other Requirements:
Applicants who are currently enrolled in undergraduate degree programs must be on track to successfully complete all degree requirements before August 1

Candidates must be at least 18 but not yet 29 years of age as of August 1 of their Schwarzman Scholars enrollment year.

Applicants must demonstrate strong English skills

Academic excellence is a requirement for successful applicants
---
Documents Required for Apply:

List of Documents is given below:
Online application

Resume (2-page maximum)

Transcripts/Academic Records

Essays (2)

Letters of Recommendation (3)

Video (optional)
---
Deadline for Schwarzman Scholarship:
The last date to apply for the Schwarzman Scholarship 2020 is

September 2020.
---
---
,Chinese Government Scholarship 2019-2020-2021-2022-2023-2024-2025-2026, scholarships for college students 2019-2020-2021-2022-2023-2024-2025-2026, tsinghua university csc scholarships, Fully Funded phd Scholarships School 2019-2020-2021-2022-2023-2024, Opportunities Corners, Scholarships Corners, scholarships for college - Austrian government scholarships 2020-2021, Bachelors Scholarships 2020 Italy Government Scholarship - Fully Funded 2020 2019-2020-2021-2022-2023-2024,