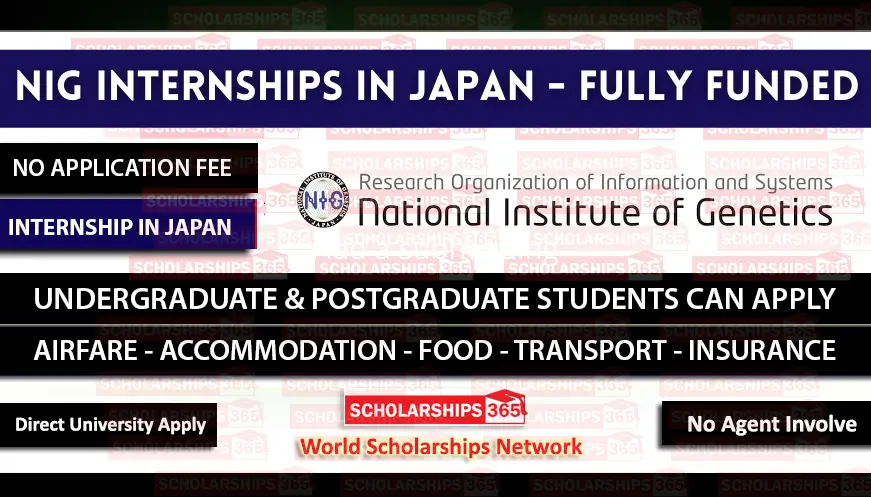 NIG Japan Summer Internship in Japan 2023 is Fully Funded Internship opportunity for International Students from all over the world. NIG, Japan is welcoming International Undergraduate and Postgraduate Students for different research internships in Japan. It is a fully funded internship (paid internship in Japan) program that will cover all the expenses of the students.
CHK - Microsoft Internship Program 2023 in US Fully Funded
About National Institute of Genetics (NIG):
The National Institute of Genetics (NIG) is one of the famous Research Institute in Japan that was established by the Ministry of Education in 1949. NIG is located at Yota 1111 411-8540 Mishima-shi, Shizuoka, Japan. NIG is currently doing research for different integrated and applied research & studies in genetics, as well as its instruction and promotion.
Currently NIG has about 500+ national and international members working in different research, maintenance, education, and supervision projects. Besides this, there are about 36 internationally acclaimed groups in varied fields ranging from bacteria to humans, as well as from molecules to populations, and from theory to experiments.
---
About NIG Summer Internship in Japan 2023:
Every year National Institute of Genetics(NIG), Japan invites National and International researchers for their different Summer Internship research programs. It's a great opportunity for International students for Paid Internship 2023 in Japan.
This year NIG also welcomes International Bachelors/Undergraduate Degree and Postgraduate Degree students to become part of one of the famous research internship programs in Japan. Students from all over the world can apply for this highly paid internship.
It is a great opportunity for all those international students who are wishing to gain international research experience at the world-famous research center in life sciences and genetics. NIG offers excellent opportunities to work on innovative research projects for worldwide interns. Besides, all the international interns have a chance to conduct independent research on several projects under the supervision of NIG researchers. This Japan internship program would include international research center visits, training on different scientific communication, as well as scientific research.
Now we want to share Good News with you, There are no Joining / Application fees for this Internship in Japan. Moreover, there is no IELTS/TOEFL required for Apply. All the applicants of NIG internship program give a presentation of the " NIGINTERN Reports Symposium " at the end of research internship. Interns will be participating in many activities including journal different Japanese clubs, attend seminars, and graduate program lectures. Furthermore, you have a great opportunity to avail the Japanese language classes.
NIG Internship is a Fully Funded Internship that will Cover all the expenses during the internship (include Airfare and monthly Stipend).
---
CHK HERE - Fully Funded Internship in Saudi Arabia 2023
---
Host Country: Japan
---
Research University:  National Institute of Genetics (NIG)
---
Conference Offered By:  Funded by National Institute of Genetics (NIG), Government of Japan
---
Financial Coverage: Fully Funded
---
Degree Level:  Undergraduate and Postgraduate Students can Apply.  
---
😇 So You Will Never Miss Any Opportunity for your excellency. Then hurry up to join, follow and like us on different Social Networks. 😇
---
Excellent Opportunity for those students who have a dream to do Research in Japan at The National Institute of Genetics (NIG). Students will participate in different research projects.
---
CHK - Global Undergraduate Exchange Program in US 2023 Fully Funded
---
Expenses which will cover by this program:
All the Expenses will be covered in the NIG Internship in Japan.
    Return airticket will be offered to International Applicant.

    Transport Expenses will be covered.

    The lodging cost in the institute's guesthouse will be covered.

    Travel insurance will offered to international interns.

    Applicant also get Daily Meal allowance of up to 1,500JPY.
---
CHK - Internships in Switzerland 2023 Fully Funded
What is Eligibility Criteria for NIG Japan Internship?
Candidates must fulfill the following criteria to avail of this opportunity.
Eligible Countries:  Students from any nationality are eligible to apply.
Applicant who are currently in pre-final year i.e.3rd and 4th year of their Undergraduate/Bachelor Degree program.

Applicant who are currently in a pre-final year i.e. 1st and 2nd year of their MS/Master's program.

Applicant who are enrolled at NIG in the Ph.D. Degree program are also encouraged to apply.

No Need of IELTS / TOEFL Certificate.
---
CHK - How to write a Professional CV - HERE
---
What Documents are Required for Internship Program:
    Official Transcripts in English from Current & private institutions

    Personal Statement

    2 Letter of Recommendation

    Valid Passport
---
Special Guidelines to Apply for Opportunities
---
Internships Duration: Internships will run from June 15 – July 26 , 2023 - About 6 Weeks
---
How to Apply For NIG Internship in Japan?
Students have to directly apply for this Research Internship:
Applicant has to fill the

NIG Online Application Form

through the Online Application portal -

Apply Online

Multiple Internships Programs list is given, You have to select for which internship program you want to apply and complete your form.

Applicants also directed to mention the Recommender Names with their Email Address, So they can receive an email for a recommendation for NIG. Ask your recommenders to fulfill the recommendation requirements.

For Official Source / Advertisement Click on Official Source Button.
---
Application Deadlines for NIG Internship 2023
The application deadlines for NIG Japan Internship 2022 is November 28, 2022 to January 6, 2023 (Japan standard time, JST)
,Japanese Scholarships List for Students, Fully Funded masters Scholarships 2019-2020-2021-2022-2023-2024, Fully Funded masters Scholarships School 2019-2020-2021-2022-2023-2024, Fully Funded phd Scholarships School 2019-2020-2021-2022-2023-2024, Opportunities Corners, Scholarships Corners, scholarships for college - Austrian government scholarships 2020-2021, CGS CSC STUDY CHINA, FORIGN STUDENTS , TOP UNIVERSITY, HIT, HARIB, TSINGUHA, CHINA, scholarships for college students 2019-2020-2021-2022-2023-2024