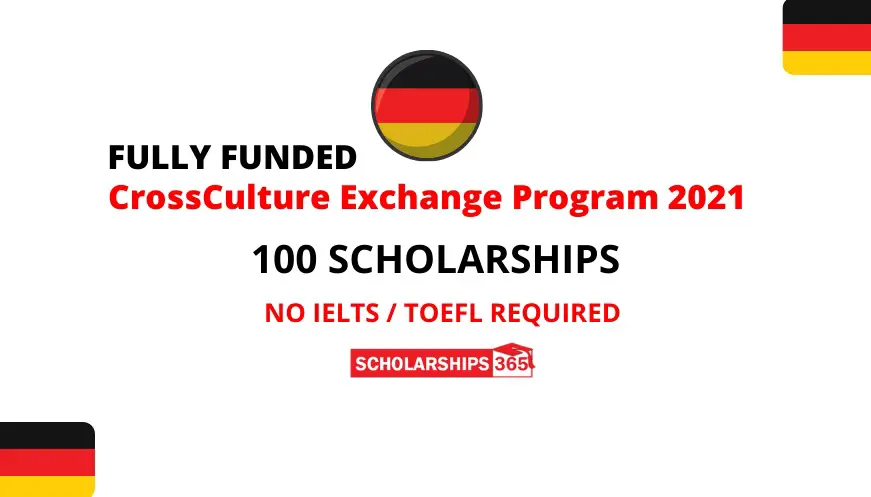 Are you Interested to spend some time in Germany for a Cross-Cultural experience? Then you are at the right place, Applications is open now for One of the Famous CrossCulture Fellowship Program 2021 in Germany. CrossCulture Fellowship Program (CCP 2021) is a Fully Funded International Student Exchange Program in Germany. CCP 2021 Germany is welcoming about 100 professionals and volunteers from 40 countries around the world.
Have you read it? Fully Funded Einstein Fellowship for International students 2022 in Germany - HERE
CrossCulture Fellowship Program in Germany 2021 - Fully Funded - CCP 2021:
The CrossCulture Programme 2021 is one of the famous International Cultural Exchange Programs for International students. Every year the CrossCulture Programme (CCP) funds around 80 - 100 international professionals and committed volunteers for this great fellowship in Germany. The CCP 2021 program is a fully-funded international exchange program 2021 in Germany.
This CrocssCulture Fellowship program duration is about 2 to 3 months in which all the professionals and volunteers participate in different events, share their ideas, broaden their knowledge, enhance their expertise, and have a great experience with the international community. No IELTS / TOEFL Required for this program.
The CrossCulture 2021 one of the famous event which offers a Diverse range which includes Civil, Cultural, Educational, different Scientific areas, Artistic, and Medial Sciences to work together. These fully-funded fellowships in Germany are offered in different society improvement base fields as including Policy and Society, Sustainable development in different sectors, Media and Culture, Human Rights, and Peace.
They will create new ways of interaction at high speed, which also affects the field of civic education. All this regional knowledge and collaboration of CCP networks would help the individuals in societies to bring a new and productive change in their life.
😇 So You Will Never Miss Any Opportunity for your excellency. Then hurry up to join, follow and like us on different Social Networks. 😇
---
Furthermore, digital tools become one of the essential portions of society and playing a very important role in our daily life. The aim of CCP 2021 is to strengthen civil society communication between Germany and other countries in a spirit of mutual relationship, research, respect, and equal partnership.
Have you read it? Fully Funded Fellowship for International Students in Hong Kong 2021 - HERE
---
Host Country: Germany
---
Host Organization: Institut für Auslandsbeziehungen
---
Event Duration: Eight to Twelve weeks ( 2-3 month)
---
Scholarships Coverage: Fully Funded
---
No of Scholarships: There are about 100 International Scholarship in Germany.
---
Have you read it? Fully Funded Scholarship for International Students in Canada 2021 - HERE
---
Benefits of CrossCulture Program 2021 in Germany:
Fully Funded CCP 2021, Germany will cover all expenses during the CrossCulture program in Germany. The benefits are given as follows:
International Candidate will have the following benefits:
A monthly allowance / Stipend of 550 euros will be offered.

Airticket (Roundtrip Airfare)

Free Accommodation

Free public transport monthly ticket will be provided

A reimbursement of applicable visa fees

Medica / Health insurance.
German Candidate will have the following benefits:
A monthly allowance / Stipend of 1,100 euros

A refund of Airticket (Roundtrip Airfare)

A refund of applicable visa fees

Medica / Health insurance.
---
---
CrossCulture Program 2021 Fields:
Fellowships are principally awarded to people working in one of the following fields:
Policy and society

Media and culture

Sustainable development

Human rights and peace
In addition, from 2020 to 2023 the following key issues will also discuss for those interested in applying for compatible host organizations:
Civic & citizenship education

Digital civil society
---
Eligibility Criteria CrossCulture Program 2021:
Candidates must fulfill the following criteria to avail of this Scholarship for their study under CrossCulture Program 2021.
Eligible Countries: Algeria, Armenia, Azerbaijan, Bahrain, Bangladesh, Belarus, Bolivia, Brazil, Chile, Colombia, Egypt, Georgia, Germany, Guatemala, Indonesia, Iran, Iraq, Jordan, Kazakhstan, Kuwait, Kyrgyzstan, Lebanon, Libya, Malaysia, Mauritania, Mexico, Morocco, Oman, Pakistan, Palestinian Territory, Qatar, Republic of Moldova, Russia, Saudi Arabia, Sudan, Tajikistan, Tunisia, Ukraine, United Arab Emirates, Uzbekistan.
All international applicants from the above countries are eligible to apply.

An applicant must be between 23 to 45 years of age.

An applicant must have good English communication and written skills.

An applicant must have either at least two years of professional or volunteer experience in his country of origin.

An applicant must be engaged in different social activities for the society.

An applicant must have good physical health.
---
Required Documents for CCP 2021:
Letter of motivation

Curriculum vitae

Letter of recommendation

Portrait photo (optional)
---
The applicant has to completely apply online, through the CCP application portal. Please follow the complete process as given below:
The applicant has to first check the eligibility criteria.

The applicant has to open ifa application portal, select the fellowship program.

Complete the CCP 2021 application form, upload all the required documents, and submit your application.
What is deadline for CrossCulture Program 2021 in Germany?
The CCP 2021 Fellowships application will start on 1 November 2020 and the deadline is 15th December 2020.
,daad scholarships, study in germany, cgs universities agency numbers, China top universitiss, Fully Funded phd Scholarships School 2019-2020-2021-2022-2023-2024, Opportunities Corners, Scholarships Corners, scholarships for college - Austrian government scholarships 2020-2021, scholarships for international students 2019-2020-2021-2022-2023-2024, germany, scholarships for college students 2019-2020-2021-2022-2023-2024, germany