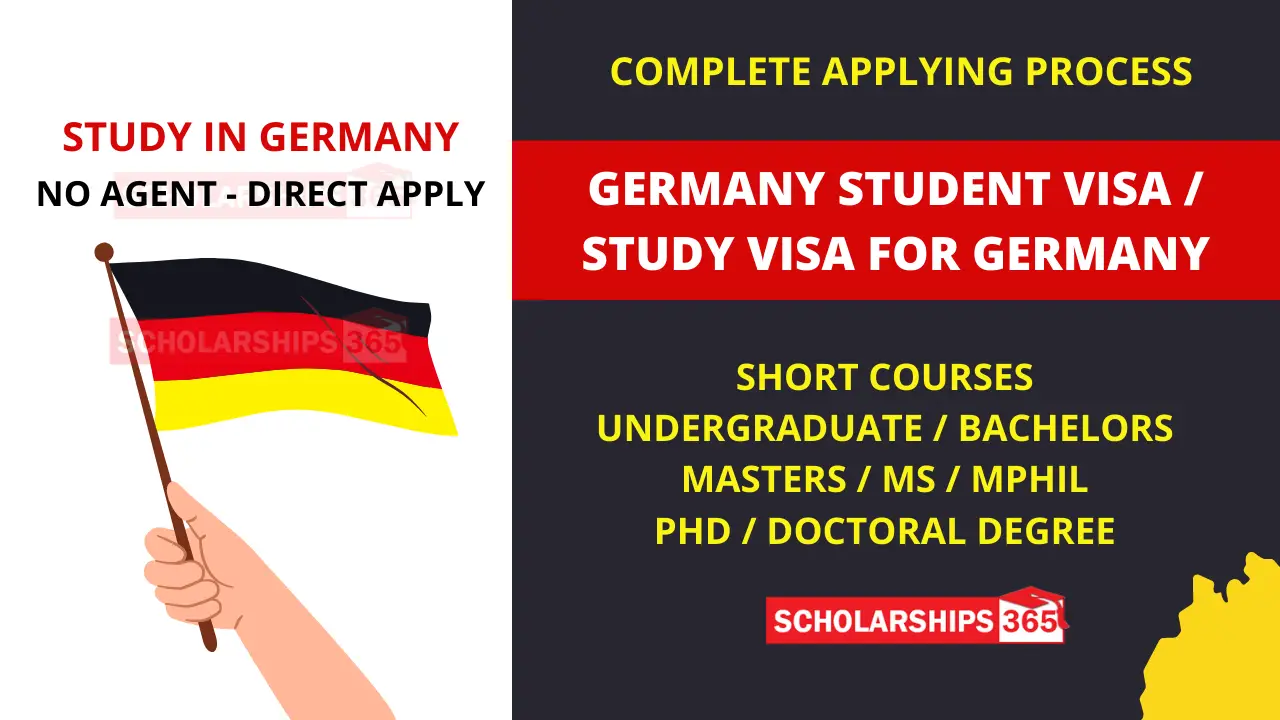 Are you Looking to Study in German University? Need guidelines for Student Visa for Germany? In this article, we will discuss Germany Student Visa, Application Process, Required Documents, Eligibility Criteria, Universities, and much more! Before moving further, let's have an overview of Germany! Germany is rising in popularity among international students worldwide, especially due to the tuition-free education zone in the world as almost all Education is totally free in Germany not only for local/German students but also for other countries students. Besides this, the language barriers are coming down as thousands of International Degree programs are taught in the English Language from short courses to doctoral degree programs.
Almost 150,000+ international students from different parts of the world choose German universities every year for their Short Courses, Undergraduate/Bachelors, Masters Degree as well as Ph.D. studies. A lot of International Students avail Scholarships in Germany, for their bright careers as well as some student studies on self-funds.
There are thousands of opportunities in Germany for international students. The reason why we suggest you go to study in Germany for your bright career? Not only because of the European culture and high-quality education system, but it also provides numerous opportunities to work and settled in Germany after studies.
Where do you want to study in Germany, and how will you get a German study permit and student visa? These are some of the questions about studying in Germany in the mind of every student,  Let's find out together!
Do you need a German student visa?
If you get admission to a German University, and you are from an EU/EEA country, then we have good news! for you, You won't need a German student visa. But, if you are from another country you need to apply for a German Student Visa to Study in Germany. Please carefully in which category you exist as details are given below.
1. Applicants / International students within the European Union (including Norway, Switzerland, Iceland, and Liechtenstein):
You don't need to obtain a study visa for Germany before entering Germany
2. Applicants / International Students from the United States, Canada, New Zealand, Australia, Israel, Japan as well as South Korea:
If the applicant is from any of these above-mentioned countries, he/she doesn't need a visa to study in Germany. However,  the applicant must need to register at the local Residents Registration Office along with the Aliens Registration Office (Auslanderamt). It is necessary to obtain a residence permit from Germany (Aufenthaltserlaubnis) within two weeks of arrival in Germany.
3. Applicants / International Students from the Countries of Andorra, Brazil, Honduras, El Salvador, Monaco, San Marino, as well as Taiwan:
If the applicant is from any of these above countries, they will only need a German student visa if they plan to work before or after their degree in Germany. In this case, the applicant should apply for the visa in his/her home country via her local German embassy or consulate. Both applicants with a student visa and non-visa holders will need to apply for a German Residence Permit within two weeks after entry to German. Students from Taiwan must have a passport that includes an identity card number.
4. Applicants / International Students from the rest of the world:
If the applicant is from any other country not listed above, he/she must require a German student visa to study in Germany. He/She should apply for a German Student Visa from the local German embassy or consulate in their home country. The typical fee for a German Student visa is about €60 (~US$70).
---
---
How to Apply for a Student Visa for Germany - Study in Germany?
If you are in a category where you must be required to a German student visa for studies, then you should apply as soon as possible, as the process takes some months for visa processing. According to official information, applicants must need to apply at least three months before their move to Germany. For Visa Apply, you'll need to contact the local embassy of Germany or the German consulate in your home country.
The documents needed for applying for the Study Visa for Germany as mentioned below:
    Completed the German visa application form

    Passport Copy

    Two photographs

    Admission Letter / Acceptance Letter by University / Letter showing that you've been accepted by any German university.

    Degrees and Transcript of the academic record.

    For Degree Programs in the German Language, you need to provide a Certificate of German language proficiency or any proof that you intend to attend a language course in Germany.

    International Applicant must provide proof that he/she has sufficient funds to support him/herself while living in Germany (The expenses are about €8,700 per year, which is roughly about US$10,250)

    Applicant must provide the Health Insurance Certificate (Must be purchased health insurance in advance)

    Applicant must provide the certificate / any other document of the authenticity of documents that he/she submitted
Important Note:
There are different requirements for each country's embassy, the applicant may need to prove that he/she doesn't have any criminal record in their home country.

For the proof of sufficient funds, the international applicant needs to deposit the sufficient funds according to the German Embassy requirement in German Blocked Bank Account, as a security that they have enough money/funds to support their study and cover the living expenses in Germany. The applicant can only withdraw the money after arrival in Germany.

If the applicant has planned to study in Germany for more than 90- days then he/she may need to apply for a national visa instead of a Schengen visa as it only allows him to stay in Germany for three months.

Along with a German Student Visa, the applicant will also need to apply for a German Residence permit on arrival.
😇 So You Will Never Miss Any Opportunity for your excellency. Then hurry up to join, follow and like us on different Social Networks. 😇
---
How to apply for a residence permit?
Once the applicant reached Germany, he/she will have to register with the local Alien Registration Office ( Einwohnermeldeamt or Bürgeramt ) within two weeks of arrival. The applicant must have to apply for a German Residence Permit for Study purposes. To apply the applicant may need almost similar documents to those needed for the German Study Visa:
Proof of valid purchased private / public health insurance

Admission Letter / Certificate of enrolment from your university

Blocked Bank Account / Proof of sufficient funds in his/her Bank Account

Passport

Current German visa, if you have one

Medical / Fitness Certificate of health (if applicable)

Maybe tenancy agreement requires (if applicable)

Biometric passport photos (if applicable)

A fee of German Residence permit
For the residence permit, the authorities may ask to provide proof of English (TOEFL or IELTS score) / German (TestDaf or DSH score) Language Proficiency Certificate during the application process.
Once the applicant receives the German Residence Permit, he/she can avail of the accommodation facilities easily. The validity of a German residence permit is about two years, and, if needed, it should be renewed before its expiry date. The cost of Residence permits is initially cost €100 ( approximately US$120) and the renewal fee is about 96 (approximately  US$115) for each extension.
EU/EEA Students:
International Students from the EU/EEA Countries (as well as Switzerland, Iceland, Norway, & Liechtenstein) do not require a German Residence permit, but the applicant must register with the local authorities of Registration (Einwohnermeldeamt /  Burgeramt) within a week of their arrival in Germany.
The student will need his/her registration document from a German university. Students from EU/EEA will also need to provide proof that he/she has enough money/funds (€8,700 per year), along with statutory medical health insurance if their age is under 30 years. The students also need to provide proficiency in their course's language of instruction.
---
CHK - Scholarship in Saudi Arabia for International Students
---
Is it possible to apply for a German student visa without Admission to a German University?
Thousands of people ask, can we apply directly for a German Student Visa, even if we did not get selected by German University? Yes, your application for Student Visa may consider by Embassy or Consulate. If your application is successfully accepted by German Authorities, the applicant may allow staying in Germany for a maximum period of three months in order to look for a university degree program on German soil.
If the applicant has not been enrolled during the 3 months period, the student may ask for a visa extension to six months, but whether or not this is granted is at the discretion of the German visa authorities.
If the student gets successfully enrolled in any University or has acceptance by any German University, his/her student applicant visa can be converted into a national German visa for a longer stay in Germany. To apply for this type of German Visa, the student needs to provide proof of university acceptance/enrollment letter by the German university.
How to Apply for a work permit in Germany to work on Student Visa?
The good news is that Students can work on Student Visa in Germany and earn a very handsome income and support their educational and living expenses, but there are some restrictions by the German authorities, the student can work only a limited no of days.
In Germany, the students from non- EU / EEA are only allowed to work about full 120 days or 240 half days during the period of one year. This means students can work up to 20 hours per week during a semester (If a student takes a job as a student assistantship/research assistant at his/her university by a professor, then there is no problem to exceed the full 120-day limit. However, the student must inform the Alien Registration Office in Germany).
You can already pack your bags with this thorough great information about getting a German student visa to study and enjoy life there.
---
Good News: There are thousands of International Scholarship in China for International Students, But Students don't know how to apply in China for Scholarships. We have written a complete article about the application process in China with sample documents.
CHK - Chinese Government Scholarship 2024 - Process / Procedure
---
List of Top 10 Universities in Germany
Germany is one of the most famous countries in the world with a remarkable reputation for its higher education system. There are about 400+ German universities, and many of them score high in international world rankings and are among the top universities in the world. The list of the Top 10 German Universities is given below:
---
Scholarships in Germany for International Students
Thousands of students from all over the world are searching for Scholarships for International Students in Germany for their bright future. You are in the right place, Different German Universities, organizations, and Germany Government offer German scholarships for International Students.
Every year thousands of students avail themselves of Undergraduate Scholarships, Masters Scholarships, Ph.D. Scholarships in Canada.
We are sharing some most famous Internships, and fellowships in Germany as well as Scholarships for International Students as given below:
List of Germany Opportunities:
,How to get a student Visa for Germany - Study in Germany, Fully Funded masters Scholarships 2019-2020-2021-2022-2023-2024, Fully Funded masters Scholarships School 2019-2020-2021-2022-2023-2024, student visa, application form, europe visa , england uk, canada america, us, romania, germany , phd scholarships in germany 2021-2022-2023-2024-2025-2026-2027-2028, scholarships for college - Austrian government scholarships 2020-2021, CGS CSC STUDY CHINA, FORIGN STUDENTS , TOP UNIVERSITY, HIT, HARIB, TSINGUHA, CHINA, scholarships for college students 2019-2020-2021-2022-2023-2024