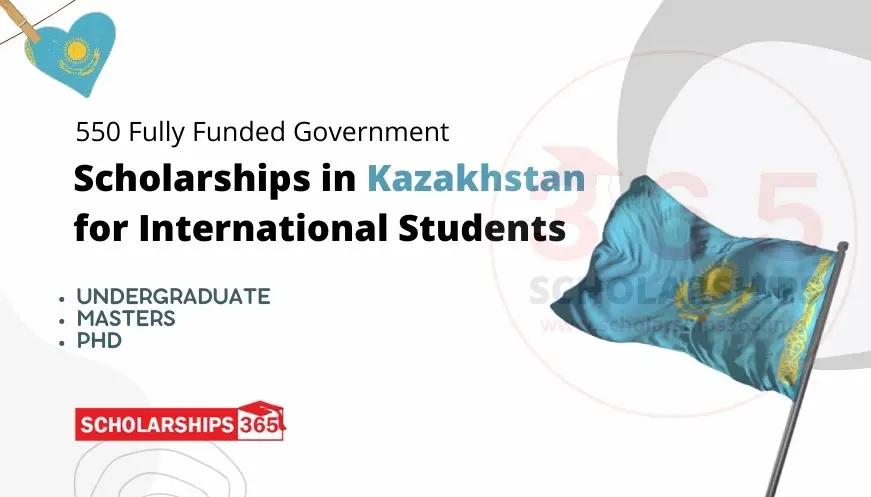 Are you waiting for Kazakhstan Scholarship 2023-2024, We are happy to announce that the Government of Kazakhstan is opening the door for International Students to Study in Kazakhstan for their Undergraduate & Postgraduate Degree Programs. Kazakhstan Government Scholarships offers 550 Fully Funded Scholarships for International Students from all over the world for Undergraduate, Masters, and Ph.D. Degree Programs. In this article, we will discuss about Kazakhstan Government Scholarship detail, available academic programs, eligibility requirements, how to apply / application procedure, as well as required documentation to apply for this international scholarship. There are total 550 scholarships, as 490 scholarships available for the undergraduate / bachelor's, 50 scholarships for the master's degree program, and rest 10 are offers to phd students.
Before moving further, If you want to know how to apply, Please Subscribe to our YouTube Channel for All Opportunities of Form Filling Process Videos - How to Fill the Opportunities Application Form Videos - Subscribe Here
---
Study in Kazakhstan
If you are an international student and thinking about Study Abroad in Kazakhstan. There are hundreds of international degree programs are available at top-ranked universities in Kazakhstan. Kazakhstan's education ranking is very high in terms of quality education. You can get your education in Kazakhstan for Bachelors / Undergraduate, MS / Masters, and Ph.D. Degree programs in all academic fields and majors.
If you are thinking about Tuition fees at most universities in Kazakhstan is depend on the degree programs and the average fee is around US$200 to 4,000 per year, depending on the private or government Kazakhstan university.
Furthermore, especially If you want to study MBBS in Kazakhstan there are the best Medical Universities in Kazakhstan. Medical study in Kazakhstan is not expensive as compared to other world universities. Kazakhstan medical university fees are very low in comparison with other universities. Many Medical Universities in Kazakhstan are available for international students.
After the Covid-19 pandemic situation, many students thinking about When will Kazakhstan reopen for Education and tourism, the answer Kazakhstan can reopen under certain conditions.
---
Is education free in Kazakhstan?
Is education free in Kazakhstan for international students? the answer is yes, it's free. There are multiple public universities in Kazakhstan where you can get enrolled and get international scholarships to complete your education. So, the avail of the opportunity for studying in Kazakhstan for free is a dream of a lot of students.
---
You can also read about -  Franklin University Scholarships in Switzerland 2023 for International Students
---
What Kazakhstan is famous for?
Kazakhstan is a transcontinental landlocked country where Kazakhstan is located in Central Asia and partly in Eastern Europe.  Kazakhstan is famous for its known architectural marvels, the Caspian Sea, and the Wild Horses. Kazakhstan is also famous for, its association with oil and black gold which produces 81 million tons of oil per year.
If you are thinking about the How many populations in Kazakhstan? , the current population of Kazakhstan is 19,196,993 based on the projections of the latest United Nations data.
Furthermore, you must need to know that the Kazakhstan government collapsed, and now the Kazakhstan Government type is a unitary state with a Presidential system of government.
---
Is Kazakhstan Safe for Students?
A question is arise in world students about, Kazakhstan country, is Kazakhstan safe for students of the world to Study? The answer is yes already, a lot of Students Is Kazakhstan is studying and Kazakhstan is safe for international students, furthermore, it is among the safest countries in the world to travel and tourism besides the studies.
---
Is Kazakhstan a good place to visit?
When Kazakhstan name comes to mind, there are multiple questions that arise, is Kazakhstan a good place to visit?, is Kazakhstan worth visiting place?, and what is Kazakhstan religion?
We want to share with you, that Kazakhstan is Kazakhstan good for tourists of the world, according to the authentic information, it took 119th place in the annual ranking of the cost of living in different countries of the world. The Religion of the Kazakhstan people is Islam.
---
Scholarships in Kazakhstan
To study in Kazakhstan there are multiple scholarships in Kazakhstan are available for domestic and international students of the world. If you are searching for Undergraduate Kazakhstan Scholarships or Graduate Kazakhstan Scholarships for International students, you are in right place, in this article we, will discuss Kazakhstan Scholarships for international students to get free education in Kazakhstan.
There are hundreds of international scholarship programs for students to study abroad in Kazakhstan that are available under various numbers of Scholarships programs to pursue all levels of degree programs. There are many top-ranked universities in Kazakhstan for international students for education in Kazakhstan for Bachelors / Undergraduate, MS / Masters, and Ph.D. Degree programs in all academic fields and majors. Furthermore, Scholarships in Kansas are also famous worldwide so there are many universities in Kazakhstan for international students
---
Scholarships without IELTS in Kazakhstan
Yes, we have a piece of good news for you, you can get Scholarships without IELTS in Kazakhstan universities, you just need to provide that your previous education was in the English Language, You just need to Provide English Proficiency Certificate from your home university.
---
Further Government of Kazakhstan has announced Kazakhstan Government Scholarships for International Students.
---
You can also read about - Scholarships in Germany 2023 | Study in Germany
---
Kazakhstan Government Scholarships
Kazakhstan's Government has launched its new scholarship program for the Academic year 2023-2024. Kazakhstan government scholarships for international students for their higher education in Kazakhstan to overcome the financial issues to complete their studies in Kazakhstan. The Republic of Kazakhstan encouraged students every single year to apply for scholarships to enhance their skills and abilities and work for the betterment of society.
The Kazakhstan Government Scholarship program is a Fully Funded Scholarship opportunity for Undergraduate, Masters and Ph.D. degree programs for their specialization in the relevant field for students who are not citizens of the Republic of Kazakhstan as well as including Kazakh Nationals. These scholarships are given on the academic merit list and they are open to any discipline at Kazakhstan's university. Kazakhstan University's ranking is very high and among the top rank universities in the QS World University Rankings. These Government of Kazakhstan Scholarships are available in top universities in Kazakhstan. This top scholarship in Kazakhstan provides the ideas to encourage international students to fulfill their dream of Study Abroad in Kazakhstan at the best university in Kazakhstan.
This fully-funded scholarship provides the golden opportunity for international students to do teamwork with Kazakhstan nationals. The students from foreign countries and Kazakh Nationals have the opportunity to study in high-ranking best universities in Kazakhstan under the guidance of highly skilled scholars and professionals. The students from all over the world are invited to learn about advanced research technologies to build the future.
Students from all over the world with extraordinary academic records and excellent experience in their relevant fields can apply. Young and talented students from all over the world are welcomed to take part in this fully-funded scholarship program in Kazakhstan. If you are thinking about the Kazakhstan visa, it is not that difficult to get so you can easily apply for a scholarship. We are sharing the guidelines for scholarships, so you can easily apply and get this opportunity.
---
Host Country: Study in Kazakhstan
---
Host University:

Best Universities in Kazakhstan
---
Scholarships Offered By

:

Government of Kazakhstan Funded
---
Scholarships Coverage: Fully Funded
---
Degree Level: Undergraduate / Bachelors, Masters, and Ph.D. Degree Programs in all Fields.
---
😇 So You Will Never Miss Any Opportunity for your excellency. Then hurry up to join, follow and like us on different Social Networks. 😇
---
Benefits of Kazakhstan Government Scholarships
This Kazakhstan Government Scholarship Program helps the International students to enlarge their recognition and expertise and completely confronts the advantages of Kazakh Universities. Kazakhstan is the largest state located in Europe and Asia which does not have its own access to the ocean. The Republic of Kazakhstan is recognized as a full member of European Higher education in Central Asia.
Kazakhstan Government is offering 550 scholarships which is a big number. Kazakhstan Government Scholarship offers free tuition fees for a complete Degree. The scholarships are offered to extraordinary International candidates to fulfill their dreams of a bright future. For the Kazakhstan Government Scholarship program, the candidate must have a very strong academic background.
Kazakhstan Government Scholarship 2023-2024 in Kazakhstan will provide the following benefits to students:
T

he qualified student will get an opportunity to study under the guidance of highly qualified Professors and scholars.

The student will get a full tuition fee and a monthly stipend.

The student will not get accidental and Health Insurance will also be included.

Students will not get a traveling allowance.

This scholarship does not cover Visa and accommodation expenses
---
You can also read about -  Scholarships in Italy 2023 for International Students
---
Kazakhstan Government Scholarship Participating Universities
Kazakhstan Government Scholarship program offers numerous numbers of training programs and multiple courses for fully financed scholarships in Kazakhstan. The applicant has to select from the following top 10 universities in Kazakhstan:
Utebayev University

Kh. Dosmukhamedov Atyrau University

Y. Altynsarin Arkalyk Pedagogical Institute

Almaty University of Power Engineering and Telecommunications

K. Zhubanov Aktobe Regional University

Kazakh National Agrarian Research University

Kazakh National Women's Teacher Training University

Abai Kazakh National Pedagogical University

Satbayev University

L.N. Gumilyov Eurasian National University

Al-Farabi Kazakh National University

Karaganda Industrial University

Karaganda Technical University

E. Buketov Karaganda University

Kazakh Ablai Khan University of International Relations and Foreign Languages

S. Seifullin Kazakh Agro Technical University

Zhangir Khan West Kazakhstan Agrarian-Technical University

M.Utemisov West Kazakhstan University

I. Zhansugurov Zhetysu University

S. Amanzholov East Kazakhstan University

D. Serikbayev East Kazakhstan Technical University

Yessenov University

M. Narikbayev KAZGUU University

Kazakh-British Technical University

Astana IT University

M. Auezov South-Kazakhstan State University

South-Kazakhstan State Pedagogical University

Shakarim University

M. Dulaty Taraz University

M. Kozybayev North Kazakhstan University

Rudny Industrial Institute

Pavlodar Pedagogical University

Toraighyrov University

Korkyt Ata Kyzylorda University

A. Baitursynov Kostanay University

Sh. Ualikhanov Kokshetau University
Eligibility for Kazakhstan Government Scholarship for Study in Kazakhstan
All the applicants must fulfill the criteria to apply for Kazakhstan Government Scholarship Program in Kazakhstan from 2023-2024.
Students from all over the world can apply.
The applicant must have a valid passport.

The student's previous degree must be notarized.

A Motivational Letter is required in any one language (Kazakh, English, or Russia) - (

How to Write a Motivational Letter

)

A

Letter of Recommendation

is required from your institution.

A Medical certificate is required.

Filled Kazakhstan Scholarship Application form

Acceptance letter from Kazakh University

A high school transcript/ Certificate is required for Bachelors Studies.

Transcript/ Certificate of Bachelor's Degree with GPA 3.0/4.0 for Masters Studies.

For Ph.D. Transcript/ Certificate of Bachelor's & Masters is required.

Application form and Letter of invitation from Kazakh University

International Certificate confirming knowledge of the foreign language
---
Special Guidelines to Apply for Opportunities
How to Apply for Kazakhstan Government Scholarships?
All the Kazakhstan Government Scholarship process is entirely online. The candidates have to fulfill the requirements by applying online through the Official Link. The candidate must create an account on the portal, choose the required Kazakhstan University and field of study. After filling out the form attach the required documents and submit the application form. And wait for the reply to give an online interview. For applying you must visit the official link.
With the wide range of scholarships in different disciplines, the Kazakhstan Government is participating in cooperative development in various ways. Its Undergraduate, Graduated and Ph.D. programs enhance human capacity and build their capabilities through an advanced form of techniques.
The applicant applying for Kazakhstan Scholarship must finish the application form before the deadline.
---
Do you want to know? How to Apply / Get Kazakhstan Student Visa? Without Agent?
Yes You need to read about - Kazakhstan Student Visa Application Process
---
Application Deadline for Kazakhstan Government Scholarships?
The deadline of Kazakhstan Government Scholarship Program  2023 is 30th June 2023.
---
How to Apply for Kazakhstan Government Scholarships 2023-2024 Video - Watch Here
---
,How to get Kazakhstan visa, how to apply for Kazakhstan visa, work visa Kazakhstan, Kazakhstan visa USA, Visa requirements for Kazakh citizens, Kazakhstan visa policy, You can get Online Visa. The entire application process will be completed online and which is designed to be quick and straight forward. For US citizens they are able to visit Kazakhstan without Visa for up to 30 days for all purposes of travel, with the exceptions of employment and missionary work., Fully Funded masters Scholarships School 2019-2020-2021-2022-2023-2024, Fully Funded phd Scholarships School 2019-2020-2021-2022-2023-2024, Opportunities Corners, Scholarships Corners. application form, scholarships form, study visa china, scholarships for college - Austrian government scholarships 2020-2021, franklin university switzerland financial aid, what is a motivation letter, motivation letter for, requirements, free study,