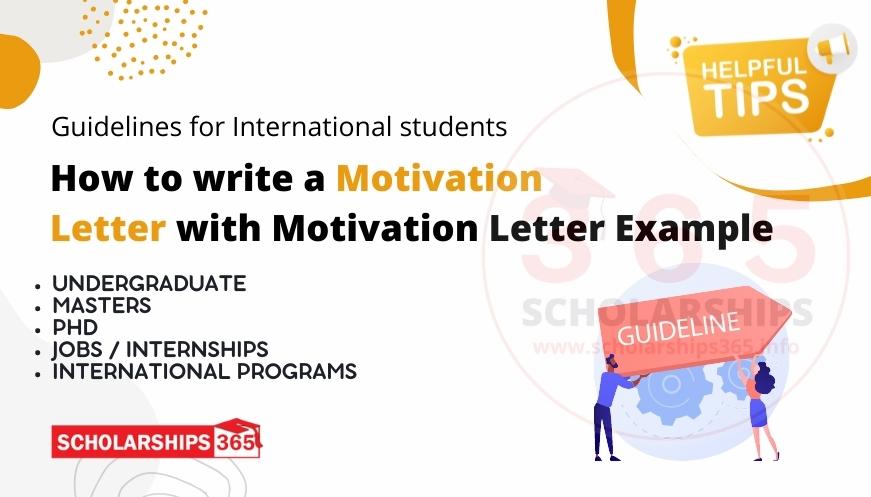 A Motivational Letter or / Letter of Motivation / Motivational letter is one document that is usually required by universities, colleges, companies, or different organizations when we submit applications to them. The motivation letter is needed to apply for an international scholarship in different universities, positions,s or register as a volunteer. Companies can use the help of integrated recruitment management software to simplify the recruitment process Motivational Letter is one of the most important documents to consider when applying for domestic or international scholarships, summer schools, college admissions, volunteer programs, internships, or jobs.
You can also read about - How to write a Professional CV - Here
The presence of this Motivational Letter can add value to giving an impression and convincing HR to interview or accept your cv or resume.
Submitting only a professional cv or resume represents your qualifications, achievements as well as strengths and weaknesses. A resume or curriculum vitae may reflect the general academic and professional information about you but it can also be seen as the lack of influential representation of the motivation and dedication you possess. This is where a motivational letter for the university is required by academic institutions as well as other organizations from the applicants for all different purposes.
By writing a professional motivational letter you can transmit your passion, eagerness, and diligence regarding how your dream course can enlighten your future career path. So we have written a professional method for motivational letters, or how to write a professional motivation letter for a scholarship or job. There is good news we also share the motivational letter examples with you with complete guidelines, So you can use professional examples of motivational letters to write your own award-winning letter of motivation.
What is a Motivation Letter?
Motivational letters can be used when applying for admission to a college or university and for international scholarships or volunteer opportunities. In this article, we will explain how to write a motivational letter with award-winning best examples of motivation letters.
A motivational letter is a personal document or personal statement or something like a statement of purpose (SOP) that gives details about your professional skills and it also explains reasons for applying for a course of study that you have selected a scholarship or a volunteer job.
This letter of Motivation accompanies your application and supporting documents, such as a transcript of your grades or a resume. A letter of motivation is sometimes called a statement of purpose.
A motivational letter focuses more on your personal details interests, personality, and motives for applying to a degree program.
---
You can also read about - Recommendation Letters Templates - Here
---
How to Write a Motivation Letter?
Writing a good motivation letter will take time, so make sure you work through the steps to make your motivational letter the best possible. You have to give plenty of time with our given pattern, so it will help you how to start a motivation letter that ensures you include all the necessary content. You have to follow each important step, including the following:
Write a Motivational Letter Outline?
You have to Write a point-form outline noting the content of your motivational letter and its order. After that Write points covering the following topics:
Why do you want to study the course program

Your skills or qualities that will benefit the school or institute

Explain why you are interested in the school, institute, or nonprofit organization

You have to Think critically to include all relevant details.

A motivational letter for a Ph.D. degree program needs more details about your experiences and specific future plans as compared to a motivation letter for a masters degree program or letter of motivation for an undergraduate degree. Like, Cross-reference your outline with information from the school or nonprofit organization to show you have the qualities and qualifications which they are looking for. Determine your format and structure and whether moving points around would create a more logical flow.

Review your outline until you are satisfied with it. You can also reference your completed outline when writing your polished motivational letter to stay on track.
---
You can also read about - How to write an email to a professor for an acceptance letter - Here
---
Write an introduction for a motivational letter
You have to write an introduction that introduces yourself to the recipient. You have to address your recipient by name to give your motivational letter a personal touch. Your introduction in a motivational letter should capture your recipient's attention and encourage them to read. You have to include details about your achievements in this section.
Expand your outline for your body
You have to Expand the points in your outline to form your motivational letter's body. You have to write a new paragraph for every new topic that you have selected. Keep in mind that your motivational letter aims to convince your recipient of your value, so use captivating facts to be impressive.
Conclude your motivation letter
You have to write a conclusion for your motivational letter that summarizes your goal and leaves a positive final impression. You should also thank your recipient for considering your application and encourage them to contact you if they have any questions.
😇 So You Will Never Miss Any Opportunity for your excellency. Then hurry up to join, follow and like us on different Social Networks. 😇
---
Proofread of motivation letter
You must have to Proofread your motivational letter to make it more professional and concise. You have to correct any spelling and grammatical errors and awkward phrasing. Edit information already listed in your application form or resume to ensure your motivational letter contains only unique information.
You have to proofread your motivational letter several times to identify all problem areas. If time permits, complete this step two days or more after writing your motivational letter. To ensure your letter has professional grammar and spelling you have to ask a trusted friend or family member to proofread your motivational letter after you.
Tips for writing a Letter of Motivation
Following these tips can help you to make your motivational letter outstanding and convince decision-makers to consider your application for further process.
You have to follow any guidelines given according to the school you choose. Follow any length, formatting, and content guidelines your prospective school or nonprofit provides. If the organization does not provide any details, write approximately 1/2 to one page of text with a basic 12-point font, such as Times New Roman or Arial.

You have to write with personality. You have to Write in a natural voice that reflects how you would speak to your recipient if they were in a room with you. Include all interesting details that will help your motivation letter stand out from others. Humor can be misinterpreted, so you have to write in a more serious tone.

You have to Use accessible language. You must Identify any unnecessarily complex terms or jargon when you are proofreading and replace them with simple words. You have to Write short and active sentences that cannot be misinterpreted.

You must Focus on your strengths. You have to Write about your personal strengths, rather than your challenges or limitations. Writing about your strengths helps the recipients of your motivational letters understand your value to their organization and keeps your motivational letter's tone positive.

You should not use a single Motivational letter in many places. Letter of Motivation is made specifically for only one company. So if you want to apply to multiple places, you need to prepare some different appropriate motivation letters for every school or organization.
Conclusion
In applying for a scholarship or job not only experience is preferred. But preparing the required documents for registration is also necessary, which is a motivational letter. So, follow our guidelines for a motivational letter, so you have more chances of selection by the company or school can see your sincerity and eligibility in getting the position you are applying for with an attractive motivational letter.
---
You can also read about - Scholarships for International Students 2023 - Here
---
Motivation Letter Example | Motivational Letter Example | Example of Motivation Letter
First I would like to introduce myself. My name is Abc and recently I have been working in college as a lecturer of Computer Science. I have done my graduation with a BS (Software Engineering) from Abc University, country name.
My early exposure to computers proved advantageous for computer classes in school. I have gained distinctive academic results. The undergraduate curriculum in Software Engineering with a CGPA of 3.18/4 and your University name. And various Computer Science subjects like Artificial Intelligence (Robotics), Distributed Computing, Data Structures, Linear Algebra, Statistics and Probability, Discrete Structures, Digital Logic, and Computer Architecture, Computer Networks, Software Design and Architecture, Technical Writing, Information System and Data Processing, Web Engineering, Data Mining; Design Of Algorithms and Object-Oriented Programming, Computer Simulation and Modeling provided me with a strong footing in the theoretical concept of Computer Science. So I realized that learning and developing my knowledge of Computer Science will have a great contribution to society.
I did my final year project on Online Quiz Management System which is a Web-Based Application. The main purpose of the Online Quiz Management system is to quickly evaluate the candidate thoroughly through a fully automated system that not only saves your time but also gives fast results. This system creates quizzes competitively and collaboratively by students for the purpose of reducing the load required for a teacher and promoting interactions among students. Online Quiz system can be used in the educational sector as well as in the global world. The system was developed using the following languages and tools C#, SQL, SQL Server, and Visual Studio.
I am a very friendly person with good nature, and good communication skills, I am a goal-oriented person and I can work as a team to carry out tasks that have been assigned in a timely manner. I served as CR (Class Representative) during my BS (SE) program. I have led my whole class during 4-year degree program and I can manage all the assigned tasks and assignments with full responsibility. One thing I like about myself I have the ability to fight through adversity without giving up in hard times of life. I approach people with a positive mind and attitude because of the hard realities of life. I am passionate, reflective, and punctual. Besides that, I have also a keen interest in different cultures.
I participated in Extracurricular Activities, including Arts like sketching, playing sports like Squash, and Academic activities like Research, Debates on different topics, quizzes, and Writing competitions.
Definitely, my interest in extracurricular activities affected my personality and gave me strong willpower to deal with upcoming challenges
Study Plan country name in which you are applying: As XYZ is the largest contributor to developing and providing top-ranking universities. I would like to continue my academic career by pursuing a Masters / MS Degree at ABC University. My choice of this university is motivated by the high academic standards and the potential of the faculty at ABC University that can train me to become one of the best people in the world. This university is well known for Information Technology worldwide. This Masters program will provide me a chance to deal with different issues and be capable to propose and setting up appropriate solutions. Computer Science is not an easy field, science is a journey to be enjoyed.
Studying in XYZ provides the opportunity to completely submerge yourself in their education system and is a great way to really experience and understand the people all over the world, its traditions, and the attraction of distinct cultural perspectives. Exchanging ideas and techniques is motivating as there is always something new to learn and also it makes things easy to cope with whether one works or studies nationally or internationally.
The quality of ABC institutions is well recognized. Abc society is strongly connected to other cultures, the business community, and the world. During my study duration, I will also focus on the ABC language that completely immerses me in a new language. During the duration of courses, I will come up with great hidden talents in myself I will try to give the best of everything. I will accompany the high skilled professors and university colleagues in carrying out research and exploring the field of Computer Sciences. I will develop valuable skills through innovative thinking and I hope that will be of great help in my future career.
Reasons to study: Now the question arises, "Why the name of Country?" country name you choose to apply for ABC is a creative nation and it becomes the home of many famous Scientists in the world. Abc Universities recognize the importance of real-world experience. And yet, it provides the best opportunities at the national or international level. Abc Research universities place a higher emphasis on academic study. It is an ideal research area for you to make innovations. One of the reasons to choose XYZ for my Masters study is that I am really impressed by the way these individuals have proved themselves to be dedicated to their teamwork. The ABC's innovative educational system is very interactive at both National and International levels. The globally ranked education institutes of ABC with a high reputation provides an opportunity to the students for the betterment of their career. Another factor is learning ABC language skills, as this language has many advantages for future careers. It's not just that ABC is useful for practical purposes, but learning it teaches you a whole new way of thinking.
Thus such kind of positivity has boosted my confidence further and I am satisfied with my decision to study for my Masters. All these combined factors make ABC an ideal place for me to do my Master's degree.
I will be waiting for your favorable consideration and I will be pleased to provide any further information you may need. Looking forward to your positive response.
XYZ
---
How to Write a Motivational Letter with Example Complete Guidelines Video - Watch Here
---
,an example of a motivation letter, example of motivational letter, a letter of motivation for university example, how to start a motivation letter examples, example motivation letter college of europe, example of a letter of motivation, how to write a motivation letter, what is a motivation letter, motivation letter for