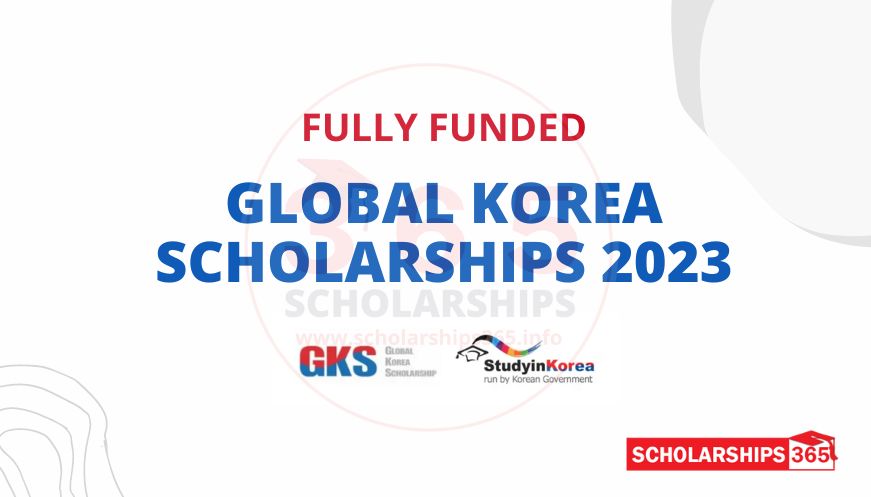 The Global Korea Scholarship (GKS) 2023 is a fully-funded scholarship program offered by the Korean government to international students who wish to pursue Masters, Ph.D. & Multiple Research Programs at Different South Korean Universities. It is an excellent opportunity for students to experience Korea's culture and world-class education system. In this article, we will provide you with all the information you need to know about the Global Korea Scholarship 2023, including eligibility criteria, scholarship benefits, the application process, and required documents. If you're interested in pursuing higher education in Korea, read on to find out how you can apply for this prestigious scholarship.
Global Korea Scholarship 2023 (GKS) | Fully Funded | Study in Korea
The Global Korea Scholarship 2023 is Announced! Previously Known as KGSP (Korean Government Scholarship Program) at top Korean Universities. The South Korean government is providing international students with the opportunity to study in some of the world's best higher education institutions. As one of the leading countries in education, South Korea offers a range of degree programs for students from all over the world, along with thousands of scholarship opportunities in 2023.
The Global Korea Scholarship 2023 program, announced by the Korean government, welcomes applications from students worldwide each year. This Korean Government Scholarship Program is a Fully Funded Scholarship that will cover all the expenses of foreign students. The KGSP 2023 / Korea Government Scholarship Program is offering 1300+ International Scholarships from 155 countries who want to pursue a different graduate-level degree (master's or doctoral) or research program in Korea.  Students can choose from a variety of degree programs offered by top-class Korean universities, with all Masters, Ph.D., and Research Programs being taught in English.
---
The Korean scholarship 2023 applications are accepted in two different terms. International students who wish to apply for the Global Korea International Scholarships without IELTS 2023 can do so either through a Korean embassy in their home country (embassy track) or directly to one of the designated universities (university track). For detailed information on the application process, including submission deadlines, required documents, and other relevant requirements, applicants are advised to contact the respective embassy or university directly. It should be noted that the first round of selection for the KGSP/GKS 2023 will be conducted by the embassies and universities.
---
Host Country: Study in Korea
---
Host University: Best Korean Universities
---
GKS Scholarships Funded By: South Korean Government Funded
---
Scholarships Coverage: Fully Funded
---
Degree Level: Masters, Ph.D. & Research Degree Programs in all Fields.
---
😇 So You Will Never Miss Any Opportunity for your excellency. Then hurry up to join, follow and like us on different Social Networks. 😇
---
What are the Benefits of Global Korea Scholarship 2023?
The Global Korea Scholarship provides the following benefits to selected candidates:
Full Tuition Fee: The scholarship will support complete fee during the study in Korea.

Monthly allowance: Successful applicants will receive a monthly allowance of KRW 900,000 (approximately USD 800).

Airfare: You will also avail the opportunity of round-trip airfare to and from Korea.

Settling-in allowance: Successful applicants will receive a settling-in allowance of KRW 200,000 (approximately USD 180) to help with their initial expenses.

Medical insurance: The scholarship covers the cost of medical insurance for the duration of the degree program.

Language training: The scholarship provides language training for successful applicants who need to improve their Korean language skills.
In addition to the above benefits, the scholarship also provides opportunities for selected students to participate in various cultural and academic events, such as field trips and language exchange programs. Students are also given access to various academic resources and facilities, such as libraries, laboratories, and computer rooms, to support their academic pursuits.
What is the Duration of the GKS Scholarship?
Doctoral / Ph.D. Degree Program: 4 years
        1 year of the Korean language program

        3 years of the regular degree program
MS / Master's Degree Program: 3 years
        1 year of the Korean language program

        2 years of a degree program
Research Program: 6 Months or 1 Year
What Degree Programs Offered under GKS 2023?
In Global Korea Scholarships, Korean Universities offer almost all Academic Programs. They are offering internationally recognized programs for Masters, Ph.D. & Research Degree programs under KGSP 2023 at different South Korean Universities. For Further Information, Please Read Here
---
What are Eligibility Criteria for Global Korea Scholarship?
To be eligible for the Global Korea Scholarship 2023, you must meet the following criteria:
You must be a citizen of the country that is designated by the Korean government for the GKS program.

You must be under 25 years of age for undergraduate studies and under 40 years of age for graduate studies.

You must have a good academic record and meet the language proficiency requirements.

You must not hold Korean citizenship.

You must have a personal statement and study plan that demonstrates your passion for your chosen field of study.
The GKS program is open to all international students except for those from countries that have a diplomatic relationship with North Korea or those who have previously received a Korean government scholarship. The program is designed to support outstanding students who have the potential to become future leaders in their respective fields. Korean language proficiency is not mandatory for some fields of study, but it is recommended that applicants take the Korean language test to increase their chances of being selected.
What Documents are Required to Apply for GKS?
 The list of documents is given below:
Completed application form for Global Korea Scholarship.

Complete Educational Degrees / Transcripts / Marksheets

Passport Copy / Scan for Upload

CV

(Curriculum Vitae)

Photographs for Profile Picture

Statement of Purpose

GKS Applicants Agreement

Personal Medical Assessment

Other Required documents (if applicable by embassy or university)
Are you Applying through Embassy Track in Global Korea Scholarship?
 You need to submit one original set of all application documents ( mentioned above) and three photocopies of it.
Are you Applying through University Track in GKS 2023?
First, you need to contact to university, ask them about the required documents, and submit them according to the university's requirements.
---
How to Apply for the Global Korea Scholarship?
The applicants can apply in two ways, for the Global Korea Government Scholarship 2023 through their home embassy / any participating Korean university track. The process is given below:
Are you going to Apply Through the Embassy Track?
First Search out the Korean Embassy in Your Home Country & ask them when them about the opening date of the Global Koera Scholarship 2023.

You need to visit the Korean Embassy for information about HOW TO APPLY, for Scholarship, procedure & guidelines.
Do you want to apply Through Korean University Track?
You need to visit the official websites of participating Korean universities, for scholarship / degree programs information.

Contact to the university, ask them to complete the requirements, and apply, as a Korean university will send your name to NIIED and they will select final candidates.
What is the Deadline for the Global Korea Scholarship 2023?
The Application deadline for Global Korea Government Scholarship is 2023 Varies from Embassy to Embassy as well as University to University. You need to contact to Korean University / Korean Embassy in your Home Country for deadlines.
,Global Korea Scholarship 2023 | Fully Funded | Study in Korea, Scholarship for Developing Countries, Study in Korea, Korean Government Scholarship, KGSP Scholarship, Graduate Scholarship for International Students, Undergraduate Scholarship in Korea, Korean Language Course Scholarship