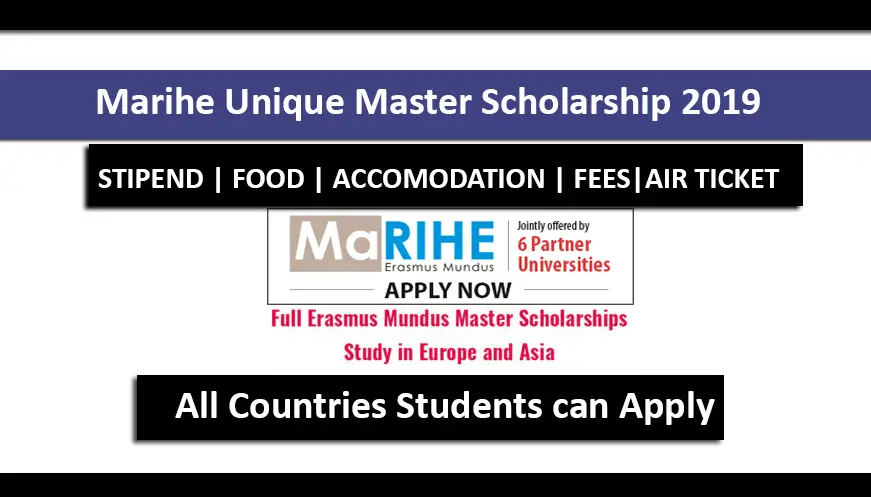 Become a part of this unique global Master programme on Higher Education, Research and Innovation and join us for a 2-year full time study journey in Europe and Asia. We offer full Erasmus Mundus scholarships for applicants with a first university degree from all around the world.
Master Program Description:
Erasmus Mundus Joint Master Degrees aim to foster excellence, innovation, and internationalisation in HEIs; to boost the attractiveness of the European Higher Education Area (EHEA) and support the EU's external action in the field of higher education; and to improve the level of competences and skills of Master graduates and their employability.
MARIHE is supported by the Erasmus+ Programme of the European Union (EU) under the action of an Erasmus Mundus Joint Master Degree (EMJMD). Our consortium includes: Danube University Krems/Austria (coordinator), University of Tampere/Finland, Beijing Normal University/China, Osnabrück University of Applied Sciences/Germany, Eötvös Loránd University/Hungary, and Thapar Institute of Engineering and Technology (deemed to be University)/India.
---
Subject Available:
Scholarships are awarded on higher education, research and innovation management, with a truly global perspective.
---
Eligible Countries:
Full scholarships from the European Union, open to applicants from all nationalities.
---
Cost: Fully Funded
---
Scholarship Award:
Full scholarships from the European Union, open to applicants from all nationalities.
---
Eligibilty Criteria:
Applicants must hold a first university degree. This should be at least a Bachelor Degree issued by a university, quantified as three years of studies corresponding to 180 ECTS. If ECTS is not used in the country where the first degree was acquired: proof of a successfully completed period of study at higher education level considered comparable with a Bachelor Degree. The decision on this will be made by the MARIHE Consortium.
Applicants shall show a strong motivation and interest to learn
Applicants shall have sufficient knowledge of English for academic purposes. This is to be proved by an English language test certificate accepted by MARIHE programme
Work experience is not an admission requirement. However, work experience can be a strong advantage for an application
---
Application Documents required to Apply:
Register in the MARIHE Application database and you have to upload following documents:

Application Form

Passport/Personal Identification Card

Curriculum Vitae / CV

Letter of Motivation / LoM

Final University Diploma from prior university degree(s)

Transcript of Records

Photograph (portrait), JPG preferred

Proof of Proficiency in English

Two Letters of Recommendation

Essay
---
😇 So You Will Never Miss Any Opportunity for your excellency. Then hurry up to join, follow and like us on different Social Networks. 😇
How to Apply:
MARIHE only accepts electronic applications submitted through our MARIHE application database.
Register in the MARIHE Application database. Go to http://moodle.donau-uni.ac.at/marihe/ and follow "Create new account".

In the application database, you can enrol yourself into the Moodle course room MARIHE_Intake_2019_Application_Scholarship

Complete your profile: Personal data and basic information
Upload of application documents
---
Deadline: The deadline to Apply is December 5, 2018.
---
,Marihe, Marihe scholarship, master scholarship, scholarship 2019, scholarship 2020, scholarship 2019 2020, marihe apply, marihe unique master scholarship, europe scholarship, asia scholarship, Danube University Krems Austria scholarship, University of Tampere Finland scholarship, Beijing Normal University scholarship, Osnabrück University of Applied Sciences Germany, Eötvös Loránd University Hungary scholarship, Thapar Institute of Engineering and Technology India scholarship, scholarship in china, beijing scholarship, erasmus mundus scholarship, , , , , , ,