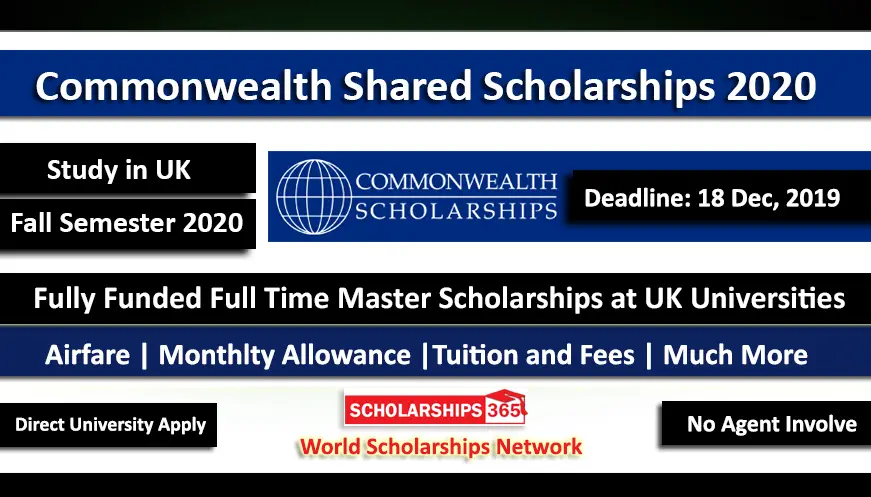 Commonwealth Shared Scholarships UK 2020 is one of the Fully Funded Scholarship Program for International Students. Applications are open for Master's Programs in all fields. Scholarships are for candidates from low and middle-income Commonwealth countries to avail Full Time Master Degree at UK University.
International Students from different part of the world Can Apply for this highly paid Scholarship. A Large No Commonwealth Shared Scholarships are offered by UK Department for International Development (DFID).
Commonwealth Shared Master's Scholarships enable talented and motivated individuals to gain the knowledge and skills required for sustainable development, and are aimed at those who could not otherwise afford to study in the UK.  You Want to Study in UK on Fully Funded Scholarship? The All degree programs are taught in English Language. Almost All Academic Fields are available for Master Degree & all the courses are in English. The Duration of the Master Scholarship will be for 1 Year.
---
Host Country : Study in UK
---
Host University: All Universities in UK
---
Scholarships Offered By: UK Department for International Development (DFID)
---
Scholarships Coverage: Full Funded
---
Degree Level: Full Time Masters Degree Programs in all Fields.
---
You can also Apply for following opportunity in UK:
---
😇 So You Will Never Miss Any Opportunity for your excellency. Then hurry up to join, follow and like us on different Social Networks. 😇
---
Commonwealth Shared Scholarships 2020 Offers:
Excellent Opportunity is provided by the UK Government for International Students for their Full Time Master Degree Studies at UK Universities with full Time Financial Support. Are you want to Free Study in UK? It is time to apply for Masters studies at UK university. You can fulfill your dream to study and explore the beauty of UK on Fully Funded Commonwealth Shared International Scholarships for Masters Studies.
Applications are invited for Commonwealth Scholarships 2020 from all Commonwealth countries over the world for Masters Studies on Scholarships. 
Scholarships offers: ( All the selected student get these benefits)
    Approved Round Airfare Tickets from your home country to the UK and return at the end of your award.
    Approved Full tuition fees.
    Stipend (living allowance) at the rate of £1,1010 per month, or £1,362 per month for those at universities in the London metropolitan area (rates quoted at 2020-2021 levels)
    Warm clothing allowance, where applicable
    Thesis grant towards the cost of preparing a thesis or dissertation, where applicable
    Study travel grant towards the cost of study-related travel within the UK or overseas
---
You can also Apply for following opportunities in Japan:
---
Programs Offered By Commonwealth Shared Scholarship:
Scholarships are available to pursue Masters Degree in  the fields of Arts, Social Sciences, Natural Sciences, Clinical Areas, Medical Field, Engineering, Sciences and Education. Commonwealth Shared Masters scholarships are for candidates from low and middle-income Commonwealth countries, for fulltime Masters at a UK University. These scholarships are offered under the following areas:
    Science and technology for development

    Strengthening health systems and capacity

    Promoting global prosperity

    Strengthening global peace, security, and governance

    Strengthening resilience and response to crises

    Access, inclusion, and opportunity
List of Commonwealth Scholarship Universities: CLICK HERE TO CHECK
---
You can also Apply for following opportunities in Saudi Arabia:
---
Eligibility Criteria:
Candidates must fulfill the following criteria to avail this Scholarship for their study in UK.
Eligible Countries:
---
Bangladesh

Cameroon

Eswatini

The Gambia

Ghana

India

Kenya

Kiribati

Lesotho

Malawi

Mozambique

Nigeria

Pakistan

Papua New Guinea

Rwanda

Samoa

Sierra Leone

Solomon Islands

Sri Lanka

Tanzania

Tuvalu

Uganda

Vanuatu

Zambia
Other Criteria:
Be a citizen of or have been granted refugee status by an 

eligible Commonwealth country

,

or be a British Protected Person.
Be permanently resident in an 

eligible Commonwealth country

.

Be available to start your academic studies in the UK by the start of the UK academic year in September/October 2020.

Those who have completed their 4 Year Bachelor Degree or those who have completed 2 Year Bachelors and 2 Year Masters are eligible to apply for the Commonwealth UK Scholarship.

By September 2020, hold a first degree of at least upper second class (2:1) honors standard, or a second class degree (2:2) and a relevant postgraduate qualification (a Master's degree)

Not have studied or worked for one (academic) year or more in a high income country

Be unable to afford to study in the UK without this scholarship
---
Deadline: Application Deadline for Commonwealth Shared Master Scholarships 2020 UK is 18th December 2019
---
How to Apply for Commonwealth Shared Scholarships 2020:
Students have to Apply by the following procedure given below:
Process Steps:
Each Year the Commonwealth Invites Each year, the CSC invites selected nominating bodies to submit a specific number of nominations.

You must apply to one of the following nominating bodies in the first instance – the CSC does not accept direct applications for these scholarships:

Students must check with his/her chosen university for their specific advice on when to apply, admission requirements, and rules for applying - Check Full Universities List
For Apply:
Student have to Click Apply Online Button Below in Green Color For Apply.
You can also visit Official Advertisement from Official Source Button.
---
,Fully Funded Master Scholarships 2020-2021-2022, Study in UK , Fully Funded Scholarships in England 2020-2021-2022, Commonwealth Scholarships 2019-2020-2021-2022-2023, Commonwealth shared Scholarships 2019-2020-2021-2022-2023, Fully funded uk fELLOWSHIP scholarships 2020-2021-2022, Opportunities in UK, UK scholarships for international students 2020-2021-2022-2023-2024