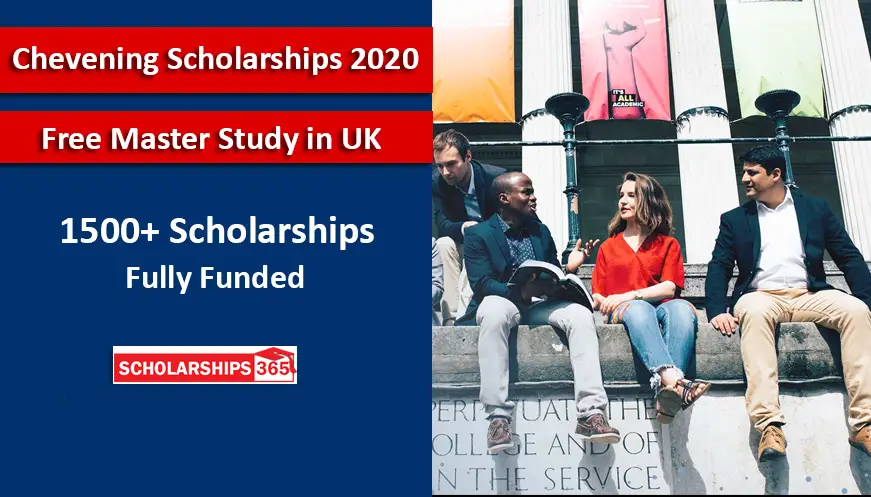 British Chevening Scholarships 2020-2021 are open for International Students. 1500+ Cheveng Scholarships are offered in UK for International Students  for 12,000+ different Master's Courses. Chevening Scholarship 2020 Fully Funded Scholarships which cover all expenses during study.
UK International Chevening Scholarships 2020-2021 are accepting 1500+ International students from all over the world. Chevening Scholarships programme is fully funded by the Foreign and Commonwealth Office (FCO) and partner organization from the World. In Year 2019 1500+ Scholarships are offered to International Students.
International Chevening Scholarship 2020-2021 covers university tuition fees, a monthly living stipend, an economy class return airfare to the UK and additional grants and allowances to cover essential expenditure in the UK.
Scholarships programme offers awards to outstanding scholars with leadership potential from around the world to study for a master's degree in any subject at any World Class Research-Oriented University UK. Students can experiences to a wide range of exclusive academic, professional, and cultural activities. 12,000+ different Master's Courses are available to Apply.
---
Host Country : Study in UK
---
Host University: All Universities in UK
---
Scholarships Offered By: Cheveng Organization with Foreign and Commonwealth Office (FCO)
---
No of Scholarships: 1500+ Scholarships Awards
---
Scholarships Coverage: Fully Funded
---
Degree Level:   1 Year Master Degree in All Academic Fields.
---
You can also Apply for following opportunities.
😇 So You Will Never Miss Any Opportunity for your excellency. Then hurry up to join, follow and like us on different Social Networks. 😇
---
---
Financial Package by Chevening Scholarships 2020:
Who want to Free Study in UK? It is excellent Opportunity for those students who have dream to study and Work in UK on Fully Funded Scholarships for 1 Year Master's Studies in 12,000 Master's Courses.
Chevening Scholarships 2020 for Foreign Students which will cover the all the expenses given below during study in Any UK University.  Applications are invited for Chevening Scholarships 2020-2021 with Scholarships from all over the world.
Here is List of Exepnses which will cover by this program:
Chevening Scholarships Benefits:
University Tuition fee

Accommodation

Provide comprehensive medical insurance

Monthly living allowance:

Airfare to the UK

The cost of one Visa Application
A travel grant to attend Chevening events in the UK

Additional grants and allowances to cover essential expenditure.
---
Degree Programs Offered By Chevening Scholarships 2020:
Scholarships are available to 12,000+ different 1 Year Master's Courses all academic fields at over 150 different higher education institutions in the UK.
Important Note: In Your Chevening Application you must select at least three courses from the given list. All Master Degree Courses are for One Year period of study.
Complete Academic Fields List are are given below. Please Check the following Given Data below:
12,000+ Master Courses List. Student can Find a Course & University : Click Here
Most Important Winning Point For this Scholarships:
Student should apply in more than 3 universities, at least 6 to 7 to secure admission in any UK universities.

If Student didn't secure admission in any of the University mentioned in your chevening application form and you got admission in 4th University (which you did not mentioned in the application form, but you applied) than your scholarship can still be secured

.

If you have been called for an interview than in the interview you can let them know about the 4th University in which you have an admission offer.
Important Note: YOU DO NOT NEED TO HAVE ADMISSION LETTER FROM UNIVERSITY TO APPLY FOR CHEVENING AT THIS POINT.
Give preference to Universities in your application which you feel is the brightest chances of getting admission in one of the Best UK univeristy.

But you can change the preference later at the interview stage.

To be awarded a Scholarship, you must get an unconditional offer for one of your course choices by 16 July 2020.
---
Chevening Scholarship Requirements & Eligibility Criteria:
Candidates must fulfill the following criteria to avail the Chevening UK Government Scholarship for their study in UK.
Eligible Countries:
Chevening Scholarships 2020 are offered Over 160 countries Around the World.
Check the LIST OF ELIGIBLE COUNTRIES : Click Here
Eligible types of Work Experience:
Student must ensure that he/she meet the minimum work-experience requirement for the scholarship before submitting your Chevening application. Chevening Scholarships require that applicants have at least two years of work experience.
The types of work experience that are eligible for Chevening can include:
    Full-time employment

    Part-time employment

    Voluntary work

    Paid or unpaid internships
Check the Here More Details by Chevening about Work Experience : Click Here
---
English Language Requirements:
In order to receive a Chevening Scholarship, all applicants must demonstrate that they have fulfilled Chevening's English language requirement by 16 July 2020. We advise all applicants to ensure they have fulfilled the English language requirement as early as possible by either.
Chevening accepts English language tests from five providers:
    Academic IELTS

    Pearson PTE Academic

    TOEFL iBT

    C1 Advanced (formerly Cambridge English: Advanced [CAE])

    Trinity ISE II (B2)
Check Details About Chevening Scholarship English Language Requirements : Click Here
Complete Requirements List:
Be a citizen of a Chevening-eligible country or territory.

Return to your country of citizenship for a minimum of two years after your award has ended.

Have completed all components of an undergraduate degree that will enable you to gain entry onto a postgraduate programme at a UK university by the time you submit your application. This is typically equivalent to an upper second-class 2:1 honours degree in the UK.

Have at least two years of work experience.

Apply to three different eligible

UK university courses

and have received an unconditional offer from one of these choices by 16 July 2020.
Meet the Chevening

English language requirement

by 16 July 2020.
---
Chevening Scholarships Application Timeline:
    5 August 2019: Application Open
    5 November 2019: Application Close
    Mid-November to December 2019: Reading Committee Assessments
    Early to Mid February 2020: Applicants Shorlisted for interviews
    25 February 2020: References And Education Document Deadline
    2 March to 1st May 2020: Interview Take Place
    Early June 2020: Results
    16 July 2020: English Language Submission Deadline
    September/October 2020: Studies Begin in the UK
---
How to Apply for Chevening Scholarships 2020 :
Students have to Apply on Online Admission Portal and fill the Application form. Students have to Checkout the Official links given below for Apply.
All the links are given below for Details, Students must check details here:
Open the given link below Select Country and Your level as Scholarships and Press Button Apply.
---
Deadline:  5 November 2019
,ully Funded Chevening Scholarship 2020-2021, Fully Funded Scholarships 2019-2020-2021, Master Scholarships in UK 2020-2021, Chevenging Fellowships 2020-2021 Fully Funded, UK Chevening Master Scholarships 2019, British UK Chevening Master Scholarships 2020-2021, International UK Government Chevening Scholarships 2020 for Master Students, Fully Funded International Scholarships for African Students