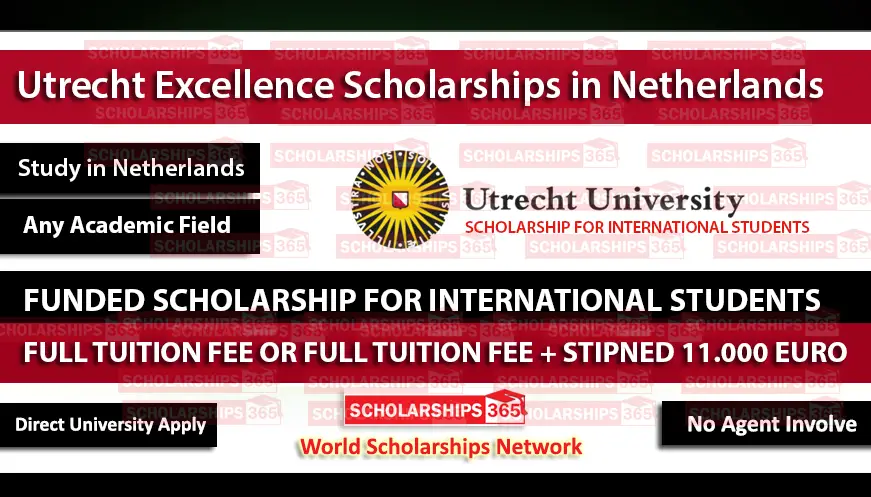 Utrecht University offers Scholarships for International students under Utrecht Excellence Scholarships 2023 program. The Utrecht University Scholarship, Netherlands is available for International students from different parts of the world to pursue various Masters Degree programs. It's an excellent opportunity to study in Netherlands for international students.
Must Apply for Fully Funded Scholarships for International Students in Japan
Utrecht Excellence Scholarships 2023 | Study in Netherlands, Europe
About Utrecht University, Netherlands:
Utrecht University is one of the most famous universities in the Netherlands, which was founded in 1636. It is located in the heart of the Netherlands. Utrecht University is also one of the European top leading research universities. Utrecht University is recognized internationally for its high-quality education and innovative approach to research and teaching.
If you join as an international student, multi-culture will be in good company at Utrecht University. Every year, about 1,500+ international students join Utrecht University to take a world-class degree program and other courses.
Students of Utrecht University will work and study closely together, so they have the best learning environment to operate from the outset. This is essential for world scientists and scholars in our increasingly globalized world.
Must Apply: Scholarships for International Students in Switzerland
About Utrecht Excellence Scholarships:
Every year Utrecht University offers Utrecht Excellence Scholarships for international students for a wide range of Masters's Degree programs. The scholarship will be offered to students for the entire duration of the master's degree studies that is one year or two years depending on the type of degree program.
Utrecht University, Netherlands offers about 20 to 25 international master's scholarships for the academic year 2023-2024. This scholarship will be renewed only for the second year on the basis of satisfactory academic results.
Have you read it? Fully Funded Scholarship for International Students in Japan 2023
---
Host Country: Study in Netherlands
---
Host University: Utrecht University
---
Scholarships Offered By: Utrecht University Funded
---
Scholarships Coverage: Funded
---
Degree Level: Masters Degree Programs in different fields.
---
Must Apply: Scholarship for International Students in Saudi Arabia Fully Funded
---
😇 So You Will Never Miss Any Opportunity for your excellency. Then hurry up to join, follow and like us on different Social Networks. 😇
---
---
Something Special for you, As 25,000+ Chinese Government Scholarship 2023 is announced for Internationals students in China, many students don't have the knowledge of how to apply for Chinese Government Scholarships. We have written a complete article for the application process, required documents, and samples for Chinese Government Scholarships 2023. Please find the complete information given below: Chinese Government Scholarship - CSC Scholarship 2023 Process - Step by Step
---
Benefits of Utrecht Excellence Scholarships
It is a great opportunity to Free Study Abroad in the Netherlands at Utrecht University.  The scholarship has the following benefits as given below:
    Full Tuition Fees OR

    Tuition Fees + 11.000 euro for living expenses
No of Scholarships: 20 - 25
---
Have you applied for a  Scholarship for International Students in Canada 2023
---
What are the Eligibility Criteria for Utrecht Excellence Scholarships?
Applicants must fulfill the following eligibility criteria to avail of this Netherlands Scholarship:
    International students from non-EU/EEA countries can apply for this international scholarship. Those students who are applying, must not be a national of an EU/EEA countries.

    Students who are applying for this Netherlands scholarship program must not be eligible for support under the Dutch Scholarships under a different Netherlands system of study grants and loans.

    Applicant must have completed his/her secondary school and/or undergraduate degree from outside Netherlands/Holland.

    The student must Have applied for the eligible master's degree program under Utrecht Excellence Scholarships 2022 program
For more information about the Utrecht Excellence Scholarships eligibility criteria, visit the official website.
---
Have you applied for  Top 10 Scholarships for International Students in UK
---
Special Guidelines to Apply for Opportunities
---
Application Timing and the deadlines
The applications periods is start from 1 November 2022, and The deadline to apply for the Utrecht University, Excellence Scholarships in the Netherlands is January 31, 2023.

Please make sure to visit the "When to Apply Section" under the admission and application of your chosen master's degree program.
---
How to Apply for Utrecht Excellence Scholarships 2023?
Students have to apply online first for their Master's Degree program of their own choice at the University Admission Portal. After submitting an admission application for a master's degree program,  non-EU/EEA students will have the option to submit a scholarship application for a Utrecht Excellence Scholarship program.
You can also watch How to apply for Utrecht Excellence Scholarship Program | Complete Applying Process Video | Watch Here
Read - You may looking Visa guidlines - Netherlands Study Visa Process
---
,Fully Funded bachelors Scholarships 2019-2020-2021-2022-2023-2024, Fully Funded masters Scholarships 2019-2020-2021-2022-2023-2024, Fully Funded masters Scholarships School 2019-2020-2021-2022-2023-2024, Fully Funded phd Scholarships School 2019-2020-2021-2022-2023-2024, Opportunities Corners, Scholarships Corners, scholarships for college - Austrian government scholarships 2020-2021, CGS CSC STUDY CHINA, FORIGN STUDENTS , TOP UNIVERSITY, HIT, HARIB, TSINGUHA, CHINA, scholarships for college students 2019-2020-2021-2022-2023-2024