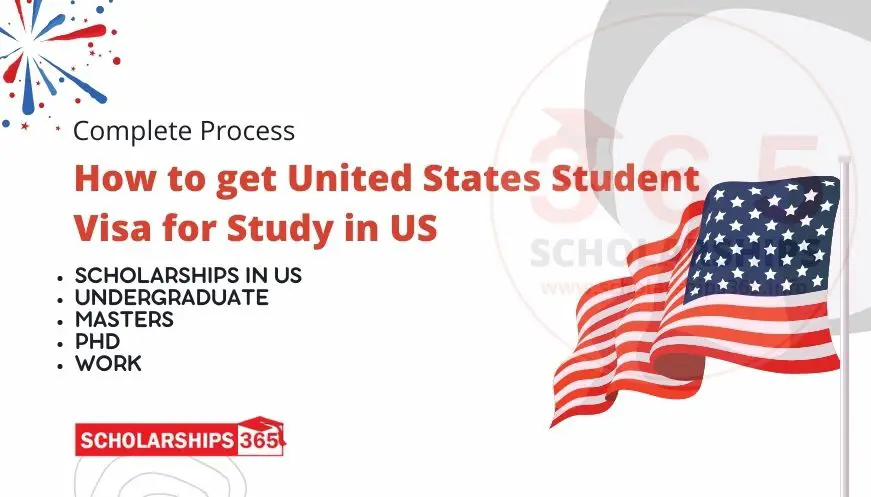 If you want to study in the US, you will need to obtain a student visa. Applying for a US student visa can be a long process, so be prepared documents in advance for at least three to five months before your course is due to start. In this article, we will announce US student Visa news. There are usually various steps to apply for a US student visa. This step varies at each US embassy so it's essential to consult the instructions on the embassy's website. The US student visa acceptance rate is 85% in 2023.
You can also read about - How to get Student Visa for France
What is Student Visa?
A student visa allows you to study at an international level in different countries. If any student wants to study higher education in any other country must need a Student Visa from that country.
US Student Visa Process
For a US visa you have to apply through Embassy or US Consulate in your country by following these steps:
Apply to and be accepted by a Student and Exchange Visitor Program (SEVP) approved institution in US:
When you have been accepted by an institution in the US, the university will enroll you in the SEVIS system and you will receive a SEVIS document called Form I-20, so you are eligible for an F or M visa and for Form DS-2019 then you are eligible for a J visa. The process for a US student visa is not that much difficult. For a US student visa, you have to follow SEVP.
Pay the Student Exchange Visitor Information System fee:
Pay the Student Exchange Visitor fee at least three days prior to submitting an application for a US visa. In order to pay the US student visa f1 fee you can file it online or in paper form which can be accessed through US Immigration.
Cost of a student visa
The fee for I-901 is US $200 for F/M visa holders and for J student visa holders is $180. Your sponsor can also pay the fee on your behalf; you should receive a receipt from that third party.
You can take print of payment confirmation from the website as you need this as proof of fee at your US student Visa Interview.
---
You can also read about - How to get Student Visa for Italy
---
US student visa application
After receiving your Student Exchange form and paying fee, you can make an appointment with an embassy in your country or US consulate for a US student visa application. As visa processing times vary so you have to apply before time. Your visa will be issued by 120 days before entering the US.
US student visa Requirements:
You need to complete the online visa application form DS-160. Select the location to which you wish to apply and ensure you have all the documents and information you need to fill in the application. After answering a security question, you will redirect to the form where you will find the Application ID. For a US student visa Nairaland, You can apply 3 months before your university degree program starts. After applying you have to wait 4 to 5 days for the decision.
Personal information required to complete the DS-160 form:
Complete Name and date of birth

Complete Address and phone number

Complete Passport details

Complete Details of travel plans, and travel companions

Complete Details of previous US travel

Your point of contact in the US if any

Family, work and education details

All Security, background and medical health information

SEVIS ID and complete address of US school in which you are enrolled
---
You can also read about - How to Apply for Student Visa for Australia, Complete Process
---
US student visa photo requirements:
Recent Photo taken within the last 6 months

Background must be white

Must be full-face view

Neutral facial expression with opened eyes

Do not wear Uniform, wear normal clothing

Your head must not be covered with hat

Glasses are not allowed in new visa photos, except for medical reasons like no glare on eyeglasses no shadows.
😇 So You Will Never Miss Any Opportunity for your excellency. Then hurry up to join, follow and like us on different Social Networks. 😇
---
US student Visa Fee:
You must review the fee payment instructions available on your embassy or consulate website as it varies. There are three ways to pay non-refundable, non-transferrable visa application fee such as In person at an approved bank, By phone or Online.
During your research, if you come across the term visa issuance fee based on reciprocity, this does not apply for F1, F2, M1, M2, J1 and J2 visa candidates.
When you get your visa interview appointment you are asked for an MRV fee receipt. Some of the J visa applicants do not need to pay application processing fees, if participating in a US Agency for International Development program or a federally funded educational exchange program with serial numbers beginning G-1, G-2, G-3 or G-7.
---
You can also read about - Top 10 Scholarships in Switzerland for International Students
---
US Student Visa Interview Questions:
This is the final step to getting a US student visa is to attend a visa interview. You can do this online or by calling your nearest US embassy or consulate.
The US visa application process cannot be completed unless you appear for an interview with a consular officer. The barcode from your DS-160 can be used to retrieve information in any US embassy or consulate.
Documents Required for US visa interview
A valid Passport

Signed SEVIS Form I-20 or DS-2019

Form DS-7002

SEVIS fee receipt

DS-160 application ID number

A Printed copy of visa interview letter

Your 1-2 photographs in the format explained in the photograph requirements.

Transcripts and diplomas from previous institutions

Scores required by the educational institution such as the TOEFL, GRE, GMAT, etc.

Financial evidence showing you or your sponsor
Attending the US Visa interview
You must be on time for your visa interview, is the applicant is late then may be asked to reschedule for another day. The reason for the visa interview is for the consular officer to determine whether you are qualified to receive a US student visa or not and which visa category is appropriate for you.
US student visa interview waiver
Consular officers have the authority to waive the visa interview requirement for individual petition-based H-1, H-3, H-4, L, O, P, and Q applicants who have previously been issued any type of visa and for those who have never been refused a visa.
US student Visa Number
The US Student visa number is the red number printed on the bottom right of the visa document. The number on a US visa has eight numeric characters beginning with one letter followed by seven numeric characters.
US student visa status check
You can check your status of Visa online through the link HERE
Reasons for US student visa rejection
Insufficient financial funds

Incorrect or false documents

Inadequate communication skills

Misbehavior during the visa interview
Can US student visa travel to Canada?
F-1 and J-1 student visa holders may need a visa, even for a one-day trip to Canada.
Business / Tourist US Visa
The visitor visa B-1/B-2 is for people traveling to the United States temporarily for business B-1or for medical treatment B-2. B-1 visa is for those travelers who consult with business associates, or educational, professional, or business conferences. The B-2 visa is for travel which includes tourism, family visits, and medical treatment.
Requirements for business/ tourist Visa
If you apply for a B-1/B-2 visa you must follow:
The purpose of your trip to the United States is for a temporary visit like business or medical treatment

Your plan to stay in the United States for a limited period of time

Proof of funds to cover your expenses in United States

You must show that you have a residence outside the United States to ensure your return abroad at the end of your visit
US Business/ Tourist Application Visa Process:
Below are the requirements:
Nonimmigrant Visa Electronic Application DS-160 Form.

Passport is required

The photograph must be taken within the last six months

A receipt showing payment of US$160 non-refundable nonimmigrant visa application processing fee which is paid in local currency and 10-year travel history

Complete List of siblings and children

You must present an interview appointment letter

Chinese citizens with 10-year B1, B2 visas in Peoples' Republic of China passports will be required to update their biographical information from their visa application through the website every two years. This is called the Electronic Visa Update System EVUS.
Work Visa for US
If you want to work in the U.S temporarily as a non-immigrant you must need a specific visa based on the type of your work.
All candidates for H, L, O, P, and Q visas must have a petition approved on their behalf by USCIS. The petition Form I-129 must be approved before you apply for a work visa at the U.S. Embassy. After approval, your agent will receive a Notice of Action, Form I-797, which serves as your petition's approval notification and is verified by the consular officer through the Department of State's Petition Information Management Service.
Visa Descriptions and Qualifications
H-1B
If you are coming to the United States to perform services in a pre-arranged professional job then you need H-1B visa. To qualify, you must hold an Undergraduate or higher degree. USCIS will determine whether your employment constitutes a specialty occupation or whether you are qualified to perform the services.
H-2A
H-2A visa allows U.S. employers to bring foreign nationals to the United States for temporary agricultural jobs for which U.S. workers are not available. If you seek to perform agricultural labor, services of a seasonal nature in United States on a temporary basis. A U.S. employer must file a Form I-129, Petition for Nonimmigrant Worker, on behalf of you.
H-2B Visa
H-2B visa is required if you are coming to the United States to perform a job which is temporary and for which there is a shortage of U.S. workers. Applicant must obtain a Department of Labor certification confirming that there are no qualified U.S. Workers can apply for the type of employment which is based on your petition.
H-3
H-3 visa is required if you are coming to the United States to receive training from an employer in any field, other than graduate education for a period of up to two years. Training is not available in your home country cannot provide productive employment.
H-4
For H visa holders, your spouse or children under 21 who are not married will receive an H-4 visa to the United States and your spouse/children are not permitted to work while in the United States.
L-1
L-1 visa is required if you are the employee of an international company which is temporarily transferring you to a parent branch of the same company in the United States. The international company can be a U.S. or foreign organization. To qualify for an L-1 visa, you must be at the executive level, or have specialized knowledge within the U.S. You should be employed with international company outside United States convectively for one year, to precede your application for admission into United States.
---
Good News: There are thousands of International scholarships in China for International Students, But Students don't know how to apply to China for Scholarships. We have written a complete article about the application process in China with sample documents.
CHK HERE - Chinese Government Scholarship 2024- Process / Procedure
---
L-2
If you are the principal holder of a valid L visa, your spouse or unmarried children under age 21 receive this derivative visa. Your spouse may seek employment authorization. Your spouse must enter the United States on his or her own L-2 visa and then submit a completed Form I-765 with an application fee and your children are not allowed to work in United States.
0
Class O visas are issued to people with extraordinary ability in the arts, sciences, education, business and athletics, or extraordinary achievement in motion picture and television production.
P
Class P visas are issued to certain artists, athletes, entertainers and essential support personnel who are coming to perform in United States.
Q
If you are traveling to the United States to participate in an international cultural exchange program for the purpose of providing practical training, employment, and the sharing of the culture, history and traditions of your home country then you must have a petition filed by the program sponsor and approved by USCIS.
When to Apply
U.S. Embassy will process your H, L, O, P or Q visa application for 90 days prior to the beginning of employment status as noted on your I-797. When making your travel plans, you can only use the visa to apply for entry to the United States starting ten days prior to the beginning of the approved status period noted on your I-797.
Application Items
A Nonimmigrant Visa Electronic Application DS-160 Form.

Valid passport

A photo should be taken in the last six months

The receipt shows payment of US $190 non-refundable processing fee

A printed receipt number is printed on the approved I-129 petition.

10-year travel history and list of siblings and children

You must have an appointment letter
How to Apply
Complete Nonimmigrant Visa Electronic Application DS-160 form

Pay the visa application fee

Schedule your appointment by giving your passport number, receipt number from your Visa Fee receipt, and ten-digit barcode number from your DS-160 confirmation page
Supporting Documents
You must present an interview appointment letter

Your job qualifications, including any university diplomas

Original letters from current and previous employers

If you are holding H-1B status, submit your pay slips for the current calendar year

Pay slips from your current place of employment

Names and contact numbers of personnel managers at your present and previous places

CV
Dependents
Your dependents must bring the below-mentioned documents:
An original marriage certificate or birth certificate for unmarried children under 21

Letter from your employer confirming your continued employment

If your spouse is currently working in the United States on an H1-B visa then pay slips for the current calendar year and federal tax returns IRS Form 1040 and W-2s for all the years employed in the United States on the H-1B visa.
,letter of intent sample, Scholarships in malaysia for International Students 2022-2023-2021-2020-2019, Fully Funded undergraduate, bachelors, masters Scholarships School 2019-2020-2021-2022-2023-2024, Fully Funded phd Scholarships School 2019-2020-2021-2022-2023-2024, Opportunities Corners, Scholarships Corners. application form, scholarships form, study visa china, english proficiency test questions and answers, Latest Internships Programs in Canada 2022-2023-2024, Italy Student Visa, Italy Study Visa, swedish government scholarships program 2022-2023-2024, sweden study visa