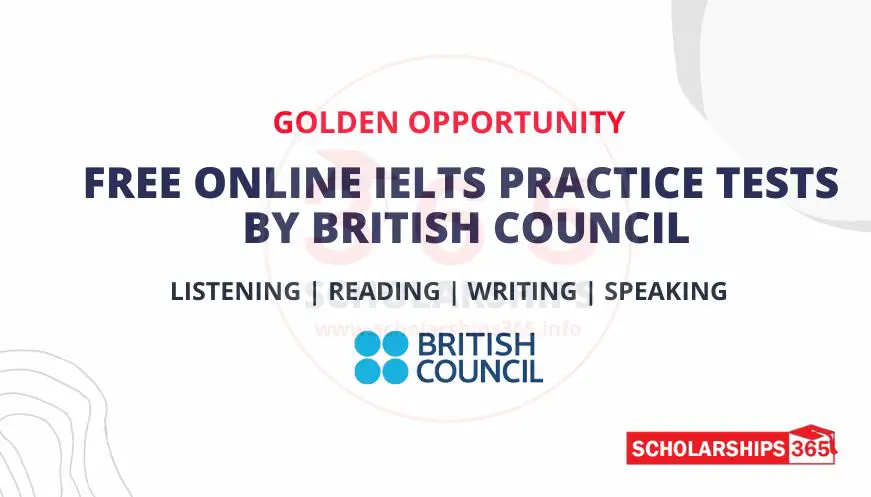 Want to Study Abroad? Need IELTS Certificate? Need Preparation Material / Mock tests for IELTS? So, Good News! The British Council has developed Free Online IELTS Practice Tests to assist those who are looking to excel in the IELTS and achieve their goal of studying abroad. You just need a stable internet connection & laptop / computer, you can easily take these IELTS tests from the comfort of your home. These IELTS mock tests have the same format and timing as the academic tests administered by IELTS test centers. The IELTS test preparation exercises cover all four sections: listening, reading, writing, and speaking, with the speaking test conducted through a video call with a professional examiner. These free-of-cost tests can be completed within two and a half hours, allowing you to easily fit them into your busy schedule.
You can also read about - How to write a Professional CV
The IELTS test preparation offered by the British Council is recognized as one of the best opportunities available in the world. After the preparation of the IELTS Test, you can have the option to take the IELTS test online using your computer or laptop. This online IELTS test is a combination of both human and artificial intelligence, ensuring remote proctoring of online tests. Please note down, before attempting the test for IELTS, you must download the "Inspera Exam Portal" software, which is used on the IELTS Online Tests platform. To avoid any confusion on your test day, it is recommended that you should download this software a day in advance. The software download link will be sent to your email address, so ensure that the email address provided is correct.
Preparing for the IELTS exam can be challenging for everyone, but the practices of IELTS sample tests can be provided by the British Council are an excellent resource to help you formulate suitable answers and prepare for your IELTS exam. These Guidelines for English Preparation tests offer timed sessions that enable you to practice and improve your English test-taking techniques, and best of all, they are entirely free of cost. So, With these free IELTS study materials, you will gain an understanding of the IELTS exam's format, experience, and the types of test tasks that you will need to undertake during the official IELTS test. It's the best opportunity to test yourself within the allotted time and compare your answers to model answers to assess your preparation progress on the Road to IELTS success. It's important to remember that there will be no breaks between IELTS Exams sessions, and the questions will be presented on multiple web pages, so be sure to answer each one carefully and accurately.
You can also read about - How to write a Motivational Letter
Prepare for your IELTS test with this Free Online IELTS practice package, which includes a range of resources. You can have a listening test section that will take around 30 minutes to complete, and you will have an additional ten minutes to transfer your answers to the answer sheet. The reading IELTS practice test has several sections that you can finish within an hour. The speaking IELTS practice test will help you familiarize yourself with the test's structure, and the writing practice tests consist of two sections that you must complete within an hour. You can also access free IELTS preparatory materials that will help you get the most out of the resources provided by the British Council. IELTS is an English language proficiency test that is recognized by over 11,500 universities / organizations worldwide, making it an excellent choice for those who wish to study abroad or work anywhere in the world.
Free Online IELTS Practice Tests by the British Council
---
Host Organization: British Council
---
Course Offered By: The IELTS learning materials are offered by the British Council
---
Sections of the IELTS Test: Listening, Reading, Writing, and Speaking
---
Any Charges for Test: There are no charges for this free English test preparation Summer Schools in USA
---
Age Restrictions: Anyone can avail of this free English test preparation opportunity!
---
Have you checked for Best Scholarships without IELTS
---
😇 So You Will Never Miss Any Opportunity for your excellency. Then hurry up to join, follow and like us on different Social Networks. 😇
---
What Material includes in IELTS Practice Tests
The test includes the following sections as given below:
You can have Free online IELTS Reading practice tests with complete material for preparation!

Free Online Paper for Academic IELTS Reading practice test

Free online Paper General IELTS Training Reading practice test

Free Best Online Listening practice tests for IELTS

Free online tests for IELTS Speaking practice.

Free online paper for IELTS Writing practice tests

    Free online IELTS Writing Academic preparation / practice tests

    You can have a Free Paper / Test for the IELTS General Training Writing practice exam.
What are the benefits of British Council Free Online IELTS Practice Tests?
Our IELTS practice materials provide a valuable opportunity to familiarize yourself with the different sections of the IELTS exam.

You can increase your chances of success in IELTS by taking advantage of our free Online IELTS practice tests, which offer a comprehensive and effective way to prepare yourself for this exam.

You can get valuable, IELTS preparation material without any cost.

Assess your progress and determine for the IELTS, where you stand on the Road to Success for IELTS with our practice tests, which allow you to gauge your level of preparation and identify areas, where you need to improve.
What are the Eligibility of Free Online IELTS Practice Tests by British Council?
    The applicant must 18 years / or more to get avail this opportunity.

    You need valid passport to apply for free test session.

    You should come with 2 hours and 50 minutes of uninterrupted time during the exam.

    A stable / fast internet connection is necessary.

    You need laptop / Computer only.

    You need to download the "Inspera Exam Portal application", to start your test on your laptop or computer.
How to Join Free IELTS Preparation Tests?
    You just need to apply through the British Council official website for the course.

    Complete your registration for Online IELTS practice tests.

    Complete the application form, Fill all the requirements according to the given criteria.

    Submit the IELTS Prepartion Test Form.
What is the Application Deadline for IELTS Preparation Tests by British Council?
You can join any time, there is no deadline.
,Free Online IELTS Practice Tests by the British Council, English Proficiency Certificates, Study Abroad Scholarships for International Students, Free IELTS Test, Free Online Courses, Need-Based Scholarships, Top Universities in Malaysia, do you get paid for union training