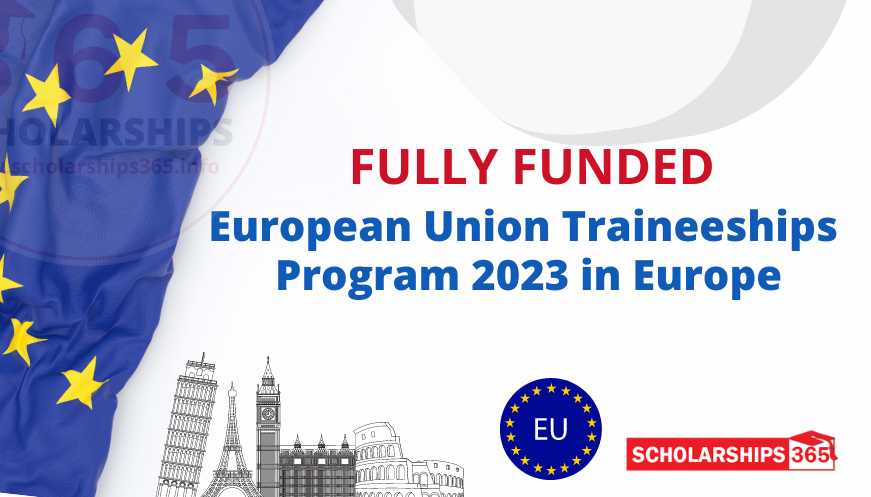 Finally, European Union Traineeships Program 2023 for International students for the entire youth is announced which is also known as the Blue Book Traineeship program, offers students a fantastic possibility to acquire high-level marketable skills in the European Union. This leadership exchange program opportunity for students to work in the directorates general, organizations, and institutions of the EU is available two times a year through the student traineeship program in Europe.
The activities the participants are assigned to at European Union will be witnessed and experienced. They can be honing their talents in areas like climate policy, human capital, and regulatory frameworks. The participants will connect through meetings, group projects, and open forums. This will provide their perspective on how reputable firms operate and cooperate for a forward-thinking and prosperous society.
You can also read about - Scholarships Without IELTS for International Students 2023
European Union Traineeships Program 2023 | Fully Funded Fellowship in Europe
Students participating in a European Union internship are expected to have an inquisitive attitude and tackle European problems with a solution-focused approach. In addition, it is anticipated of the trainees they can learn how the Commission operates and how its efforts help mankind. Additionally, the Blue Book traineeship program is designed as a launching pad for individuals to commence their careers while learning in a diverse and global workforce. The European Union Interns will surely get excellent experiences to seek better and brighter professions by participating in conferences, responding to citizens' questions, and organizing committee programs.
The greatest fellowship program in the EU for college students presents them with the advantage to participate in the geopolitical and socioeconomic cooperation of 27 European states. The learners will have a thorough understanding of how to use and put these rules into practice because this essential market system and institution have been developed through time by adhering to a defined set of laws. The European Union is a sizable institution that handles security and defense concerns in addition to monetary and political ones. The organization is divided into many sections, including the European Commission's Humanitarian Aid and Public Security Department ECHO, where trainers for the program are selected.
Want to know about European Union Traineeships Program?
The European Commission Traineeship 2023, which lasts around 5 months, provides the learner with a lifetime potential to achieve. The trainees establish a global network and interact with other international organizations by benefiting from the European Commission and its institutions. The next EU, the Summit on the Vision of Europe, Coronavirus (COVID-19), and numerous other initiatives are ongoing in the European Union. By participating in this fully-funded internship program, EU trainees join a larger movement to advance commercial cooperation, the advancement of culture and language, and the welfare of individuals. A detailed guide to the internship program for the European Union in 2023 is provided in the article that follows.
---
Have you applied for US Government Scholarships 2023 Fully Funded
Have you read it? Fully Funded 5000+ Turkey Scholarships for International Students 2023
---
Host Country: Europe
---
Duration of Fellowship: Five Months
---
Fellowship Offered: European Commission
---
No of Fellowships: Information is not available.
---
Financial Coverage: Fully Funded
---
You can also apply for the following opportunities
May be you are interested - read about UK Scholarship Or Canada Scholarship Or Australia Scholarship
😇 So You Will Never Miss Any Opportunity for your excellency. Then hurry up to join, follow and like us on different Social Networks. 😇
---
What are the benefits of the European Union Traineeships Program?
All trainees will receive a monthly stipend of €1 300.

The trainees' visa expenses will be covered.

Medical expenses will be covered.

The expenses of the trip will be reimbursed by the EU.
Want to Earn Money? Best Online Earning Website Since 2005 -

Singup Here

You can also read about -

Top 40 Europe Scholarships 2023 Fully Funded
What are the Eligibility Criteria for European Union Traineeship Program?
Applicants must have completed 180 credits during the required three years of higher education, or have acquired a bachelor's degree in its equivalent.

The candidate must possess a degree accomplishment certification or an official verification of the university's award of the degree.

The individual cannot have any previous employment history with any EU Commission, institution, organization, delegation, member of the European Council, or Advocate General at the EUCJ.

The applicant's previous experiences with the aforementioned must not have lasted more than six weeks.

The candidate must be exceptionally proficient in any two of the official languages of the EU.

 Applicants who exhibit an overseas presence through their schooling, employment, or voluntary activities abroad will receive bonus points.

Candidates with articles and journals in unconventional research areas will be given preferential treatment and bonus points
How to apply for the European Union Traineeships 2023 program in UE?
Participants must adhere to a three-step process to submit applications effectively.

Candidates must enroll in the European Commission Authentication System in the initial stage using an EU username and password.

New users must set up a profile.

After creating your account online, enter your email address or ECAS username to continue.

The next step is to finish the application.

The candidate has the option to preserve their application and return at any time.

The candidate must describe the DGs, organizations, or institutions of their choosing in the motivation portion.

 Applying comes after the application has been finished.

Please read before submitting. No modifications can be made once the application form has been uploaded.

If the registration is properly filed, the individual will get a candidacy identity and verification confirmation.

Go to your registration webpage and resubmit your application if you don't obtain a candidacy identity.

No supporting documentation is required for application submission.

You will be needed to produce verification of your application representations once you have completed the first step of the registration.
---
You can also read about How to Apply for Germany Study Visa without an Agent OR You can also check Best Germany Scholarships program for International students.
---
What is the Application Deadline for EU Traineeships 2023?
The application deadline is 31 January 2023, 12:00 pm
What does a student internship mean in Europe?
The opportunity for students to intern in the directorates generally, agencies, and organizations of the EU is available twice a year through the student traineeship program in Europe. The services the trainees are assigned to at European Union will be experienced properly.
How frequently does the European Commission make funded internships available?
The Commission provides five-month paid traineeships two times a year. This is your chance to voice your opinion, describe the sort of Europe you desire to live in and influence how we will develop. We strive for equity and diversification here at the European Commission's Traineeships Unit. The Commission provides five-month paid traineeships 2 times a year.
How can someone submit a traineeship application?
The traineeship is available to all European citizens, irrespective of age, and a select category of non-EU nationals, provided they are eligible. Three stages make up the application process: signing up for EU Login, filling out the online application, and submitting. The online application includes the processes from filing your registration to securing your traineeship.
,European Union Traineeships Program 2023, european union traineeships program, european union traineeships 2023 program, how much do traineeships get paid, leaders exchange, how are traineeships funded, why traineeships are good, do you get paid for union training