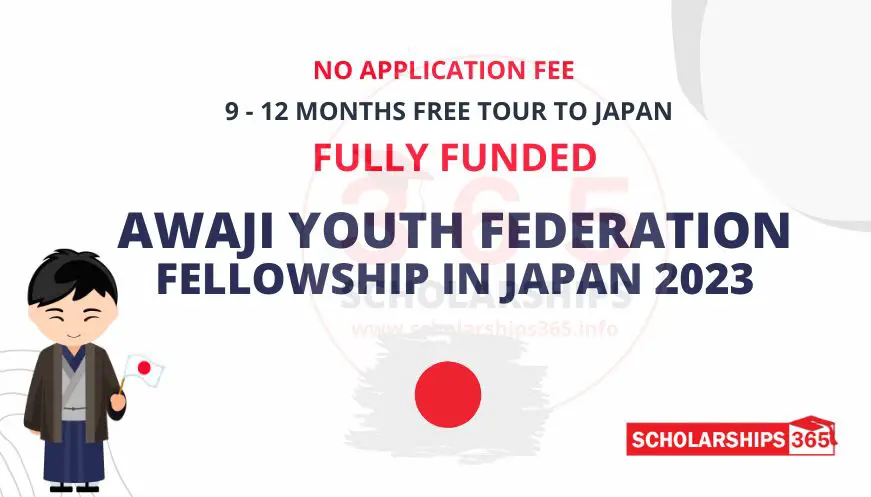 Looking for a Fully Funded Tour to Japan as an international student? So, good news Awaji Youth Federation is calling for Awaji Youth Federation Fellowship 2023 Program. The Awaji Youth Fellowship is one of the fully funded fellowship program, aims to live working and training program in Awaji Island about 9 months. This AYF Fellowship is the popular International Summer School in Japan where international participants from different countries join Awaji Island. They get a chance to enhance personal skills in a multicultural setting that reflects both the Japanese workplace needs and the flexible and stimulating "learning by doing" approach. Participants can challenge themselves, gain practical experience, and prepare for future opportunities in Japan. In this article, we will discuss the AYF" Awaji Youth Federation" Fellowship Introduction, benefits, duration, joining criteria, & application deadline!
Have you applied for Free Online Courses from Harvard University - Apply Now
AYF (Awaji Youth Federation) Fellowship 2023 | Fully Funded Tour to Japan
About Awaji Youth Federation, Japan
The Awaji Youth Federation (AYF) is an initiative of the Japanese Pasona Group, a HR services and consulting firm. AYF was established in 2017 as a part of Pasona's corporate social responsibility efforts to contribute to society by nurturing the next generation of global leaders. The AYF fellowship program is hosted on Awaji Island, Japan which is fampus for its natural beauty, Japanese cultural heritage, and innovative approaches to sustainability.
About AYF (Awaji Youth Federation) Fellowship 2023
Every year AYF Calls international students to join their world famous Awaji Youth Federation Fully Funded Fellowship Program in Japan to contribute their best efforts for the development of society. So, this year in 2023, AYF is again calling Boys and Girls from different parts of the world in Awaji (Awaji is Island in Japan). It is one of the Free Fully Funded Visit to Japan. The AYF Fellows will stay 9 months in Awaji Island, Japan, work on the island, engaging with local Japanese communities, different businesses, and organizations while also collaborating with fellow participants from around the world. It attracts both female and male students around the globe. The AYF Fellowship Program is Funded by the Japanese Pasona Group.
---
Have you checked for Top Scholarships in Europe
International Young blood aged between 24 - 35 years, those who are graduated or soon going to be graduate with Bachelors or Masters Degree can apply for this Japan AYF Fellowship program. The AYF International Fellowship program is consist of three different programs that connects Lectures, Challenges, and Projects. These programs are connected and work together to help international participants from different parts of the world come together to learn and grow in a diverse environment of Japan. The program aims to help them improve their communication skills and abilities in a multicultural setting that prepares them for work in Japan.
Have you checked for Netherlands Government Scholarships 2023
---
Host Country: Fellowship in JapanSummer School in Romania
---
Duration of AYF Fellowship: 9 to 12 Months Program
---
Fellowship Offered By: Japanese Firm, Pasona Group
---
Financial Coverage: Fully Funded Summer Schools in USA
---
Degree Level:  Undergraduate / Masters students can Apply
---
Have you checked for Best Scholarships without IELTS
---
😇 So You Will Never Miss Any Opportunity for your excellency. Then hurry up to join, follow and like us on different Social Networks. 😇
---
What are the Benefits of AYF (Awaji Youth Federation) Fellowship?
Are you ready to avail Fully Funded Tour to Japan? The Awaji Youth Fellowship offers to cover all the Expenses for 9 months in Japan. Every year many students avail this opportunity with the help of

scholarships365.info

and enjoy their trip to Japan for 9 months. So, don't miss this opportunity, the benefits are given below:
    You will get a Monthly Salary of JPY 197,000 (Base salary + Overtime) may provide.

    All Japanese Government fees as well as taxes are also covered.

    You will get free Accommodation / Housing with Meals, and be covered for 9-12 Months.

    You will get Japanese or Western-style room

    Utility Bills / Expenses such as electricity and Wi-Fi are also covered.
---
What is AYF Fellowship Theme and Structure?
Innovation and Intrapreneurship

Leadership and Project Management

PR and Marketing
The AYF Fellowship contains three different programs / components of this event that link to each other and support one another, namely
Self Development and Mentoring

Project Ideation and Project Work

Event Creation
Through the AYF Fellowship program, students are given a unique opportunity to test their limits and expand their horizons. In a new country and diverse culture, AYF Fellows around the globe can take time to explore themselves and discover new aspects of their identity to work and live in Japan and work for society.
What are Working Hours for AYF Fellowship?
    You need to participate 5 days a week in working & learning labs.

    You can also avail of paid leaves of 10 days in the Fellowship by AYF
---
Have you applied for Free Learn - Free Earn - Google Marketing Course Free - Apply Now
What Documents are Requirements for AYF (Awaji Youth Federation)?
There are no specific documentation requirements in the initial stages of the AYF Application Form, You just need to fill out the application form, they don't require anything in the form. After submission of the AYF Application form, you need to provide your business idea/plan for Awaji Island in 10 business days. After that, they may require to submit any document which they need.
What are the eligibility criteria for AYF (Awaji Youth Federation)?
In order to avail AYF Fellowship in Japan, you need to check the following criteria before applying, if you fulfill these requirements, you can apply for this international opportunity in Japan, the criteria is given below:
    Applicants from any country are eligible to apply.

    Age of Applicant must be between 24-30 years.

    Students must Graduate with a Bachelors / Master's Degree.

    Applicant must be Committed to solving society's problems as well as contributing to our projects.

    The applicant must willing to hard work, follow discipline, and care for others during the fellowship.
What is the Application Deadline for AYF (Awaji Youth Federation) 2023?
Then the last date to apply for the AYF (Awaji Youth Federation) International Fellowship 2023 is 31st May 2023.
    June – July: Interviews over Zoom

    July – August: COE & Visa

    September: Fellowship Begins
---
How To Apply for Awaji Youth Federation Fellowship In Japan?
The application process for AYF is completely online, you just need to fill in all the requirements given in AYF Application Form, Submit it, after submission, you also need to provide the business plan / idea you have within 10 days.
You can complete the AYF Application Form -

 

Fill AYF Application Form

You can also visit the AYF official advertisement -

 

Official Advertisement Information
,AYF Fellowship, Awaji Island, Youth Leadership, International Exchange, Cultural Diversity, Community Engagement, Japanese Culture, Personal Growth