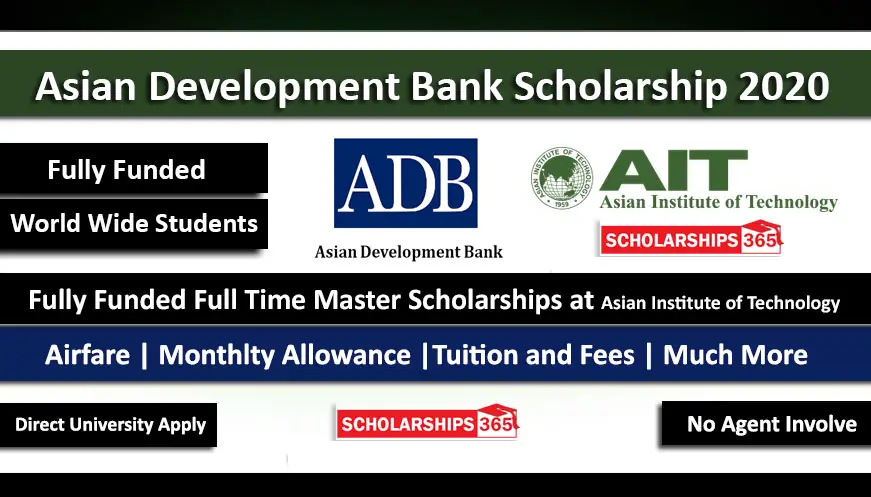 Asian Development Bank Scholarship 2020 is open for International Students at the Asian Institute of Technology, Thailand. ADB Scholarships Program 2020 offers Fully Funded Scholarships for Study in Thailand for foreign students for their Postgraduate Studies (Masters) in all fields. Have you applied for DAAD - Germany Government Scholarships 2020 - Apply Now.
Asian Development Bank Scholarship 2020 - Fully Funded:
Asian Development Bank Scholarship: The Asian Development Bank (ADB) is committed to achieving inclusive, resilient, prosperous and sustainable Asia and the Pacific while sustaining its efforts to eradicate extreme poverty. Each Year Asian Development Bank offers a wide range of different financial aid programs for a different parts of the world to eradicate extreme poverty. It assists its members and partners by providing loans, technical assistance, grants, and equity investments to promote social and economic development. ADB Scholarships Programs offer thousands of scholarships in different universities of the world each year.
Have you applied for Fulbright Scholarships 2021 - USA - 4000+ Scholarships - Apply Now.
Asian Development Bank Scholarship 2020 at Asian Institute of Technology, Thailand:
The Asian Institute of Technology, Thailand is founded in 1959, A Leading international organization for higher education in Khlong Luang, Thailand. It specializes in multiple fields (engineering, advanced technologies, sustainable development, and management and planning).
Every Year Asian Development Bank(ADB) offers 140+ Scholarships to Study Master Degree Program at the Asian Institute of Technology, Thailand At free of cost with financial aid under different development projects. The Asian Development Scholarship is from the Japanese Government in the Fields of Economics, Management, Science and Technology, and other Development-Related Fields.
One of the Excellent Opportunity to Free Study in Thailand on Fully Funded International ADB Scholarships. The ADB Scholarships are for a period of 1 - 2 Years.
---
Host Country: Study in Thailand
---
Host University: Asian Institute of Technology
---
Scholarships Offered By: Asian Development Bank Under Japanese Government
---
Scholarships Coverage: Full Funded
---
No of Scholarships: Each Year There are 140+ Scholarships
---
Degree Level: Master Degree Programs in all Fields for World Wide Students.
---
You can also Apply for following opportunities:
---
😇 So You Will Never Miss Any Opportunity for your excellency. Then hurry up to join, follow and like us on different Social Networks. 😇
---
Asian Development Bank Scholarship 2020 Offers:
Want to study in Top Ranked Thailand University? Hurry up guys Scholarships are open at the Asian Institute of Technology. So want to Free Study in Thailand? Want to Explore It's tropical beaches, opulent royal palaces, ancient ruins, and ornate temples displaying figures of Buddha. So, Don't waste your time, Time to Apply Now.
Fully Funded ADB Scholarship 2020 for Master (MS/ M.Phil) Studies. ADB Scholarships 2020 will cover all expenses during a study in Thailand.
Expenses which will cover by ADB Scholarship 2020:
Tuition Fee

Housing Allowance

Subsistence Allowance including housing allowance

Student Medical & Accident Insurance.

Economy Class Air Travel Tickets.

Visa Fees, Airport Taxes, Luggage Allowance.

Thesis/Research Allowance. Photocopying, School Supplies, Typing and Computer Charges, Postage, Communications, Binding Charges, Local Travel Costs and Accommodation for out-of-town trips
---
Programs Offered By Asian Institute of Technology:
Scholarships are available to pursue Masters (MS/ M.Phil) in multiple fields. List of the Programs Details are given Below.
School of Engineering and Technology (SET):
Software Engineering

Electronics

Computer Science

Information Management

Industrial Engineering & Management

Design and Manufacturing Engineering

Mechatronics

Microelectronics

Remote Sensing and Geographic Information Systems

Telecommunications

Industrial and Manufacturing Engineering

Nanotechnology

Information and Communications Technologies

Microelectronics and Embedded Systems

Construction, Engineering and Infrastructure Management

Geotechnical and Geoenvironmental Engineering

Structural Engineering

Transportation Engineering

Water Engineering and Management

Geosystem Exploration and Petroleum Geoengineering

Offshore Technology and Management
School of Environment, Resources, and Development (SERD:
Agricultural Systems & Engineering

Aquaculture & Aquatic Resources Management

Energy

Food Engineering & Bioprocess Technology

Pulp and Paper Technology

Gender and Development Studies

Natural Resources Management

Regional & Rural Development Planning

Environmental Engineering & Management

Urban Environmental Management

Agribusiness Management

Energy and Environment

Climate Change for Sustainable Development
Interdisciplinary Courses among Schools:
Cleaner Production (SAT, SCE, SERD, and SOM)

Integrated Tropical Coastal Zone Management (SERD and SCE)

Integrated Watershed Development and Management (SERD and SCE)

Modeling Tools for Environment and Resources Management (SERD and SCE)

Disaster Preparedness, Mitigation, and Management

Environmental Geotechnics and Management

Greater Mekong Subregion Development Study

Energy Business Management
School of Management (SOM)
Management of Technology

International Business

International Public Management

Business Administration

Banking and Finance
Thousands of Scholarships in Turkey, Don't miss this amazing Scholarship. Check Turkiye Burslari Scholarship 2020 (Fully Funded) Turkish Government Scholarship, Apply Now
---
Eligibility Criteria:
Candidates must fulfill the following criteria to avail this Scholarship for their study in Thailand.
Be a national of an ADB borrowing member.

Check Your Country in Above List

Have a bachelor's degree or its equivalent with a superior academic record.

Have at least two years of full-time professional work experience (acquired after a university degree) at the time of application.

Be proficient in oral and written English communication skills to be able to pursue studies.

Be under 35 years old at the time of application. In exceptional cases, for programs that are appropriate for senior officials and managers, the age limit is 45 years.

Be in good health.

Agree to return to your home country after completing the program.
Academic Requirements:
Masters Students:

Applicants with a bachelor's degree are eligible to apply for Master's Degree programs.
---
Documents Required for Apply:
List of Documents is given below:
The highest degree diploma verified with official stamps.

Master's program applicants: Bachelor's degree diploma (or above)

The highest degree Transcript verified with official stamps should be uploaded.(notarized photocopy)

Master's program applicants: Bachelor's degree Transcripts (or above)

Two recommendation letters

(Check Here Sample for Recommendaton Letters:Click)

The letters of recommendation must be written by the applicant's teachers/advisors/employers (who are able to evaluate your academic performance and research potential) in either English.

Work certificate provided b the employer.

Income statement. If married, please submit the spouse income statement; otherwise, parent income statement

ADB-JSP Information sheet.

Passport Scan

Digital ID photo with white background

English Language Proficiency Certificate:

English Proficiency Requirement: TOEFL (computer-based: 213 or iTOEFL: 80), or IELTS: 6 (writing and overall) or equivalent
---
Deadline: The Deadline for apply for the Asian Development Bank Scholarship 2020 in Thailand is 31st March 2020.
---
How to Apply for Asian Development Bank Scholarship 2020:
Student has to Apply Online. The Online Application & Official Advertisement Links are given below. The procedure of applying is check below.
,Fully funded scholarship 2019-2020-2021-2022-2023-2024-2025-2026, free study in Thailand 2019-2020-2021-2022-2023-2024-2025-2026, masters Fully funded scholarship 2019-2020-2021-2022-2023-2024-2025-2026, Merit Scholarships 2020-2021, Japanese Government Scholarship 2019-2020-2021 2020-2021-2022-2023-2024-2025-2026, thailand government scholarships, ait, Fully Funded International Scholarships for African Students, Nigeria