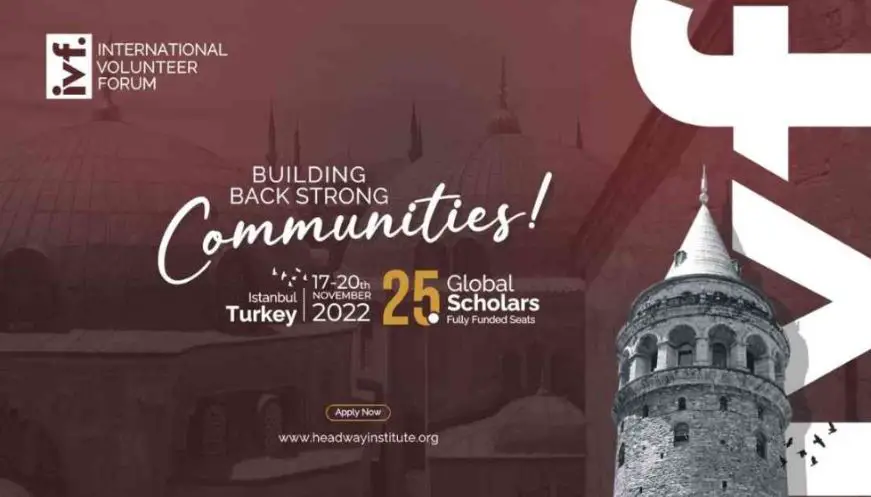 The International Volunteer Forum Turkey 2022 is a unique opportunity for young and emerging leaders from all over the world to come and engage with young leaders and will benefit from their work and experience by listening to the debates of delegates and analyzing the skills of delegates in formulating and proposing the viable solutions to the critical issues that world is facing in this fully funded conference. As this forum will give them a chance to debate and bring forth viable solutions for the critical challenges through volunteerism. By joining this forum, delegates will develop a greater understanding of Sustainable Development Goals to achieve the UN's 2030 Agenda.
You can also read about - Ireland Government Scholarships 2023 | Fully Funded
International Volunteer Forum is organized by the Headway Institute of Strategic Alliance. IVF aims to bring young leaders across the globe onto one platform and inculcate a deeper understanding of sustainable development goals. This forum in Istanbul is an outstanding option for the youth to participate in activities that may help make their voices heard and present their views about volunteerism. The forum will also be joined by a large number of Government representatives, Diplomats, UN Officials, Business leaders, NGO representatives & civil society stakeholders. One of the main objectives of creating this meaningful space is to gather young people and decision-makers all under one roof to make direct connections between civil societies & the different Governments. http://www.google.am/url?q=https://urgentcareplymouthmi.com/
The fully-funded IVF will consist of discussions about successful initiatives and actions based on a realistic approach. This forum also intends to take participants on a life-long journey of capacity building through simulations, panel discussions, workshops, and plenary sessions. This will help you develop eloquent public speaking and leadership skills. This forum admires the contribution of youth through volunteer work and has a passion to confront the real-life challenges of the globe in all fields to contribute their part in nation-building.
The host organization will cover the whole expense of selected participants. More than 500 change-makers are expected to attend International Volunteer Forum, who are driven towards community enhancement through their dedicated projects and innovative ideas. Through our close contact with the Government offices, we will be having official voices from more than 20 countries. Representatives from the UN & Mayor offices from more than 50 countries will be joining us as a part of our local community engagement program through volunteerism.
Turkey International Volunteer Forum 2022
Host Organization:
    Headway Institute of Strategic Alliance (HISA)
IVF 2022 Duration:
    November 17th – 20th, 2022
---
Benefits of Turkey International Volunteer Forum 2022
25 Delegates will be invited as Fully Funded Participants to attend the HISA IVF 2022

Round Airfare will be provided

International and domestic travel & Ground Transportation

4-star hotel accommodation

Meals for all the forum days

Forum Merchandise

You will get the opportunity to interact with like-minded people around the globe.

Participation certificate that would be a great addition to your career profile

Your professional skills will be polished in different dimensions.

Chance to raise your voice in the formulation of policies that affect you.

Chance to explore Turkish culture
😇 So You Will Never Miss Any Opportunity for your excellency. Then hurry up to join, follow and like us on different Social Networks. 😇
---
Who can Join

Turkey International Volunteer Forum 2022?
Students, volunteers, social & youth activists, health professionals, representatives from civil society, NGOs & Government. Those who had volunteered previously in any social campaign or community project which has benefited anyone. Government officials, UN youth delegates, public policy experts, professors & NGO leaders can also join us as Guest Speakers.
Eligibility Criteria for

Turkey International Volunteer Forum 2022?
The candidate must be over 15 years of age.

The candidate must be able to communicate in English.

People from all backgrounds can apply, but candidates actively engaged in community work are encouraged to apply.

Passionate to contribute to the development of new ideas
How to apply? For a Fully Funded Conference?
Applicants have to apply through the official website.

Complete the IVF22 registration form.

You need to provide the basic information, including name, date of birth, address, volunteer experience, and others.

Upload your picture and pictorial representation of your past social work.

Pay the minimal administrative fee for processing your application $12.

The HISA program team will contact applicants selected for interviews based on the motivation demonstrated in the application. Interviews will take place virtually.
How to apply? For a Self-Funded Conference?
Applicants have to apply through the official website.

The Application form is very simple and easy to fill out.

You need to provide basic information about yourself.

After that, you've to pay for the Self-Funded Delegate package, as it would be a self-funded spot.

Once your payment has been processed, you will receive the IVF22 Invitation Letter right after, as it's a first come first serve basis
Application Deadline for Turkey International Volunteer Forum 2022?
The application deadlines for International Volunteer Forum 2022 in Turkey is 25th September 2022.
,medical school scholarships, Scholarships in Italy for Pakistani Students, recommendation letter for scholarship phd, Fully Funded undergraduate, bachelors, masters Scholarships School 2019-2020-2021-2022-2023-2024, Fully Funded phd Scholarships School 2019-2020-2021-2022-2023-2024, Opportunities Corners, Scholarships Corners. application form, scholarships form, study visa china, english proficiency test questions and answers, english proficiency test questions and answers pdf, malaysia government scholarships program 2022-2023-2024, study visa