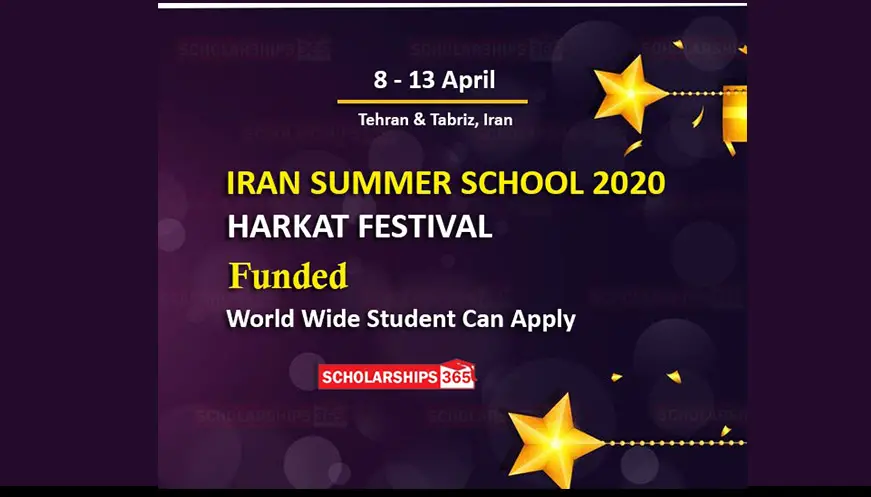 Are you Ready? Summer School Iran 2020, is inviting youth from all over the world for International Student Festival of HARKAT, Iran.  HARKAT Summer School is one of the largest student events in Iran. Funded Youth Summer School program 2020  is for worldwide International students.
Follow us on Instagram Community for Help - Follow
This funded summer school 2020 will continue for 1 Week in Iran at Irani Universities. It will cover all the major expenses of the selected students. Have you applied for  Fulbright Scholarships 2021 - USA - 4000+ Scholarships - Apply Now.
Summer School 2020 Iran - Funded:  Every year Ministry of Science, Research, and Technology of Iran and different universities arranged International Student Festival for International students. The festival is organized by the Ministry of Science, Research, and Technology of Iran and hosted by different universities since 2008. Last year 85 students from 54 different countries and 300 students from Iran participated in the International Student Exchange Program festival, which was hosted by the University of Isfahan.
This year 2020 Summer School Iran will be hosted in Tabriz and jointly organized by the Ministry of Science, Research and Technology of Iran and Western Asian Development Institute. Want to participate in the International Student Cultural exchange program this year?
Have you apply for Canada Summer School 2020 - Fully Funded
This Irani festival is a place to experience unforgettable moments, meet new friends and learn about different cultures in an interesting and unique way. This international youth event will include workshops and meetings in addition to the cultural program.
International Students will spend a week volunteering in an Irani community and living with young people from around the world and experience the natural beauty and cultural richness of this fascinating country. The participant learns how to cook Iranian food and participate in many fun cultural activities. In just seven days, students will form a well-rounded perspective of Iran and have their eyes open by working closely with the Iranian community.
Have you applied for Summer Internship 2020 in Spain
---
Host Country: Summer school 2020 in Iran
---
Duration of Festival: 1 Week
---
Summer School Offered: Tabriz City and jointly organized by the Ministry of Science, Research and Technology of Iran and Western Asian Development Institute.
---
Financial Aid Coverage: Funded Scholarships for college students
---
Degree Level:  Undergraduates Degree, Masters Degree & Ph.D. Degree students can apply
---
You can also apply for the following opportunities:s
---
😇 So You Will Never Miss Any Opportunity for your excellency. Then hurry up to join, follow and like us on different Social Networks. 😇
---
Summer School Iran 2020 Offers

:

  Are you ready to apply for

Summer Short Term Iran Program 2020

? 

Let's Enjoy 7 Days in Iran as

a Global Summer School

participant.

This is a

Funded Scholarship

For International Students in Iran. Most of the Expenses will be covered.
Expenses which will cover by

Iran

Summer School 2020 Program:
Access to lectures by prominent international scholars and professionals, interactive discussions, simulations, and site visits

 Opportunity to explore Iranian culture, art, and history through immersive activities

 Opportunity to interact with students from all Iranian universities and also different countries

 Presenting your project or idea in an international event

 Free lodging and boarding (accommodation and all meals during the event

 Visa Letter if needed (E-visa, with no stamp in the passport)

 Free airport transfer

Urgent Care Warren MI - Urgent Care Near Me

 Free domestic transfer (from Tehran to Tabriz and back

 Free tours to historical and natural attractions in Tehran and Tabriz

 Free festival gifts and souvenirs

Urgent Care Plymouth MI
Note: International flight tickets and visa fees are not included and this is the responsibility of participants to cover these costs
Have you apply for Summer Internship 2020 in South Korea
---
Program Goals: A list of topics that are the main theme of this Funded Students Festival for International Students 2020 is given below.
    Increase student scientific activities and support and encourage it

    Identify and appreciate the notable achievements students, students groups and associations

    Exchange of experience in scientific activities among students

    Create a platform where students can easily cooperate and interact.

    The festival consists of exhibitions, lectures, team working, walking tours, sport and cultural programs and also sightseeing excursions to natural and historical sites.
---
Eligibility Criteria: Candidates must have to fulfill this criterion in order to select for Free Summer School in Iran  2020.
Eligible Countries:  Students from any nationality are eligible to apply.
Other Requirements:
Young professionals and students of any nationality are eligible to apply

There is no limitation in terms of disciplines, study fields or scientific backgrounds

Being currently a student is not mandatory. Graduated students and young activists are also eligible to apply.

Applicant age should be 18 to 38 years old

Able to communicate in English

 All participants should present a student activity run by themself, their university, or their group. Student or youth projects from any fields are eligible to apply
---
Applications Deadline:   The last date to apply for the International Student Exchange Program in IRAN 2020 is 10th March 2020
---
How To Apply for Summer School Iran 2020

:

Students must have to apply online. All application process is online. Read the instruction carefully.

Apply Here
Please check here the complete application process is mentioned - 

Apply Online

You can also visit the official advertisement - 

Official Advertisement Information.
---
,Fully funded International Student Festival Iran 2019-2020-2021-2022-2023-2024-2025-2026, International Student Festival Iran 2020 Fully Funded 2019-2020-2021-2022-2023-2024-2025-2026, free summer exchange program 2019-2020-2021-2022-2023-2024-2025-2026, free summer school program 2019-2020-2021-2022-2023-2024-2025-2026, fully funded Summer Internships 2020-2021-2022-2023-2024, International Student Exchange Program in IRAN 2019-2020-2021-2022-2023-2024-2025-2026, Summer School 2020 - Fully Funded for International Students, HARKAT Summer School 2020-2021-2022-2023-2024-2025-2026 Fully Funded for International Students