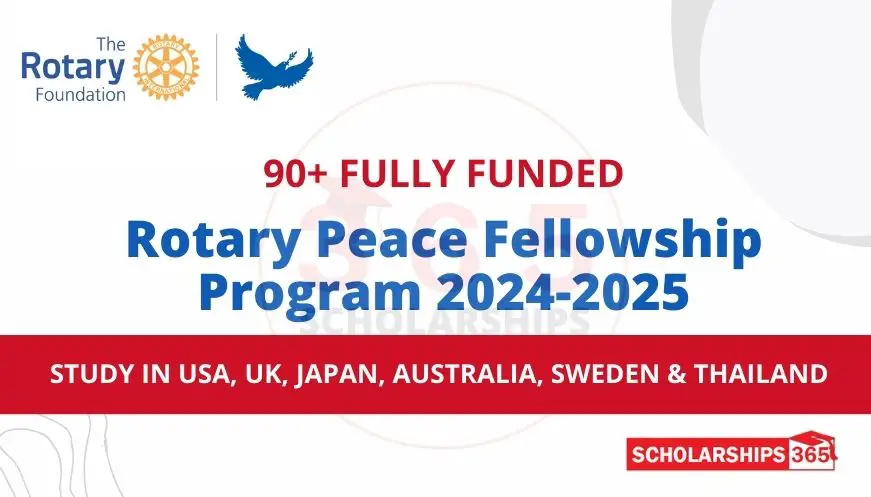 The Rotary Peace Fellowship Program 2024-2025 is an amazing international opportunity for people from all over the world who are passionate about peace around the globe. Every year the Rotary International Fellowship offers up to 90 fully funded scholarships to individuals who have shown exceptional leadership qualities. This Rotary Scholarship is given to those who have dedicated individuals to bringing positive change to the world and becoming influential peace ambassadors. Don't hesitate - to apply now and take a step towards positive change in society & grow while making the world a better place.
Have you applied for Saudi Arabia Fellowships
Rotary Peace Fellowship Program 2024-2025 | Fully Funded
The Rotary Peace Fellowship Program 2024-2025 is a fully-funded fellowship opportunity for people from all over the world who are passionate about promoting peace. Every year, 90+ outstanding leaders are selected to receive the Rotary scholarship for study, which helps them become effective agents of peace. This peace scholarship provides support for international students who want to make a difference in the world by promoting peace. Through this fellowship, participants receive high-quality training and tools to become influential peace ambassadors and successful professionals in their fields.
The Rotary Peace International Scholarships Program helps bring together people from different parts of the world who want to make positive changes. They offer advanced networking opportunities and have trained more than 1500 people from diverse backgrounds to become leaders in peace and development. The fellowship program has been successful in achieving its goals since 2022. The Rotary Foundation has been working towards creating a peaceful world since 1917. Their motto is "Doing Good in the World", and they have been helping people in need through humanitarian efforts for over 100 years.
---
Have you applied for US Government Scholarships
---
The Rotary Foundation Fellowship Awards are divided into two categories to make sure that the most deserving candidates get accepted. One category is for students studying for a master's degree, and the other is for professionals looking to get a development certificate. Both programs focus on promoting peace and development. Participants learn from the best teachers, and they get to connect with a diverse group of alumni. Professionals in the program work with experts in their field and learn practical skills through a year-long blended program.
The Rotary Peace Fellowship programs wants to make the change from the ground up. The Rotary Foundation thinks peace is really important for life and human growth. The program gives people fully-paid international fellowships, so they can do things that will make a big difference in the world. They say that if people work together peacefully on a local level, it can help make the world peaceful too. After the program, people can work in many different fields, like NGOs, education, government, and the arts. The Rotary Peace Fellowship helps create new people who want to make peace and grow.
Have you read it? Fully Funded  Best Scholarships without IELTS
---
Host Country: Australia, England, USA, Japan, Sweden, Thailand, and Uganda
---
No of Fellowships:  Every year up to 90 applicants are selected under Rotary Peace Scholarship, 50 fellowships for master's degrees, and up to 40 for certificate / diploma studies at different universities around the world to work for the betterment of society.
---
Fellowship Offered: Funded by The Rotary Foundation
---
Duration of Rotary Fellowship Program Duration: This fellowship duration for Masters Degree is about 15 to 24 months while Professional Development Certificate Program is One Year!
---
Financial Coverage: Fully Funded
---
You can also apply for the following opportunities:
 UK Scholarship 2023,  Canada Scholarship 2023, Or Australia Scholarship 2023
😇 So You Will Never Miss Any Opportunity for your excellency. Then hurry up to join, follow and like us on different Social Networks. 😇
---
What are the Benefits of the Rotary Peace Fellowship Program?
There is a chance to complete your Masters degree or get your diploma certificate from Rotary Peace Centers. They are offering exclusive benefits for the fellows of Rotary fellowship program! The benefits are given below:
Full Tuition Fee Cover!

Provision of room and boarding

Round-trip Airfare expenses

Full coverage of internship expenses

Coverage of expenses related to field studies

Free Medical / health insurance
---
Have you applied for Top 40 Europe Scholarships
---
Where Rotary Peace Centers are located?
There are the following Centers of Rotary Peace, where you can get your Masters Degree or Diploma certificate as given below:
    The University of Queensland, Brisbane, Australia

    University of Bradford, Bradford, England

    International Christian University, Tokyo, Japan

    Uppsala University, Uppsala, Sweden

    Duke University and the University of North Carolina, Durham and Chapel Hill, USA

    Chulalongkorn University, Bangkok, Thailand

    Makerere University, Kampala, Uganda
What are the Components of the Rotary Peace Fellowship Program?
Applied Field Experience

Academic Training

Networking

Workshop Series

Final Seminar
What is the Eligibility Criteria for Rotary Peace Fellowship Program?
You need to fulfill the Rotary Peace Fellowship eligibility requirement in order to qualify for International Fellowships 2024. The main requirements are given below:
The applicant must be Proficient in English.

Applicant must have a strong track record of successfully building projects.

Applicant must be able to demonstrate both academic achievements and a record of personal or community service.

For Master's degree candidates, completion of a Undergraduate / Bachelor's degree is required.

Master's degree candidates must have at least three years of relevant work experience since their most recent degree, prior to the start of the fellowship program.

Candidates who are currently enrolled in an undergraduate or graduate degree program are not eligible to apply.

Diploma / Professional Peace Certificate program candidates must meet all of the above requirements and have at least five years of relevant work experience.

Certificate program Applicants must be able to explain their plan of action.

An applicant with disabilities is strongly encouraged to apply.

Candidates who have previously attended a certificate program or received a global grant scholarship must wait three years before applying for a Master's degree under this fellowship.

Individuals who are active members of Rotary, employees of the Rotary Club, Rotary International, or other Rotary entities are not eligible to apply.
What Documents are Required for Rotary Peace Fellowship?
As there are multiple universities participating in the Rotary Peace Fellowship program, each university has different requirements for admission in Masters / Diploma Professional Certificates, So you need to check the official website of the university, Rotary Peace Fellowship requirements page at the university!
---
What is the Application Deadline for Rotary Peace Fellowship 2024-2025?
All applicants to Rotary Peace Fellowship need to apply before 15th May 2023!
---
How to Apply for Rotary Peace Fellowship

?
To apply for the Rotary Peace fellowship, students must use the

online application system

.

Register & Provide all required documents for Rotary Peace Fellowship.

To apply for the fellowship, submit your endorsement online to the fellowship subcommittee by July 1st.

You'll receive a confirmation once your endorsement and application have been received.
,Rotary Peace Fellowship Program 2024-2025 | Fully Funded, Rotary Peace Fellowship: Empowering Global Peacemakers, Transform Your Career with Rotary Peace Fellowship, Join a Network of Global Peace Leaders with Rotary Peace Fellowship, Rotary Peace Fellowship: Bridging Cultures for a Better World, Advancing Peace through Rotary Peace Fellowship, Rotary Peace Fellowship: Building Stronger Communities, Invest in Your Future with Rotary Peace Fellowship