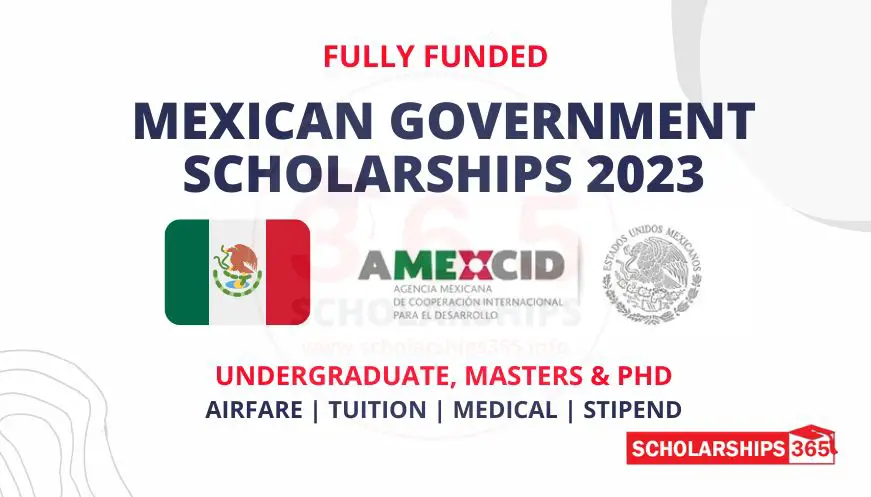 Discover the exciting opportunities of the 2023 Mexican Government Scholarship Program for International Students! This prestigious scholarship, managed by the Ministry of Foreign Affairs and AMEXCID, is now accepting applications. Immerse yourself in a diverse range of academic pursuits in Mexico, including specializations, Undergraduate degrees, master's degrees, doctorates, research, and academic mobility programs. This Mexican scholarship is fully funded International Scholarship, So successful applicants will have all their expenses covered. Embrace this enriching educational journey by applying for the exclusive Mexican Scholarship 2023 for International Students today! In this article, you will get complete details about Mexican Government Scholarships 2023, available academic programs, benefits of Mexico scholarships, criteria for apply as well as application deadline!
Have you read it? Fully Funded Denmark Scholarship for International Students
Mexican Government Scholarships 2023 | Fully Funded
Embark on an exceptional educational journey with the Mexican Government Scholarships 2023 program. Administered by the Ministry of Foreign Affairs and the Mexican Agency for International Development Cooperation, these foreign scholarships invite foreign / international students from 180+ countries to pursue their studies in Mexico without any financial burden. The program caters to students at all levels, including bachelors / undergraduate and graduate mobility programs, as well as Master's, Doctoral, and Postgraduate Research levels. With bilateral agreements and multilateral mechanisms in place, students from more than 180 countries have seized this incredible opportunity. Don't let financial constraints hinder your pursuit of international education - the Mexican scholarship is here to make your dreams come true.
Have you read it? Fully Funded Best Mexican Scholarships for International Students
Experience the incredible global scholarship opportunity in Mexico for international undergraduate, graduate, and research students. Discover the beauty of Mexico while pursuing your education in a peaceful environment. Esteemed Mexican institutions offer not only high-quality education but also enriching cultural and academic experiences. The Mexican government and its people warmly welcome students with outstanding academic backgrounds and research potential. By participating in this program, you can make a significant and valuable contribution to Mexico's development, as well as your home country and the world.
Don't miss out on the amazing fully-funded scholarship to study at dynamic Mexican universities. These scholarships are available to international students and show that Mexico is committed to global cooperation and producing talented individuals. By taking advantage of these opportunities, foreign students, researchers, scientists, and academics contribute to building lasting connections and enriching Mexico's international relations. This internationalization benefits Mexico's academic community in many ways, fostering growth and collaboration.
Grab this unique chance to study in Mexico and expand your horizons. Deciding to study abroad in a foreign country can be tough, but the Mexican Government scholarships offer incredible benefits. You'll receive a quality education, gain international exposure, and meet people from diverse backgrounds. It's a valuable opportunity to develop your skills and enjoy the beauty of Mexico's beaches, food, and historical sites. Don't miss out on this unique chance to transform your future with the Mexican Government scholarships.
---
Host Country: Mexico
---
Host University: Oxford Multiple Mexican Universities
---
Scholarships Offered By: Mexican Ministry of Foreign Affairs and AMEXCID
---
Scholarships Coverage: Fully Funded
---
Degree Level: Undergraduate / Bachelors, Master's Degree Program and Ph.D. Degree Program
---
Have you read it? Fully Funded Italian Scholarship for International Students
😇 So You Will Never Miss Any Opportunity for your excellency. Then hurry up to join, follow and like us on different Social Networks. 😇
---
What are the Benefits of the Mexican Government Scholarships?
Following are the benefits covered by Mexican 2023 Government Scholarship program during study in Mexico for international students:
For Undergraduate & Masters level research, a monthly allowance four times the monthly value of the Federal Economic Measurement Unit is provided.

For doctoral level or research stays, a stipend five times the monthly value of the Federal Economic Measurement Unit is offered.

You can avail the opportunity to expand your exposure to international dynamics.

Medical insurance coverage is included.

Airfare from your home country to Mexico is provided.

Local transportation within Mexico is covered.

The scholarship administration will handle the management of associated benefits.
---
Have you read it? Fully Funded Australian Scholarship for International Students
---
Programs Offered By Maxican Government Scholarship:
Discover numerous scholarships available for pursuing Undergraduate / Bachelor's degrees, Specializations, Master's degrees, Doctorates (PhD), Post-Doctoral research, and participating in academic mobility programs at over 100 universities in Mexico. This year, there are more than 1000 different courses offered across these universities, providing a wide range of options for students. Don't miss out on this opportunity to pursue your desired degree and expand your academic prospects in Mexico.
Duration of Degree / Program of Mexican Government Scholarship?
Bachelors / Undergraduate & Graduate Mobility Programs: Experience one academic term (trimester, quarter, or semester) of study.

Graduate-Level research and postdoctoral fellowships: Engage in research or fellowship opportunities for a minimum of 1 month, up to 12 months.

Specialization in any Field: Pursue a specialized program in your field of interest for 1 year.

MS or Masters Degree: Immerse yourself in a comprehensive master's program for a duration of 2 years.

PhD or Doctoral Programs: Dedicate 3 or 4 years, depending on the program, to pursue a doctoral degree and conduct advanced research.

Medical specialization and subspecialization: Gain expertise in medical fields through a focused program spanning 3 years.
---
Eligibility Criteria for

Mexican Government Scholarships?
The following are the Mexican Government Scholarship eligibility criteria to apply for this Program:
Eligible Countries for Mexican Scholarship:
Students from any nationality can apply for scholarships.
Other Requirements:
The scholarship program is open to full-time undergraduate / bachelors, and Master's students, depending on their specific program of study.

International students, diplomats, nationals, or visa holders are eligible to apply.

Previous recipients of Mexican scholarships are not eligible.

Applicants must not have received a scholarship from a Federal Government institution in the previous year.

Strong academic performance in previous degrees is a favorable factor for applicants.
---
Documents Requirements for Mexican Government Scholarship
 The list of required documents for scholarship is given below:
Transcript/Degree/ Certificate

A copy of your valid passport, containing your identification information.

A copy of a medical certificate issued by a public or private healthcare provider, dated no more than 3 months ago.

A signed declaration letter, prepared by the applicant.

A detailed

CV

, limited to a maximum of 4 pages.

If you are currently studying in Mexico, you must provide a temporary Resident ID card and Unique Population Registry Code.

All documents must be provided in PDF format and in the Spanish language.
How to apply for the Government of Mexican Scholarship?
Following is the procedure to apply for Oxford Clarendon Scholarship:
Applicants need to register through the SIGCA (Online Application System)

You need to get Register first on this portal.

You should Select your area of your interest and other required information during filling the form..

You can apply only for one application.

You should make sure to provide all the supporting documents, required in the Mexican scholarship application form.

Complete your Mexico scholarship application form carefully and submit it.

You should make sure, to register the online application in the Spanish Language (You can use google translator extension).
Application Deadline for Mexican Government Scholarships 2023
The Mexican Scholarships application registration deadline is July 21, 2023.
,study abroad opportunities, international student scholarships, academic mobility programs, research grants, undergraduate scholarships, graduate scholarships, educational funding, Mexico study programs