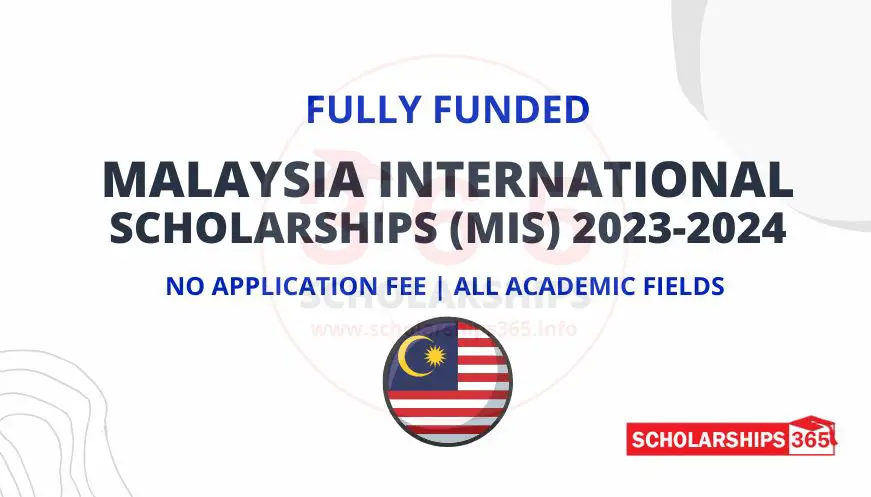 Looking for Education in Malaysia on Scholarship? Join the Malaysia International Scholarship (MIS) 2023-2024 program to explore the beauty of the world and expand your knowledge in world class universities. The Malaysian Government Scholarship 2023-2024 aims to attract and retain talented international students across the globe, making Malaysia a global academic center of excellence. This Best Malaysia Scholarship Programs is fully funded scholarship program to cover all the expenses of the student in multiple academic fields and majors. Don't miss this opportunity to develop personally and professionally in a dynamic international environment. In this article, we will disccus details about the Malaysian International Scholarship Introduction, Academic Programs, Participating Universities, Criteria, Benefits & MIS Application deadline!
You can also read about - Germany Scholarships for International Students
Malaysia International Scholarship (MIS) 2023 | Fully Funded Scholarship
About Malaysia:
Malaysia is known for its natural beauty and it is one of the most popular tourist destinations in the world. The Mulu National Park in Sarawak, surrounded by the Deer Cave, is a must-see site. Other Malaysian popular destinations include the Horse Rock of Tusan Beach, Mount Kinabalu, Sipadan Island, Mossy Forest, Maliau Basin, and Cobra Sea. Many international graduate / post-graduate students choose to study in Malaysia because of its amazing culture, beauty, scenery, and top-ranked universities.
Leaving home to study abroad can be challenging because of the huge expenses of studying abroad, but studying in Malaysia has many advantages in these cases. By studying in an international environment, you can improve your skills and future prospects. In addition to Malaysian high-quality education, you can also learn about Malaysian Language, culture, and traditions, which are reflected in its food, architecture, and festivals. By studying in Malaysia, you can develop your communication skills, interpersonal, and people management skills.
Have you read for US Government Scholarships
---
About Malaysia International Scholarship 2023
Are you interested in exploring the world and seeing amazing things? The Malaysian International Scholarship Program can be beneficial for you in 2023-2024. It is a great opportunity offered by the Malaysian Government to international talent to get higher education and expand their knowledge in their chosen fields. By offering such international opportunities, Malaysia attracts and retains talented students, they hope to become a global leader in academics in this modern era. If you're looking to improve your skills in an international environment, this is a great chance for you.
International graduate students from all over the world who want to continue / complete their education in a peaceful and refreshing environment in Malaysia can apply for this study abroad scholarship. The best Malaysian universities are not only providing a high-quality education but also allow students to enjoy the country's unique culture and scenery. Students with impressive academic and co-curricular records are warmly welcomed by the Malaysian government and its people. By studying in Malaysia, you can contribute to the global economy, as well as your home country's economy.
---
Have you read it? Fully Funded 5000+ Scholarships in Turkey for International Students
---
Host Country: Malaysia
---
University:  There multiple Top Malaysian Universities that participate in this Scholarship program.
---
Scholarship Offered By: Malaysian Government Scholarship (Offered under MIS Program)
---
No of Fellowships: Information Not Available
---
Financial Coverage: Fully Funded
---
Degree Level: Masters & Ph.D. Degree Programs in Multiple Fields.
---
You can also apply for the following opportunities:
Have you read it?

Fully Funded

Scholarship for International Students in UK

Have you read it?

Fully Funded

Scholarship for International Students in Asia

Have you read it?

Fully Funded

Scholarship for International Students in Australia
😇 So You Will Never Miss Any Opportunity for your excellency. Then hurry up to join, follow and like us on different Social Networks. 😇
---
What are the Benefits of the Malaysia International Scholarship (MIS)?
As MIS Scholarship is one of the Fully Funded Scholarship in Malaysia for International Students. Lets Apply for free for education in Malaysia to secure a bright future through quality education without any application fees. The MIS Scholarship covered the following expenses as given below:
Expenses that will cover by the Malaysia Government Scholarship (MIS):
Good News! There is No application fee required to apply for MIS scholarship.

Full tuition fees will be covered by MIS scholarship award.

You will receive a monthly allowance of RM 1,500 per month for the entire scholarship tenure.

You will have the opportunity to enhance your exposure to international dynamics.

Study in Malaysian international environment will be a prestigious honor for you.

Your personality and professional skills will be refined through the scholarship program.
---
---
What Study Areas are available for Malaysia International Scholarship?
MIS is offering All-Academic field and majors are available to pursue Masters & PhD Degree programs in Malaysian universities.
Arts and Humanities

Social Sciences, Journalism, and Information

Education

Business, Administration, and Law

Agriculture, Forestry, Fisheries, and Veterinary

Natural Sciences, Mathematics, and Statistics

Information and Communication Technologies

Engineering, Manufacturing, and Construction

Health and Welfare *not including medicine, nursing, and pharmacy.
Which Malaysian Universities are Participating in MIS Program?
Universiti Pertahanan Nasional Malaysia (UPNM)

Universiti Teknikal Malaysia Melaka (UTEM)

Universiti Putra Malaysia (UPM)

Universiti Sains Islam Malaysia (USIM)

Universiti Malaysia Perlis (UNIMAP)

Universiti Sultan Zainal Abidin (UNISZA)

Universiti Malaysia Sabah (UMS)

Universiti Teknologi Petronas (UTP)

Universiti Teknologi Malaysia (UTM)

Universiti Tun Hussein Onn Malaysia (UTHM)

Multimedia University (MMU)

Universiti Sains Malaysia (USM)

Universiti Pendidikan Sultan Idris (UPSI)

Universiti Malaysia Kelantan (UMK)

Universiti Malaysia Sarawak (UNIMAS)

Universiti Kebangsaan Malaysia (UKM)

Universiti Malaya (UM)

INCEIF University (INCEIF)

Universiti Tenaga Nasional (UNITEN)

Universiti Islam Antarabangsa Malaysia (UIAM/IIUM)

Universiti Malaysia Pahang (UMP)
What is the duration of MIS Scholarship 2023-2024 Program?
    The duration of the MIS Masters Scholarship Program is about 24 months (2 years).

    The duration of the MIS PhD / Doctoral Scholarship Program is about 36 months (3 years).
What is the Eligibility Criteria for Malaysian International Scholarship?
In order to get qualify for MIS Scholarship program you will need to meet the following requirements:
Eligible Countries:
All Commonwealth Countries

Asean Countries:

Indonesia, Vietnam, Laos, Brunei, Thailand, Myanmar, the Philippines, Cambodia, Singapore and Malaysia

Other Countries:

Morocco, Commonwealth countries, Palestine, Afghanistan, Qatar, Algeria, Saudi Arabia, Azerbaijan, Senegal, China, South Korea, Egypt, Syria, Georgia, Tajikistan, Hong Kong, Tunisia, Iran, Turkey, Iraq, Turkmenistan, Jordan, United Arab Emirates, Kazakhstan, Uzbekistan, Libya, Yemen.
   Other Eligibility Criteria:
    Applicants Seeking Full-time Masters / PhD Degree program students are eligible.

    If you are a full-time postgraduate student pursuing MIS program at a Malaysian public or private university, you can also apply for the MIS Scholarship. You must have a minimum of two semesters left before completing your studies to be eligible for the scholarship.

    Developing and Under-Developed Countries Graduate students can apply.

    The International student age must be under 40 to 45 years at the time of MIS application.

    Applicants applying for Masters degree program should have a minimum CGPA of 3.0 or a 2nd class upper honors degree.

    Applicants applying for Ph.D. studies should have a minimum CGPA of 3.0 or show excellent academic results during their master's degree program.

    An

English language proficiency Certificate

is required. The test score should meet the following criteria:

         IELTS: 3.0 bands or higher.

        TOEFL: total scores of 550 or higher.

        The applicant must be studied his / her degree in English medium university / studied his / her previous degree in English Language.
---
Exciting Update: The opportunities for scholarships in Europe are vast and diverse, and we have compiled a comprehensive article on the most prestigious and beneficial scholarship programs available for students worldwide. - Top 100 Europe Scholarships 2023
---
What Documents are required for the MIS Scholarships in Malaysia?
MIS is offering All-Academic field and majors are available to pursue Masters & PhD Degree programs in Malaysian universities.
    Passport Certified copy (having minimum 6 months validity).

    All academic ceritificates and transcripts ( that highlights your all taken university courses and their scores).

   

English proficiency certificate

is also required.
    2

Recommendation Letter

(from university professor / any professional institution where you currently working after graduation).

    Endorsement form.

    Write a research proposal  /

letter of intent

with a minimum of 1000 words.

    Confirmed Admission letter of Any Public / Private Malaysian University.

    Detailed

CV

.
---
How to Apply for Malaysia International Scholarship MIS?
To apply for Malaysian Government Scholarship in public / private Malaysian universities or higher learning institutions, international students are required to follow the MIS online application process as given below:
The first step is to register an account on

MIS Online Application System

.

You need to select your area of interest and provide all the necessary documents.

Please remember, you cannot apply to more than three Malaysian universities or higher education institutions.

Ensure that you provide all the supporting documents required in the application form.

Complete the MIS application form with caution and submit it after verifying all the details.
What is Selection Process / Criteria for MIS (Malaysia International Scholarship)?
    Competitive ranking.

    If you have a Good academic record, you have more chances to win MIS scholarship.

    This scholarship is purely on Merit-basis, so apply with your best of abilities.

    Your research proposal should be attractive, quality oriented, to get this opportunity.
What is the Malaysia International Scholarship Application Deadline for 2023?
The international students must apply for MIS Scholarship 2023 before 18th May 2023.
,Scholarship Malaysia, Study in Malaysia, Postgraduate Scholarships, Undergraduate Scholarships , Merit-Based Scholarships, Need-Based Scholarships, Top Universities in Malaysia, Education in Malaysia, Visa