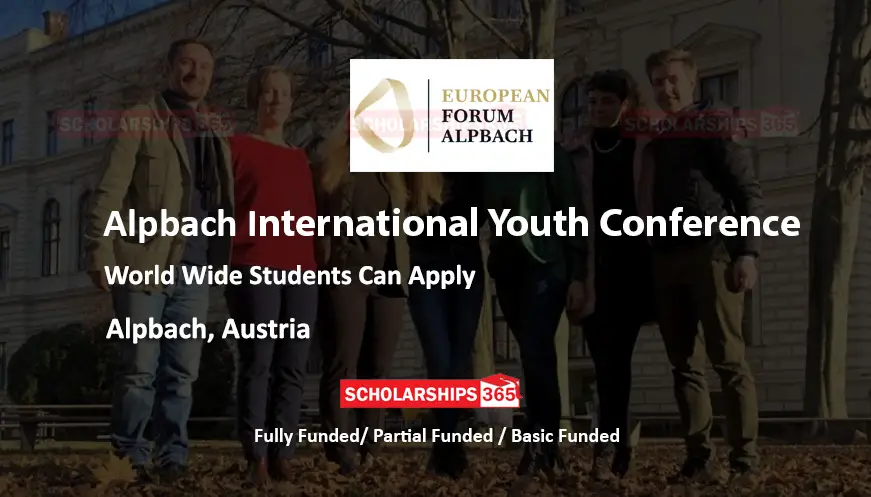 Finally, Time is over now to Attend Alpbach International Youth Conference 2020 in Austria Funded by European Forum Alpbach Organization. There are multiple types of scholarships (include fully funded) are available to participate in one of the best European summer schools in Austria.
Follow us on Instagram Community for Help - Follow
A European fully-funded summer school 2020 will continue for 11-12 days in Austria. Alpbach European Forum is an International Youth Conference in Austria, Europe for International students. It will cover all the major expenses of the selected students.
Have you apply for Fully Funded Commonwealth UK Distance Learning Scholarship 2020.
International Alpbach Youth Conference in Austria 2020: 
Want to know about Alpbach Organization? The European Forum Alpbach is an interdisciplinary platform for international students of science, politics, business, and culture. The main purpose of Every year Alpbach Youth Conference is to connect international decision-makers from all over the world. Decision-makers of all sectors of international society with an interested audience and committed youth.
Alpbach's goal is to create a dialogue across the generational, ideological and other lines that divide us. Nowhere else can you go on a sunrise hike with Nobel laureates in the morning and discuss your ideas with fellow scholarship holders from almost 100 nations in the afternoon. Every year European Forum Alpbach offers Scholarships for International students from different parts of the world.
Have you apply for 2020 Russia Scholarship - Fully Funded at Skoltech University
About European Forum Alpbach:
This year European Forum Alpbach 2020 will be held in Alpbach Village, in Austria for 12 days. World Wide students can participate in this International Youth Conference in Europe. This year Alpach conference has 80+ International seats for worldwide students. International students are encouraged to apply for this International youth summer school 2020 in Austria to participate in world dialogue on different social issues. best Summer Schools near me in Japan
Have you apply for Japan Internship 2020 - Fully Funded
😇 So You Will Never Miss Any Opportunity for your excellency. Then hurry up to join, follow and like us on different Social Networks. 😇
---
Whether you are a Graduate or an Undergraduate, it does not matter as you can apply for this program from any part of the world. All-Academic disciplines are eligible to apply for this Student Summer program in Vienna, Austria.
Every year, Forum Alpbach invites hundreds of students from almost 100 countries to get awarded a scholarship to participate in the European Forum Alpbach. Don't miss this great opportunity to Join smart minds from around the world in a charming Alpine village. You should, immersing yourself in an environment bursting with novel ideas, new ways of thinking, and opportunities for making global contacts!
Have you applied for Olive Fellowship Program 2020 in USA
---
Host Country: International Summer Conference 2020 in Austria
---
Duration of Youth Forum: 12 Days
---
Forum Offered: Alpbach Youth Organization
---
Conference Financial Coverage: Fully Funded/ Partial Funded/ Basic Funded
---
Degree Level:  Graduate or an Undergraduate, it does not matter as you can apply for this program from any part of the world. All-Academic disciplines are eligible to apply for the International Conference.
---
You can also apply for the following opportunities:
---
Time to apply for Austria Youth Summer School 2020?  Let's participate in an international dialogue on world social issues with international students. Different Scholarships are the offer that will cover the expenses of the selected applicants. There are 3 Different Types of International Scholarships.
Expenses which will cover by

Basic Scholarship

:
The EFAF Covers Participation Fees.
Expenses which will cover by

Partial Scholarship

:
The EFAF Covers Participation Fees

Accommodation Allowance
Expenses which will cover by

Fully Funded Scholarship

:
The EFAF Covers Participation Fee

Accommodation

Allowance

Airfare is not included.
Have you apply for French Government Scholarship 2020 for Masters and Ph.D. - Apply Now
---
Eligibility Criteria for Youth Alpbach Conference:
Candidates must have to fulfill this criterion in order to select for 2020 Youth Alpbach Conference.
Eligible Countries:  Students from any nationality are eligible to apply.
Other Requirements:
English Proficiency Certificate

Degree Certificates and Transcripts of Education.

Applicants from all countries and all Academic Disciplines. Artists and Non-graduates are strongly encouraged to apply

30 Years For International Students

35 Years for African Nationals.
---
Applications Deadline for Youth Alpbach Conference 2020:
Applications must be submitted by 31st March 2020
---
How To Apply for Alpbach Youth Conference 2020

:
Students must have to apply online. All application process is online.
Please check the following link for apply - 

APPLY ONLINE

A student has to create the account and fill the application form.

You can also visit the official advertisement - 

Official Advertisement Information.
---
,free international Summer School 2019-2020-2021-2022-2023-2024-2025-2026, Fully Funded Summer Student exchange program School 2019-2020-2021-2022-2023-2024, free international conference 2019-2020-2021-2022-2023-2024-2025-2026, government of french scholarship 2019-2020-2021-2022-2023-2024, Opportunities Corners, Scholarships Corners, scholarships for college - Austrian government scholarships 2020-2021, Bachelors Scholarships 2020 Italy Government Scholarship - Fully Funded 2020 2019-2020-2021-2022-2023-2024, scholarships for college students 2019-2020-2021-2022-2023-2024