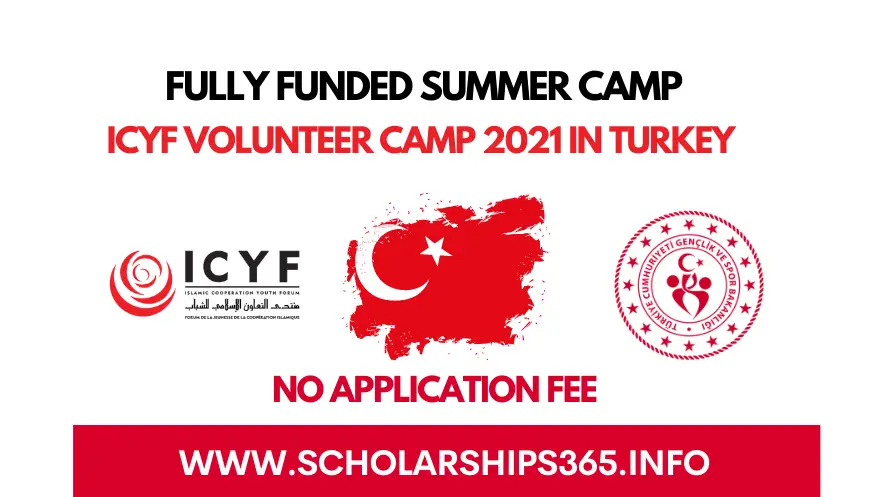 Finally, The Islamic Cooperation Youth Forum (ICYF) is announced the "ICYF Young Volunteers Camp 2021 in Turkey" for the international young people. ICYF Young International Volunteer Camp is one of the Fully Funded International Summer Camps for students, graduates, professionals, or anyone within the age of 18-30. Don't miss this Summer Camp in Turkey this time. The duration for This Turkish Summer Camp is about 6-7 days, which is held in Antalya, Turkey.
CHK HERE - Scholarship for International students in Turkey 2021 - HERE
Are you Ready to Join the Fully Funded Summer Camp in Turkey? The Islamic Cooperation Youth Forum (ICYF) is announced the Fully Funded International Young Volunteer camp 2021 in Turkey. After the pandemic of Covid-19, The ICYF decided to accept the international application from different parts of the world for "ICYF Young Volunteers Camp 2021 in Turkey".
CHK HERE - Fellowships in Switzerland 2022, Fully Funded - HERE
The aim of the ICYF Young Volunteer camp is to train young blood people with professional practical knowledge and guide them to work for the betterment of their communities during pandemics, humanitarian crises as well as natural disasters. The ICYF's mission is to empower the young blood to build their capacity through different strategies, policy frameworks, and make sure to their involvement in projects for civic engagement, holistic education, capacity-building. The values of the ICYF are cooperation, innovation, solidarity, excellence, integrity, diversity, and service.
ICYF Young Volunteer camp is a Fully Funded International Opportunity of Conference for Young Blood Students, Professionals, Graduates, and other people within the age between 18-30 years. This youth Turkey Summer camp 2021 will be held in Antalya, Turkey for 6-7 days.  The ICYF will cover all the expenses of the participants. There is no application fee to apply for this opportunity in Turkey. It is a great chance to explore the beauty of turkey, so don't wait your time to apply soon as possible for this international opportunity for free.
CHK HERE - Internships in Saudi Araba 2021, Fully Funded - HERE
---
Host Country: Antalya, Turkey
---
Financial Coverage: Fully Funded
---
Duration of Summer Camp: 6 -  7 Days
---
Eligibility: Students, Professionals, and Young people are eligible to Apply.
---
😇 So You Will Never Miss Any Opportunity for your excellency. Then hurry up to join, follow and like us on different Social Networks. 😇
---
What are the benefits of ICYF Young Volunteers Camp:
It is an excellent opportunity for international students as well as young people to visit Turkey on the Fully Funded International Youth Forum. As the ICYF Turkey, 2021 is a Fully Funded International Youth Conference, So all the Selected applicants will get the following benefits.
Expenses that will cover by this program:
    Travel Expenses

    Meals

    Free Accommodation

    Explore Turkey
---
CHK HERE - International Opportunities 2021 Fully Funded - HERE
What is the objective of ICYF International Volunteer Camp:
ICYF Young Volunteers Camps targets to achieve the following specific objectives:
​To design the right framework of a volunteering training program during any kind of crisis as a long-term solution

​To establish an effective partnership network and its community for volunteer's capacity building

​To empower youth lead organizations on volunteering management

​To enhance young volunteers` capacities through interactive training

​To promote the human rights of volunteers during humanitarian crises with civic and human rights education.

​To establish a network among youth organizations for effective collaboration to find sustainable solutions during a pandemic crisis and humanitarian crises in the world.

​To raise awareness of youth on the universal values of volunteerism

​To provide a platform for sharing experiences, lessons learned and reflections on youth volunteerism and its impact.

​To share best examples of successful youth volunteerism initiatives

To enable participants to improve themselves in project preparation for various funding sources and project cycle management
---
Eligibility Criteria for ICYF International Volunteer Camp:
Candidates must fulfill the following criteria to avail this Turnkey opportunity.
    Citizens of the OIC Member States or applicants of the Muslim community in a non-OIC Member State can apply for this program.

    The applicant's age limit for this international opportunity is 18-30.

    Applicant must have experience in volunteer work.

    Applicants must be able to speak in English Language and work in teams.

    Applicants must be involved in different volunteer projects.

    Applicant must be passionate & Motivated to attend a full training program.
---
Application Deadline for ICYF International Volunteer Camp 2021:
The application must be submitted online by 13th June 2021.
---
CHK HERE - Top Europe Scholarships 2022 Fully Funded - HERE
---
How to Apply for ICYF International Volunteer Camp:
The application process for ICYF is completely online, applicant need to submit an online application form to ICYF Portal. The ICYF application form is very easy and simple. Fill in all the required fields carefully according to the requirements and submit your application. For More Information Please Visit the Official Website of ICYF or Fill the Application Form Here.
,Fully Funded bachelors Scholarships 2019-2020-2021-2022-2023-2024, Fully Funded masters Scholarships 2019-2020-2021-2022-2023-2024, Fully Funded masters Scholarships School 2019-2020-2021-2022-2023-2024, Fully Funded phd Scholarships School 2019-2020-2021-2022-2023-2024, Opportunities Corners, Scholarships Corners, scholarships for college - Austrian government scholarships 2020-2021, CGS CSC STUDY CHINA, FORIGN STUDENTS , TOP UNIVERSITY, HIT, HARIB, TSINGUHA, CHINA, scholarships for college students 2019-2020-2021-2022-2023-2024