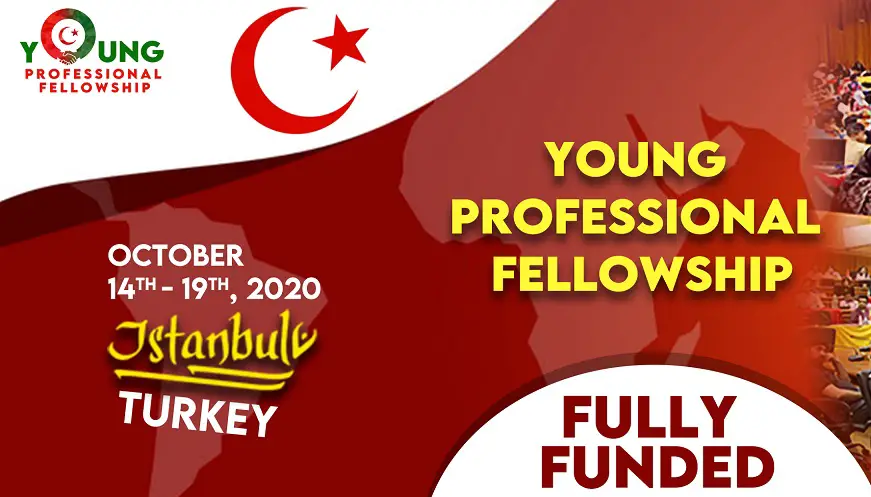 MAPS youth organization announced a special opportunity for Pakistani youngsters to participate in the MAPS Young Professional Fellowship Program 2020 in Turkey. IELTS/TOEFL has not required fo application.
Young Professional Fellowship 2020 - Fully Funded in Turkey:
Every year MAPS, Pakistan organize different events for Pakistani youth. Currently, MAPS announced a fully funded fellowship for youngsters of Pakistan.
This is a fully funded fellowship 2020 program for Pakistani young blood to engage in different cross-cultural exchange activities, self-exploration, build leadership qualities, global collaboration, sustainable development goals, and youth empowerment. The youngster also participates in different community projects for the development of society.
The MAPS fellowship is a short term cultural exchange program in Turkey, where you can experience the new learning environments along with the exploration of Turkish beautiful culture. This is a life-changing fully funded international conference 2020 in turkey. It is a great chance for a beautiful self-discovery event where you can meet hundreds of people from different countries.
This opportunity is only for Pakistani youngsters and students don't need any specific requirements to avail of this opportunity. The youngster from across Pakistan aged between 15 to 35 years can apply for this great even in Turkey. People of Pakistan can apply without any IELTS or TOEFL for this event. Don't miss this opportunity.
---
Host Country: Study in Turkey
---
Host Organization: MAPS, Pakistan
---
Fellowship Coverage: Fully Funded
---
No of Fellowships: There are about 10 fully funded fellowships are available for Turkey MAPS event.
---
Fellowships Dates: The MAPS Fellowship will be held from 13th October 2020 to 19th October 2020
---
Degree Level: Students with any academic background can apply.
---
MAPS Fellowship Topic:
Civic Engagement

Economic Development

Global Competency for Cross-Cultural Collaboration

Human Rights and Peace

Decision Making: Young People Participation

UN Sustainable Developmental Goal
---
😇 So You Will Never Miss Any Opportunity for your excellency. Then hurry up to join, follow and like us on different Social Networks. 😇
---
What are the benefits of Young Professional Fellowship 2020:
Airfare (Return Air-Ticket in Economy class)

Free Accommodation in Turkey

Participants Certificates

Meals during the fellowship program

MAPS Kit

Conference Registration Fees

Turkey Tour

Cultural Evening Party

Celebration Party

Awards
---
Are you eligible to apply for Young Professional Fellowship 2020:
The applicant must Pakistani National.

The applicant aged between 15 years to 35 years to apply.

The applicant must have an interest in social entrepreneurship experience.

Must be engaged in different social, cultural, and educational activities at any level.

The applicant can apply without a passport, but he/she must have a passport before the announcement of the result.

The applicant can apply without any TOEFL/IELTS certificate.
---
Deadline of the Young Professional Fellowship 2020:
The last date to apply for the Young Professional Fellowship 2020 is 17th August 2020. The result will announced on August 20th,2020.
---
How to Apply for Young Professional Fellowship 2020:
Applicants have to apply online for this program. There is application process fees R.S 3500 PKR for applying this event. Application fees can be submitted via JazzCash or EasyPaisa account. Click on the below apply online button to fill the application form and submit. All applications are forward to MAPS Head Quarters for further processing.

The student can apply from here for Fellowship Program

APPLY ONLINE
---
If you need any type of help - Read To Next
Follow us on Instagram Community for Help - Follow.
,Fully Funded SUMMER School 2019-2020-2021-2022-2023-2024, Fully Funded fellowships 2020-2021-2022-2023, Fully Funded masters Scholarships School 2019-2020-2021-2022-2023-2024, Fully Funded phd Scholarships School 2019-2020-2021-2022-2023-2024, Opportunities Corners, Scholarships Corners, scholarships for college - Austrian government scholarships 2020-2021, Bachelors Scholarships 2020 Italy Government Scholarship - Fully Funded 2020 2019-2020-2021-2022-2023-2024, scholarships for college students 2019-2020-2021-2022-2023-2024