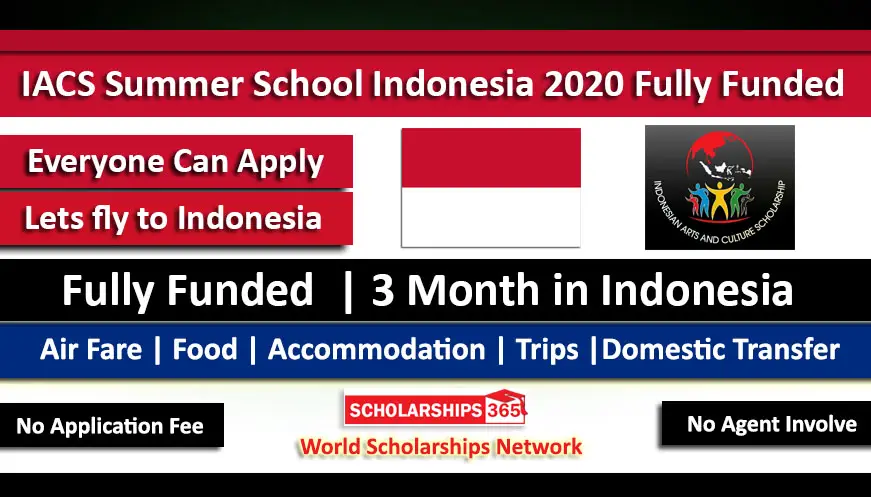 Applications are invited to apply for the Fully Funded IACS Summer Camp Indonesia 2020 for World Wide Foreign Students. The Indonesian IACS  Summer Student Program is a Short Summer School Program for International students from over the world as well as Indonesian students. ICAS (Indonesia Arts & Culture Camp) is Fully Funded Summer School in 2020.
Participants from all over the world with any nationality are eligible to apply for the ICAS (Indonesia Arts & Culture Camp). Every year ICAS (Indonesia Arts & Culture Camp) Summer Program offers World Wide Students to participate in the idonesian diverse art and culture & sharing of Culture.
Selected candidates join in the idonesian Community for better understanding the mutual relationships between home country and indonesia. Participants will enjoy the Indonesian diverse art and culture.
This is a Fully Funded Scholarship which will be awared to Internaional Students & Indonesian Students.
This camp is a cultural learning program designed to give an understanding of culture and social awareness for participants. This Summer School is a Non Degree Program and participants with any academic field/discipline are eligible to apply and enjoy their summer in Indonesia. The Duration of the Summer School Exchange Program in Indonesia is for 3 Months and will be held from 2nd May, 2020 to 15, August 2020.
---
Host Country : Summer School in Indonesia - Fully Funded
---
Summer School Offered By: ICAS (Indonesia Arts & Culture Camp) Funded.
---
Duration: 3 Month
---
Financial Coverage: Full Funded
---
Program Dates: 2nd May, 2020 to 15, August 2020.
---
You can also Apply for following opportunities in China:
---
😇 So You Will Never Miss Any Opportunity for your excellency. Then hurry up to join, follow and like us on different Social Networks. 😇
---
IACS Summer Camp Indonesia 2020 Offers:
The ICAS Summer Camp 2020 is a Fully Funded Summer School that will Cover all the youth exchange Program expenses. It will cover all the Expenses given below.
Financial Benefits:
    Tuition fee (including extra-curricular activities).

    Airfare

    Accommodation (Room)

    Transportation Facility

    Medical

    Monthly Stipend of Rp. 2,000,000.
---
Eligibility Criteria:
Candidates must fulfill the following criteria to avail this Summer School Program in Indonesia.
Countries: Students from the following countries can apply.
ASEAN Member Countries: Brunei, Cambodia, Indonesia, Laos, Malaysia, Myanmar, Philippines, Singapore, Thailand, Vietnam
ASEAN + 3 Countries: China, Japan, South Korea
East Asia Summit: Australia, India, New Zealand, Russia, United States
ASEAN Dialog Partners: Australia, Canada, China, European Union, India, Japan, Republic of Korea, New Zealand, Russia, and the United States
ASEAN + European Union Countries: Brunei Darussalam, Cambodia, Indonesia, Lao PDR, Malaysia, Myanmar (Burma), Philippines, Singapore, Thailand, and Vietnam
Asia Pacific Economic Cooperation Countries: United States; Australia; Brunei Darussalam; Canada; Chile; China; Hong Kong, China; Indonesia; Japan; Malaysia; Mexico; New Zealand; Papua New Guinea; Peru; The Philippines; Russia; Singapore; Republic of Korea; Chinese Taipei; Thailand; and Viet Nam
Asia-Europe Meeting Countries: Australia, Austria, Bangladesh, Belgium, Brunei Darussalam, Bulgaria, Cambodia, China, Croatia, Cyprus, Czech Republic, Denmark, Estonia, Finland, France, Germany, Greece, Hungary, India, Indonesia, Ireland, Italy, Japan, Kazakhstan, Korea, Lao PDR, Latvia, Lithuania, Luxembourg, Malaysia, Malta, Mongolia, Myanmar, Netherlands, New Zealand, Norway, Pakistan, Philippines, Poland, Portugal, Romania, Russian Federation, Singapore, Slovakia, Slovenia, Spain, Sweden, Switzerland, Thailand, United Kingdom, Viet Nam, the ASEAN Secretariat, and the European Union
Melanesian Spearhead Group: Fiji, Papua New Guinea, Solomon Islands, and Vanuatu
Members of South West Pacific Dialog: Australia, New Zealand, Papua New as the original participants of the Indonesian Arts and Culture Scholarship.
Africa Region
Other Requirements:
Applicants Must be Foreign National from any part of the world

.

Applicants should be single, between the ages of 21 to 27 years old with at least a high school diploma.

Applicants should possess high interest and talent in the arts.

Arts students with an academic history on Indonesian culture are encouraged to apply

Applicants must follow the whole program, including orientation program and Indonesian Channel.

Candidates must complete the application form (attached with the official link) and submit it with particulars as mentioned in the official link.

The Student with Any Academic Discipline is eligible.

Basic skill in English is compulsory.
---
Summer School Location:
The Summer School Camp will Start with an Orientation held in Jakarta for One Week. During the program, participants will be evenly divided into 6 (six) groups.
Each group will be placed by the organizing committee to different art centers located in 6 (six) provinces namely as given below:
Bali; West Sumatra

East Kalimantan

East Java

South Sulawesi

Yogyakarta.
---
Deadline:    
The Deadline to apply for the IACS Summer Camp Indonesia 2020 Youth Summer Exchange Program For Foreign Students is 14, February 2020 and For Indonesian Participants 28th February 2020
---
How to Apply for IACS Summer Camp 2020:
Required Documents For Apply:
In the course of this application you will have to upload a few documents (only PDF format is accepted). The uploading is to be done on the second page of the application:
    A Motivation Letter
    2 Passport Size Photos with Red Background
    Passport
    Transcript or Diploma
    Valid Health Certificate
    Letter of Recommendation
For Apply:
For International Students: The Application form must be sent to the Embassy/Consulate General of Indonesia in respective countries. IACS Facebook Page: Check Here
For Indonesian Applicants: The Application form should be sent to THE MINISTRY OF FOREIGN AFFAIRS, Directorate of Public Diplomacy (Tower Building, 12th Floor, Jl. Taman Pejambon No. 6, Jakarta 10110).
Click on the APPLY ONLINE button to proceed to download the application form.
,Fully funded Summer School 2019-2020-2021-2022-2023-2024-2025-2026, Fully funded Summer camp 2019-2020-2021-2022-2023-2024-2025-2026, Fully funded Summer CULTURE PROGRAM 2019-2020-2021-2022-2023-2024-2025-2026, Fully funded Summer WINTER PROGRAM 2019-2020-2021-2022-2023-2024-2025-2026, Fully funded STUDENT EXCHANGE CULTURE PROGRAM 2019-2020-2021-2022-2023-2024-2025-2026, Fully funded fELLOWSHIP scholarships 2020-2021-2022 in Malaysia, scholarships for african students, study in indonesian