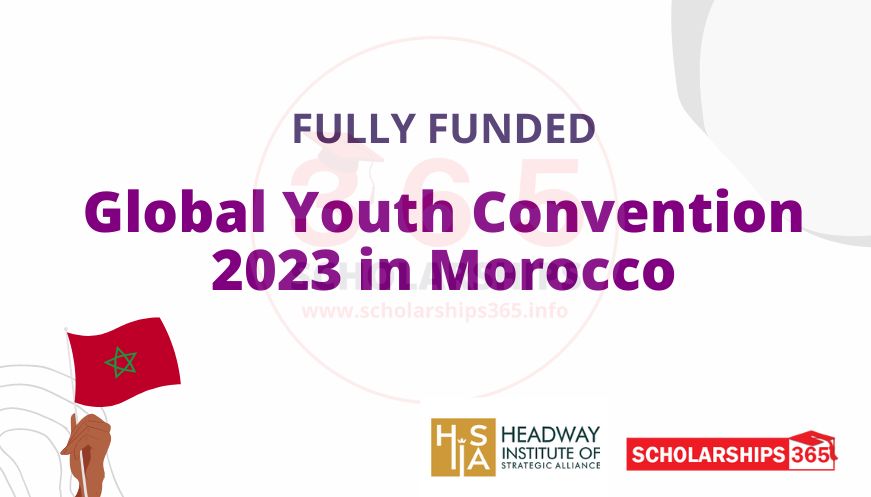 We are excited to Announce about the upcoming Global Youth Convention 2023 in in Morocco by Headway Institute of Strategic Alliance. This year HISA GYC 2023 aims to make collaboration of students, volunteers, professionals, and SDG activists from around the globe. The GYC conference provides an international opportunity for young individuals to share their ideas and experiences, and work together to find best solutions for the global modern challenges. The primary objective of this fully funded conference is to encourage collaboration between the youth from diverse backgrounds and nations to build a better future for our planet.
If you want to apply for Summer School in Vienna, Austria - Vienna Biocenter Summer School
Global Youth Convention 2023 in Morocco | Fully Funded
The Headway Institute of Strategic Alliance is delighted to unveil the Annual Global Youth Convention 2023 in Morocco. The HISA GYC 2023 is an annual international conference that unites individuals comprising world students, volunteers, professionals of different fields, and advocates of SDG from various corners of the world. This GYC Youth Conference program offers an avenue for young individuals to share ideas and experiences, thereby creating solutions to worldwide predicaments. This international youth gathering seeks to encourage cooperation among young people of different nationalities and backgrounds with a view to building a better future for our world.
During the Global Youth Convention, participants will have the chance to attend workshops covering a broad range of topics related to sustainable development, including climate change adaptation strategies, renewable energy sources, digital financial inclusion, equitable development, the importance of education, partnership, and collaboration.
The youth event will also feature keynote speakers who are renowned experts in their fields, sharing their knowledge and experience with the participants of the youth leadership program. The convention will also provide networking opportunities for attendees to connect with like-minded individuals who share similar interests and goals, paving the way for potential collaborations across different borders.
The HISA Global Youth Convention strives not only to impart knowledge but also to inspire action through the sharing of motivational stories by other participants. This event provides an opportunity not only to gain valuable insights but also to be inspired by the success stories of peers while forging relationships with individuals worldwide who share common goals. Therefore, if you desire to have your voice heard and contribute to creating a brighter future for our planet, seize this chance and join the Global Youth Convention 2023!
HISA's goal is to provide a platform for policy reforms and to raise awareness about pressing global issues by linking decision-makers with young individuals through policy exchanges and various programs. The organization aims to collaborate with decision-makers, stakeholders, and leading organizations to develop dialogues, breakout sessions, and consultations for policy reforms while highlighting global pressing issues to make a positive impact in communities.
HISA partners with different decision-makers, stakeholders and leading organizations to promote awareness of the United Nations Sustainable Development Goals, with particular emphasis on SDG 3: Good Health and Well-being, SDG 4: Quality Education, SDG 5: Gender Equality, SDG 13: Climate Action, and SDG 17: Partnerships to achieve the Goal.
About HISA GYC 2023 in Morocco
Host Organization: Headway Institute of Strategic Alliance (HISA)
HISA 2023 Duration: May 17th - 20th, 2023
HISA GYC 2023 Event Location: May 17th - 20th, 2023
---
😇 So You Will Never Miss Any Opportunity for your excellency. Then hurry up to join, follow and like us on different Social Networks. 😇
---
What are the benefits of the Global Youth Convention 2023 in Morocco?
They are offering 25 fully funded seats to give an opportunity to young individuals who may not have the financial resources to attend.

Round-Trip Airfare will provide to ensuring that participants can travel to the event with ease.

4-star shared accommodation / housing will be provided to Participants with comfort and a chance to meet and interact with fellow participants from different countries.

VIP airport transfers offer participants with a hassle-free and comfortable journey from the airport to their accommodation.

Three-time meals per day by event organizers.

Convention merchandise: Participants will receive convention merchandise, including souvenirs and other items, to help them remember the experience.

All-access pass to the GYC 2023: The event provides an all-access pass to the GYC 2023, allowing attendees to attend all the sessions and activities scheduled throughout the event.

Participants will have the opportunity to attend a networking dinner with government representatives, providing them with a chance to interact with key decision-makers and leaders.

Opportunity to interact with like-minded people around the globe to create a network of peers with similar interests and aspirations.

Graduation certificates will be provided that would be a great addition to your career profile.

Boost Your Professional skills in different dimensions such as leadership, communication, and teamwork, through the various workshops and sessions organized.

Chance to explore Moroccan culture: The event provides an opportunity to explore the vibrant and unique Moroccan culture, providing participants with an enriching and immersive cultural experience.
If you want to apply for Research Fellowship in Saudi Arabia Read About - Fully Funded Research Fellowship in Saudi Arabia
Who can join the Global Youth Convention Morocco 2023?
Headway Institute of Strategic Alliance (HISA) is inviting individuals from all backgrounds to participate in the Global Youth Convention 2023 in Casablanca, Morocco. This 4 - day event will bring together delegations of governors, state ministers, legislators, UN officials, researchers, global scholars, and youth delegates to exchange ideas and experiences on sustainable development.
HISA is offering fully-funded scholarships to 25 selected delegates, covering their airfare, accommodation, meals, airport transfers, and convenient access. Anyone, including students, professionals, social or health workers, volunteers, and young leaders, is eligible to apply for this opportunity to attend the convention and connect with like-minded individuals from around the world.
What is the Eligibility Criteria of Global Youth Convention 2023 in Morocco?
Be over 18 years old.

Possess proficiency in spoken and written English.

Come from any background and be willing to participate in the scholarship program.

Show a strong commitment to contributing to sustainable development through innovative approaches.
If you meet these criteria, you can apply for the convention and join a community of passionate individuals who are working towards creating a better future for our planet.
How does one apply for the Global Youth Convention in Morocco?
Candidates must submit their GYC 2023 applications via the official website.

Filling out the GYC 2023 registration form with basic information, such as name, date of birth, address, and relevant details.

Uploading a picture and a pictorial representation of past social work.

Completing the Scholarship section if applying for a Fully Funded spot.

Shortlisted applicants will be contacted by the HISA program team for further evaluation, based on their motivation as demonstrated in the application.
The list of Fully Funded Delegates will be announced on April 15th, 2023.
What is Application Deadline for Global Youth Convention 2023?
The last date to apply for GYC 2023 program is March 30th, 2023
,Global Youth Convention 2023 in Morocco | Fully Funded, Global Youth Convention in Morocco 2023, Fully Funded Conference, International Conference in Morocco, Fully Funded Summer School 2023, Latest Internships Programs in aisa 2022-2023-2024, Italy Student Visa, Italy Study Visa, Morocco Visa Travel Tourism, Conference in Morocco