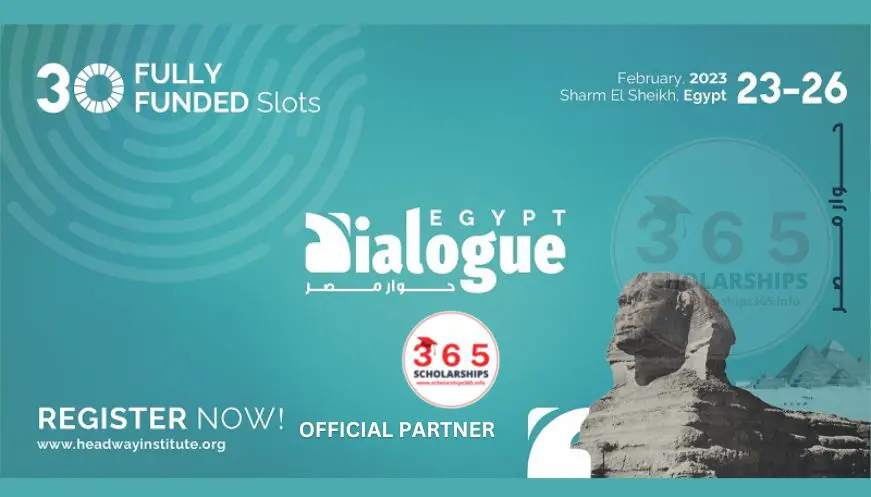 The HISA Egypt Dialogue 2023 has been officially announced by the Headway Institute of Strategic Collaboration. Young leaders, policymakers, and government officials will participate in a special meeting to communicate and understand worldwide governance, legislation, cyber safety, and public administration. The attendee will benefit from this four-day training by being more equipped to comprehend how global governance can be appraised.
If you want to apply for Summer School in Vienna, Austria - Vienna Biocenter Summer School 2023
HISA Egypt Dialogue 2023 | Fully Funded International Conference
About HISA Egypt Dialogue
The HISA youth dialogue 2023 is one of the Fully Funded Conference that will introduce attendees to in-depth education on constructing online safe zones and generating possibilities for effective connections between emerging people and governments in addition to focusing on the development of administration and public management experience.
About Goal of HISA
HED 2023's goal and objective are to establish an environment where youngsters can thrive that is secure and encouraging. Youth require secure areas where they can socialize, engage in programs that are focused on their best interests, and make choices. Online abuse must be eliminated from online media, so during this four-day dialogue, we hope to educate the HISA Egypt Dialogue participants about the very central dilemma of online violent behavior and online harassment. We believe it is crucial to establish safe online environments where people experience comfortable exchanging thoughts.
The real goal of this conversation is to increase young individuals' willingness to constructively contribute to developing youth policy with local government legislation. The future is seen as dependent on youth, democracy, and dialogue. As a result, they started this initiative to encourage honest and insightful communication between young people and local governments. To enhance consciousness and achieve shared objectives for the future, delegates will be educated and urged to foster dialogue and collaboration between themselves and their regional governments. to enable the next generation of decision-makers in their communities.
About HISA Dialogue 2023 in Egypt
Host Organization:
    Headway Institute of Strategic Alliance (HISA)
HISA 2023 Duration:
    February 23rd – 26th, 2023
😇 So You Will Never Miss Any Opportunity for your excellency. Then hurry up to join, follow and like us on different Social Networks. 😇
---
What are the benefits of HISA Egypt Dialogue 2023?
Thirty attendees will be accepted to the HED 2023 as fully funded participation.

Round-trip airfare will be offered

A four-star shared lodging

Airline transportation for VIPs

3 food each day

Dialogue-related products

Egypt Dialogue 2023 entrance permit

A networking meal with government officials

You will have the chance to communicate with others who share your interests throughout the world

Graduation credentials that would enhance your professional profile

Your professional abilities will be honed in a variety of manners

opportunity to understand Egyptian culture
If you want to apply for Research Fellowship in Saudi Arabia Read About - Fully Funded Research Fellowship in Saudi Arabia 2023
Who can Join the HISA Egypt Dialogue?
In the land of tranquility, there will be a gathering of representatives of governors, government officials, lawmakers, UN authorities, scientists and researchers, and intellectuals from across the world.

For the HISA Egypt Dialogue, HISA will choose 30 fully sponsored participants who can visit Egypt. The HISA will cover their travel expenses, lodging, meals, airport transportation, and conversation access.

Anyone from any background picture who is a pupil, professional, humanitarian or medical employee, volunteer, or future leader is eligible to apply.
HISA Egypt Dialogue 2023 Eligibility Criteria:
The applicant must be older than 18 years old.

The applicant must be able to speak and write English.

Applicants can join the Scholarship program from any background.

Determined to participate in the development of innovative approaches.
How does one apply for the HISA Egypt Dialogue?
Candidates must submit their applications via the official website.

Fill out the registration application for HED 2023.

You must submit basic information, such as your name, birth date, residence, and other pertinent facts.

Attach your photo and a pictorial reference of your prior social involvement.

Complete out the Scholarship form if you're seeking a Fully Funded opportunity.

Based on the motivation shown in the application, the HISA program staff will get in touch with applicants who have been shortlisted for further assessment.

The listing of Fully Funded Delegates with their names will be released on January 30, 2023.
Application Deadline date for HISA Egypt Dialogue 2023
The HISA Youth Dialogue registration closing date varies with events, as there are various events the deadline varies with them.
,HISA Egypt Dialogue 2023 | Fully Funded International Conference, Fully Funded Conference, Conference in Egypt, Fully Funded Summer School 2023, Leadership Program 2023, english proficiency test questions and answers, Latest Internships Programs in aisa 2022-2023-2024, Italy Student Visa, Italy Study Visa, Egypt Visa Travel Tourism