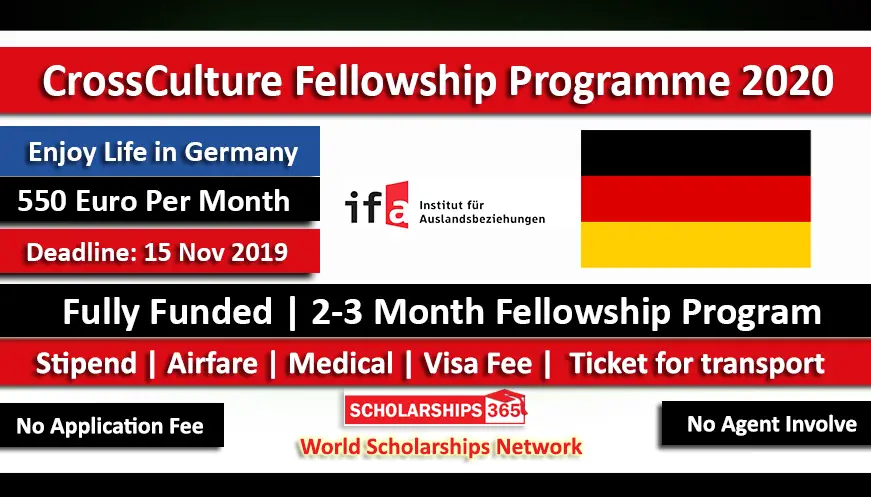 Applications for One of the Famous CrossCulture Program 2020, Germany is open now for International Students.  CrossCulture Fellowship Program 2020 is Fully Funded Youth Fellowship Program in Germany for International Students. All the expenses will be covered by CrossCulture Fellowship Exchange Program.
CrossCulture Program 2020, Germany: 
The CrossCulture Programme is therefore explicitly aimed at those applicants who deal with this topic professionally in the narrower or broader sense and plays an important role in the development of an active civil society. It fosters the capacities of citizens, both youth and adults, to better understand societal and political circumstances, in order to engage actively in their society.
The CrossCulture 2020 one of the famous event which offers a Diverse range which includes Civil, Cultural, Educational, Scientific, Artistic and Medial sectors to work together.
Furthermore, digital tools play an increasing and essential role in our daily life. They create new ways of interaction in high speed, which also affects the field of civic education.
The aims to strengthen civil society communication between Germany and other countries in a spirit of mutual respect and equal partnership.
---
Host Country : Germany
---
Duration of Program:  2 to 3 Month
---
Fellowship Offered By:  Federal Foreign Office of Germany
---
Financial Coverage: Fully Funded
---
No of Fellowships: 80
---
You can also Apply for following opportunities:
---
😇 So You Will Never Miss Any Opportunity for your excellency. Then hurry up to join, follow and like us on different Social Networks. 😇
---
Financial Package for CrossCulture Fellowship 2020:
Want to visit Germany? Each year around 80 fellowship recipients gain experience in intercultural networks. Fully Funded CrossCulture Fellowship 2020 will cover all the expenses during stay in Germany include AirTicket.
All the Selected applicants will get the following benefits.
Exepnses which will cover by this program:
Support in the preparation of the professional fellowship

Monthly grant of 550 Euro

Accommodation in Germany (single or shared apartment)

Coverage of health insurance during the stay in Germany

Roundtrip airfare

A refund of applicable visa fees

A monthly ticket for public transport within the place of residence
---
Themes of the CrossCulture Fellowship 2020 Fields:
Fellowships are principally awarded to people working in one of the following fields:
    Policy and society

    Media and culture

    Human rights and peace

    Sustainable development
 In addition, from 2019 to 2023 the following key issues will be the focus for those interested in applying for compatible host organisations:
    Civic & citizenship education

    Digital civil society
---
Eligibility Criteria:
Candidates must fulfill the following criteria to avail the this opportunity.
Eligible Countries:
Algeria; Bahrain; Bangladesh; Egypt; Indonesia; Iraq; Iran; Jordan; Kazakhstan; Qatar; Kyrgyzstan; Kuwait; Lebanon; Libya; Malaysia; Morocco, Mauritania; Oman; Pakistan; Palestinian territories; Saudi Arabia; Sudan; Tajikistan; Tunisia; Uzbekistan; United Arab Emirates; Iraq; Kuwait; United Arab Emirates; Uzbekistan  
Aged between 23 and 45 years at the time of application.
Good command of English (written and spoken).
Work experience or voluntary engagement in a civil society organization with a focus on civic education.

Physical constitution for a long-term stay abroad.

Able to Spend 8-12 Weeks in Germany.

Students from the Above Mentioned Countries Can apply.
---
How to Apply for CrossCulture Fellowship Program 2020:
Students have can apply by the following procedure given below:
Required Documents:
Letter of motivation

 

(Please use this template)

Letter of recommendation

(Please use this template)

Curriculum vitae
Portrait photo (optional)
Selection Criteria:
    All the Successful applicants will be notified via email and they will be called for an interview at the German Embassy.

    Interviews will also take place by phone or via Skype in some exceptional cases.

    Result will be annouce at end of January.
Step by Step Process for Apply:
Students have to apply online by clicking Apply Online Button Given Below.

For Official Source You can also visit the Official Source Button.
---
Deadline: 15th November, 2019
,Fully funded Fellowships 2020-2021-2022, Fully Funded Youth Conferences 2020-2021-2022, Fully Funded Cultural Exchange Program 2019-2020-2021, Fully Funded Internship Programs 2019-2020-2021-2022, free study in germany, Fully Funded scholarships in germany, Fully funded summer schools in germnay, Fully Funded programs for cultural exchange programs 2019-2020-2021-2022