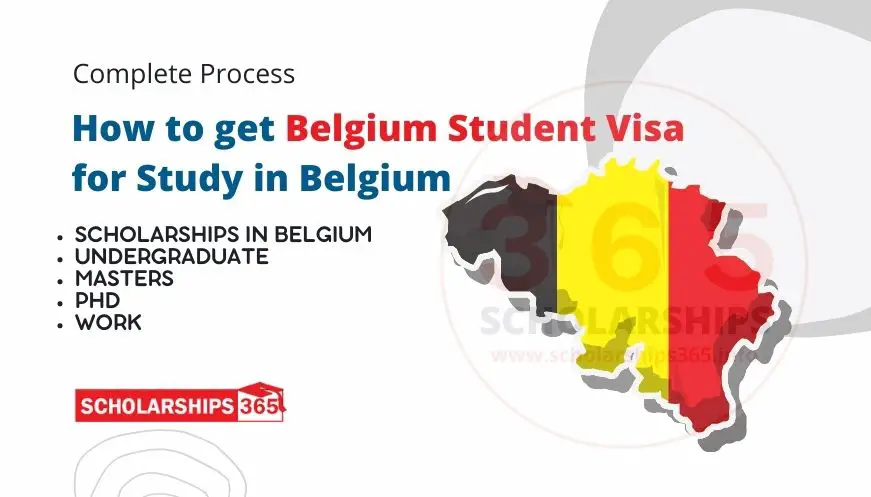 Belgium is an excellent place for studies which is rated by international studies. Belgium offers great academic opportunities and a wide multicultural environment, as Belgium has several top universities which include prestigious world rankings. Belgium is a multilingual country with different regions speaking Dutch, French, and German. English is also spoken in many cities in Belgium and many university courses are taught in the English language.
If you want to study in Belgium, you need to apply for a visa which depends on the length of your course and the country you belong. In this article, we will explain if you need a student visa then how you can get it.
You can also read about - How to get Student Visa for France
Which visa do you need to study in Belgium?
To study in Belgium, international candidates need a visa and permit of residence. It totally depends on the length of your studies and your nationality. Candidate from the EEA/EU and Switzerland do NOT need a residence permit or a visa. Non-EEA/EU candidates need to apply for a D visa if they plan to stay in Belgium for 90 days or less. If the duration of their studies is longer, then they have to apply for the D visa with an application for a residence permit.
Belgium Student Visa to study in Belgium?
International Students from the EU/EEA are not required to obtain a student visa in order to study in Belgium. They are required to carry a national identity card, which they should present to the customs officer on arrival in Belgium. If you are a candidate from the EU, you must fulfill the below criteria to study in Belgium.
To be enrolled at an approved university or educational institution

Must have sufficient income to live in Belgium without the need for income support

Must have comprehensive health coverage.

If you are a national of a country that does not belong to the EU, you must need a student visa to enter in Belgium. International candidates from some other countries like the US are not required to obtain a visa for Belgium if their stay is not longer than 90 days.

Candidates from the People's Republic of China must get an academic evaluation certificate which is issued by the Academic Assessment Centre APS before enrolling in a higher education institution in Belgium. APS certificate is required to get a student visa for Belgium. The examination consists of a technical assessment of the student's diploma and an interview. In some cases, candidates can be exempted from this interview.
Apply for a student visa for Belgium
Before applying for Belgium's student visa candidates first need to be accepted onto a course at an educational university or institution and must pay the registration fees and this fee will be refunded if your visa application is rejected. If you are an international candidate, you need to contact the nearest Belgian Embassy or consulate in your country. The embassy will help the candidate determine a student visa and will guide him through the visa application process.
All the information concerning Belgian visa applications can be found on the website of the Foreigners Department of FPS for Home Affairs available to read in Dutch, French, and English. As an international candidate, you just need to apply for a national long-stay visa which is a D visa and allows you to stay more than 90 days in Belgium.
---
You can also read about - How to get Student Visa for Italy
What are the Belgium Student Visa requirements?
The candidate needs to provide the following documents to fulfill student visa requirements for Belgium:
Completed and signed Visa Application form.

Valid passport or travel document which is valid for more than 12 months. While in some countries the passport is not to be more than 10 years old and must have two empty pages facing each other.

Proof that must show your sufficient financial income or support for the period of your stay. Financial support must cover your healthcare, study, living, and accommodation costs as well as the cost of airfare return ticket. A certificate that shows that you have received a scholarship or grant and your personal bank statement showing sufficient funds or an agreement of financial responsibility from the sponsor.

Must have a medical certificate that shows you don't have any diseases that are dangerous for public health like TB or diseases that require quarantine and other infectious diseases.

Must have a police verification certificate of good conduct which shows that you don't have any prior convictions. If you are a citizen of the US, you need an FBI background check, which will take five months to obtain.
😇 So You Will Never Miss Any Opportunity for your excellency. Then hurry up to join, follow and like us on different Social Networks. 😇
---
Student visa requirements for Belgium include proof of candidate status and study plans and below is the detail:
Provide Proof of registration at a recognized higher education institution in Belgium which must cover a full-time course of study.

French Community education required an application for an equivalence certificate for a diploma or certificate conferred abroad.

Original and copy of your diploma or certificate from your secondary education.

A copy of all certificates and diplomas obtained since the end of your secondary education

Employer's statement for you to pursue higher education as part of your work for postgraduate students

Complete documentation which shows the description of the courses organized by the student's institution of choice.

All documents in a language other than French, German, English, or Dutch must be translated by a translator and legalized as a separate document in your home country and again legalized by the Belgian embassy. Your embassy may ask for other documents which are not mentioned here depending on your country of origin.

Candidate needs to provide a supporting letter that explains the reason why you have chosen the particular course and why you have chosen to study in Belgium and how your choices will benefit you. Candidates must demonstrate that they have knowledge of the language in which they want to study, by providing proof of a certificate issued at the end of education in their chosen language or proof of language proficiency exam.
Applicants can track visa applications by using the reference number and the location of their chosen embassy. The Belgian embassy or consulate considers visa applications on a basis of the case and has the power of deciding whether to accept or refuse your visa. Candidate can appeal against the rejection decision.
If the embassy through which you have applied is unable to process your student visa application for some other reason, then they suggest a candidate apply for a tourist visa, which is easier for them to issue. You must make sure they give you a written statement that shows that they advised you to apply for a tourist visa, and this statement will allow you to exchange your tourist visa for a student visa when you arrive in Belgium which allows the candidate to register at their chosen higher education institution or university.
Arrival in Belgium
All international students including those from the EU must go to the local municipal administration within eight days of arrival in Belgium. The candidate then is issued a residence permit which allows them to stay in Belgium and also allows them to the Schengen States without a visa for a duration of not more than three months. Candidates can apply to renew their residence permits every year which is almost 30 to 45 days before their expiry date.
You have to pay the fee for the application through a Credit Card.
If a student is applying from the Swedish embassy, the fee needs to be provided in cash.

if the application is rejected there will be no fee returned.
You may also be interested in Belgium International Scholarships Programs such as those given below:
,How to get Belgium Student Visa for Study in Belgium, Belgium Student Visa for Indian Students, Belgium Student Visa for Pakistani Students, Belgium Student Visa for Nigerian Students, Belgium Scholarships 2023-2024, Belgium Study Abroad 2023-2024, Belgium student visa application, Belgium scholarships for college students 2019-2020-2021-2022-2023-2024